Section Branding
Header Content
Woman loses home of 44 years after tornado destroys house in West Point during storms
Primary Content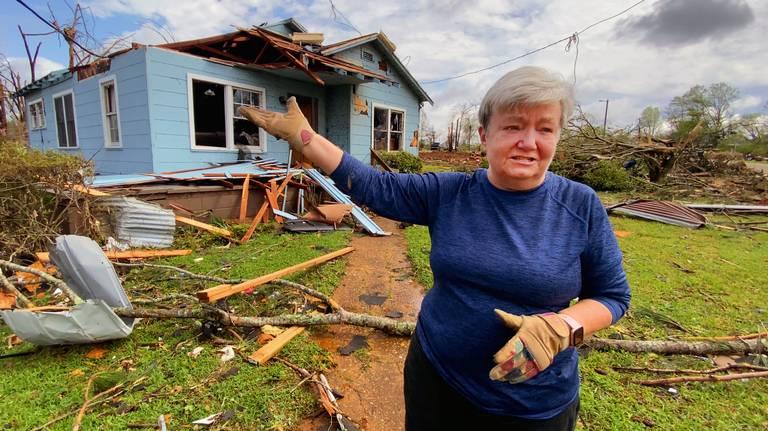 Sherry Bennett woke up early Sunday to the sound of "tremendous" hail hitting her roof. She was worried about dents in her roof and car.
"I had no idea that the next thing that would happen is I wouldn't have a roof and my car is laying up against the house over there," Bennett said. "It was terrifying."
Bennett was in the front bedroom of the house when glass started flying everywhere. Miraculously, she didn't receive a scratch.
Now debris fills both the house and yard and not all of what lies there is hers. A neighbor's ceiling fan with blades broken off rested on the ground near the front door. Meanwhile, her car was on its side leaning against the house.
"The home can be replaced, but the lives can't be. So, I'm just thankful that we made it though it," Bennett said.
She said neighbors helped clear the debris against her front door and wouldn't have been able to get through the door had they not.
Bennett was not sure how she'll recover and is now staying with her mother.
"We're just taking it one day at a time, that's all we can do," she said. Bennett has lived there for the past 44 years and is now 10 minutes away at her mother's house.
She said she believes the house is a "total loss" as the roof continued to cave inward.
"It's just unbelievable because there was a house there, and a house up there, and a trailer back there and now they're all gone," she explained.
Gov. Brian Kemp was scheduled to visit West Point Monday. He declared a state of emergency Sunday, which will assist local governments in acquiring disaster funding.
A wave of severe weather has pummeled the area since the weekend. Radar indicated that a tornado touched down near West Point in Troup County Sunday, according to the National Weather Service, damaging dozens of buildings and injuring several people.
This story comes to GPB through a reporting partnership with Ledger-Enquirer.
Secondary Content
Bottom Content