Section Branding
Header Content
Xylazine is contaminating the drug supply in Georgia, often with fatal outcomes
Primary Content
Health officials and drug enforcement agencies are warning about the dangers of an increasingly prevalent drug, xylazine.
A dangerous depressant in humans, the drug is commonly used as an animal tranquilizer
According to data from the state Department of Public Health, xylazine-related deaths in Georgia have jumped by over 1,000% in the past two years, from under 20 deaths in 2020 to over 183 last year.  
The drug is reportedly 50 to 100 times stronger than fentanyl. Fatal overdoses are likely underreported. The Federal Drug Administration posted a nationwide alert on the dangers of the drug last November, and has since then committed to strict oversight over xylazine imports. 
Houston County in central Georgia is one of a few hotspots for xylazine so far. 
Just north of there, Marissa Cody is the Overdose Surveillance and Planning Specialist for the 13-county public health district based in Macon that includes Houston County. 
She says every single xylazine-related death in the area has so far involved fentanyl, which has meant lower chances of survival.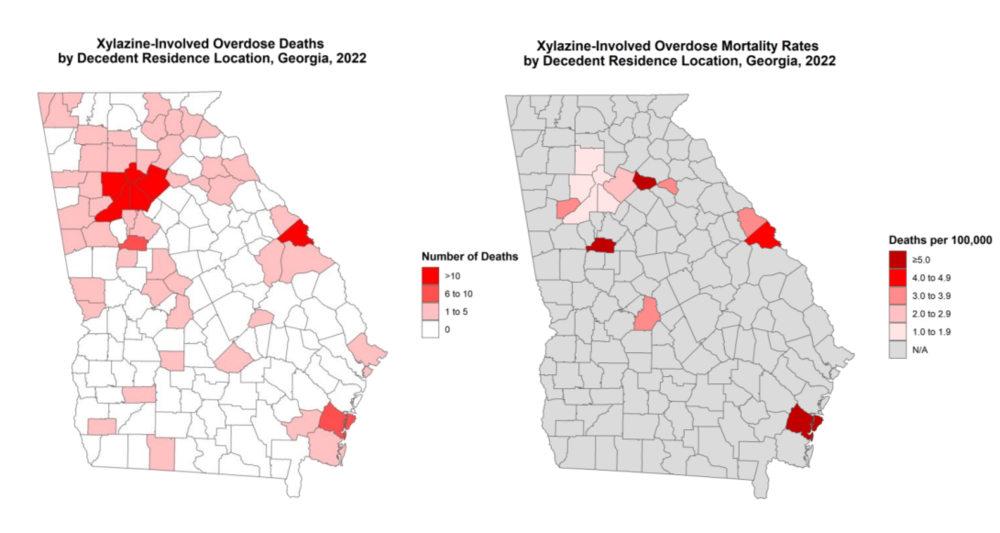 "When you have someone who is taking xylazine with fentanyl and they're overdosing, since both are central nervous system depressants, the Narcan is virtually ineffective," Cody said. 
Narcan is the most common version of the generic medicine, naloxone. The nasal spray has proven to be lifesaving in the case of opioid-related overdoses. 
As a result of increased overdose deaths in Bibb County, Cody has supplied a number of hotels, schools and recovery centers in the North Central Public Health District with overdose kits and Narcan. 
A pilot project under the Georgia Department of Public Health also aims to distribute fentanyl test strips statewide, Cody said. 
But unlike fentanyl, there are no drug-tests yet that can detect xylazine. Cody said she relies on autopsy reports to track overdoses. 
"Current instruction is if you suspect an overdose and you are providing Narcan or administering Narcan and they're not responding to go ahead and suspect it's potentially xylazine in there," Cody said. 
Cody said she believes education and awareness are the best defense against xylazine until there's better treatment. In some cases, xylazine has caused skin necrosis that has led to amputation. 
"Health care has not seen this before," she said. 
Xylazine has also been found mixed with amphetamines and cocaine. 
Every public health district under Georgia's Department of Public Health has a specialist like Cody, funded through the Center for Disease Control's Overdose Data to Action program. 
DPH Director of Communications Nancy Nydam said the state will re-apply in September to continue to program for five more years. 
Secondary Content
Bottom Content