Section Branding
Header Content
He lost his special Braves hat. The Braves and his wife stepped in
Primary Content
LISTEN: GPB's Peter Biello reports on a missing hat with special meaning.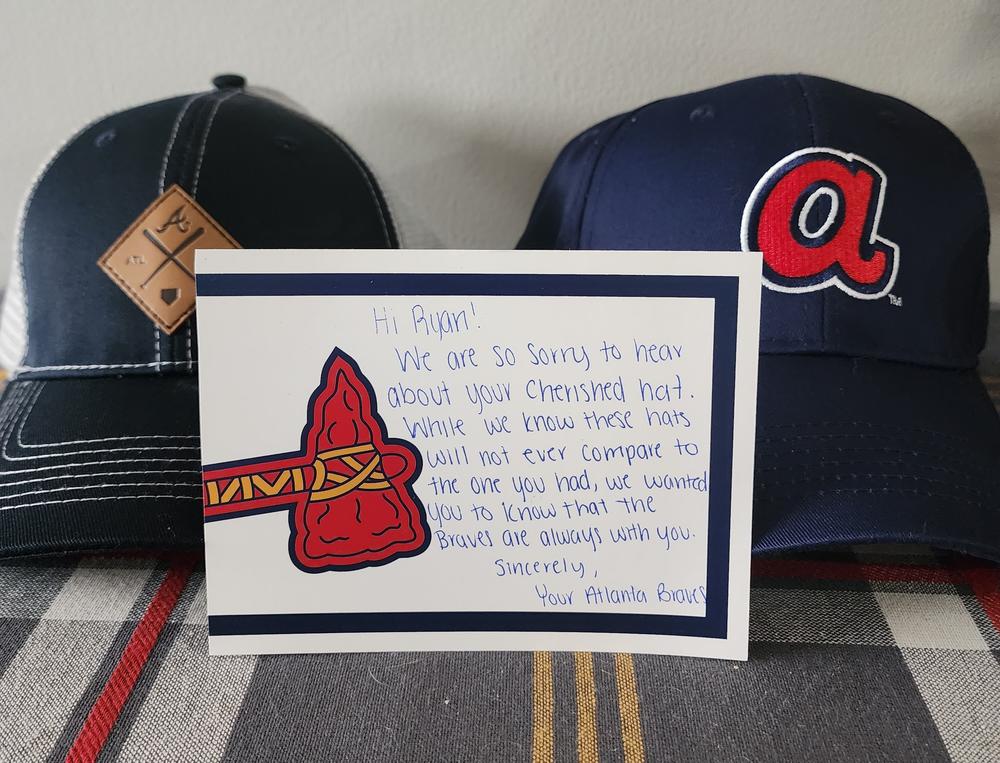 Think about the thing in your life that has sentimental value because it was a gift from someone you've loved and lost. It could be a tool in your kitchen that reminds you of your grandparent or a T-shirt from a beloved aunt or uncle.
For Ryan Douglas of Lawrenceville, about 30 miles northeast of Atlanta, it was an Atlanta Braves baseball cap. His dad bought it for him. Joe Douglas lived in Brunswick, about five hours away from Ryan, and though they didn't get together often, they spoke on the phone about once a week. One day a few years ago Joe came up and they went to a Braves game together. 
"I guess it was around the middle of the game, and he was like, 'Pick out a hat and I'll get it for you,' so I picked out the one I liked," he said.
It was a fitted, royal blue hat with a lower-case "a"—a vintage design with a little feather on the side. Ryan says he wore it all the time. His dad got one, too.
Then in August 2021, Joe Douglas died of a heart attack in his sleep. 
"I have the normal regrets, you know," he said. "I wish I would have called more. I wish I would have had more time with him."
And the hat took on more significance. 
"After he passed, it was one of the more tangible connections I had to him. Because it was something I could hold and something I used every day and I could touch and see it."
Then a few weeks ago, he and his wife, Sara, went on a day trip to a resort in east Georgia. He didn't notice he'd left the hat behind until he got home. He called the resort but they couldn't find it. It was a loss on top of a loss.
"I just felt so bad and horrible for him," Sara said. "I knew that he was still working on dealing with his dad's death, even though it was a few years ago, and I hated to see him sad about something else that would remind him of his dad."
So she reached out to the Atlanta Braves, told them about Ryan's special hat, and asked about buying a replacement. The one she bought came close to the original design. She knew it wouldn't be the same, but she wanted it anyway, "because I thought maybe if it came from the Braves it would have a little bit more meaning."
Then, to their surprise, the Braves responded. They sent the fitted hat Sara ordered, plus two others, along with a handwritten note. 
"It says, 'Hi Ryan! We're so sorry to hear about your cherished hat. While we know these hats will not compare to the one you had, we wanted you to know that the Braves are always with you. Sincerely, your Atlanta Braves."
Touched by the gesture, Ryan posted a photo of the hats and the note to the Braves subreddit. 
"I think somebody in the Reddit thread said, 'A win for the Braves, a World Series champ wife.'"
He says though he's still upset he lost the hat, he is grateful the experience gave him an opportunity to talk about his dad. 
"He was a really hard worker," he said. "He loved his family and always worked hard to provide. Sometimes that meant working two jobs around the holidays. And he did that." 
And Ryan says he still hopes the original hat will turn up. If someone finds it and wants to get in touch, he says he can be reached through the post he made in the Braves subreddit. 
Secondary Content
Bottom Content