Section Branding
Header Content
Lawmakers: Emotions run high as Senate approves bill restricting gender-affirming care on Day 37
Primary Content
The Georgia Senate gave a final stamp of approval to a bill that would ban most types of gender-affirming care for transgender minors, despite heavy opposition from the transgender community.
Senate Bill 140, sponsored by Sen. Carden Summers (R-Cordele) would prohibit doctors from prescribing hormone replacement therapy to transgender people under age 18. The bill also bans gender-affirming surgeries for minors.
In an interview with GPB News, Matèo Penado, a 22-year-old transgender man, said that gender-affirming medical care is "lifesaving" for transgender people. 
Penado, who has identified as a transgender man since he was 15, said the transgender community is in mourning. 
"There's this huge sense of grief and mourning which are, frankly, potential losses," he said. "Not just in life, in regards to like, genuine lives being lost due to suicide, but also the lives that people could potentially have had if they had access to hormone replacement therapy. Because once you're on hormones, you're able to live a bit more fulfilling life, and be happier and have a sense of safety and ease in your own body." 
A study from Harvard University found that receiving gender-affirming care was associated with a 44% reduction in suicidal ideation in transgender people.  Researchers from across the country say that transgender youth experience higher rates of suicidal ideation than cisgender youth. 
Summers said he understands the resistance to the bill but still supports it. 
"I am compassionate to their plea and I understand their passion, but we're doing the right thing and protecting children," he said.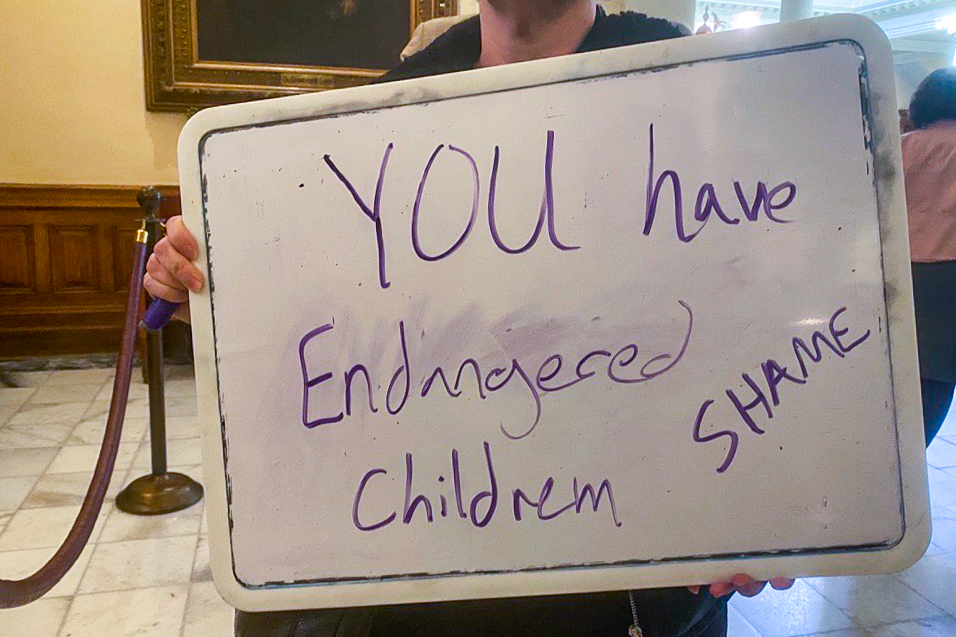 SB 140 aims to prevent minors from receiving gender-affirming care that may not be reversible if they regret the decision later. 
Surgeries related to transition are rare and limited for children under 18 already, experts say.
Critics of the bill say that the number of transgender youth who regret transitioning may be lower than SB 140's sponsors realize. The American Academy of Pediatrics found that after five years of transition, only about 2.5% of 371 transgender youth returned to the gender they were assigned at birth. 
SB 140 leaves room for doctors to prescribe puberty blockers for transgender youth.
Puberty blockers delay puberty for children who are questioning their gender or are transgender. They are also used to treat children who go through puberty too early. Their effects are reversible, and children will go through puberty when they stop taking them. 
The Senate passed SB 140 earlier in the session, but the chamber voted on it again because of a House amendment. 
The amendment struck lines in the original bill that prevented doctors who performed gender-affirming care on minors from being held civilly or criminally liable. 
In an impassioned speech, Democratic Sen. Josh McLaurin (D-Sandy Springs) said some senators were not understanding the stakes of SB 140. 
"There's a divisive partisan culture war issue at issue," he said. "And in the meantime, kids will die. Kids will commit suicide. Kids will feel that they're not being heard, that their basic existence is being invalidated, erased." 
SB passed the Senate 31 to 21 in a party-line vote. It now heads to Gov. Brian Kemp's desk to be signed into law. 
Penado said the transgender community is organizing to care for transgender youth. 
"It's very important to keep tabs on our youth to make sure that they're connected and beloved within our own communities and to know that they have resources, and that there are support systems in place for them."
Secondary Content
Bottom Content