Section Branding
Header Content
This Georgia county spent $1 million to avoid paying for one employee's gender-affirming care
Primary Content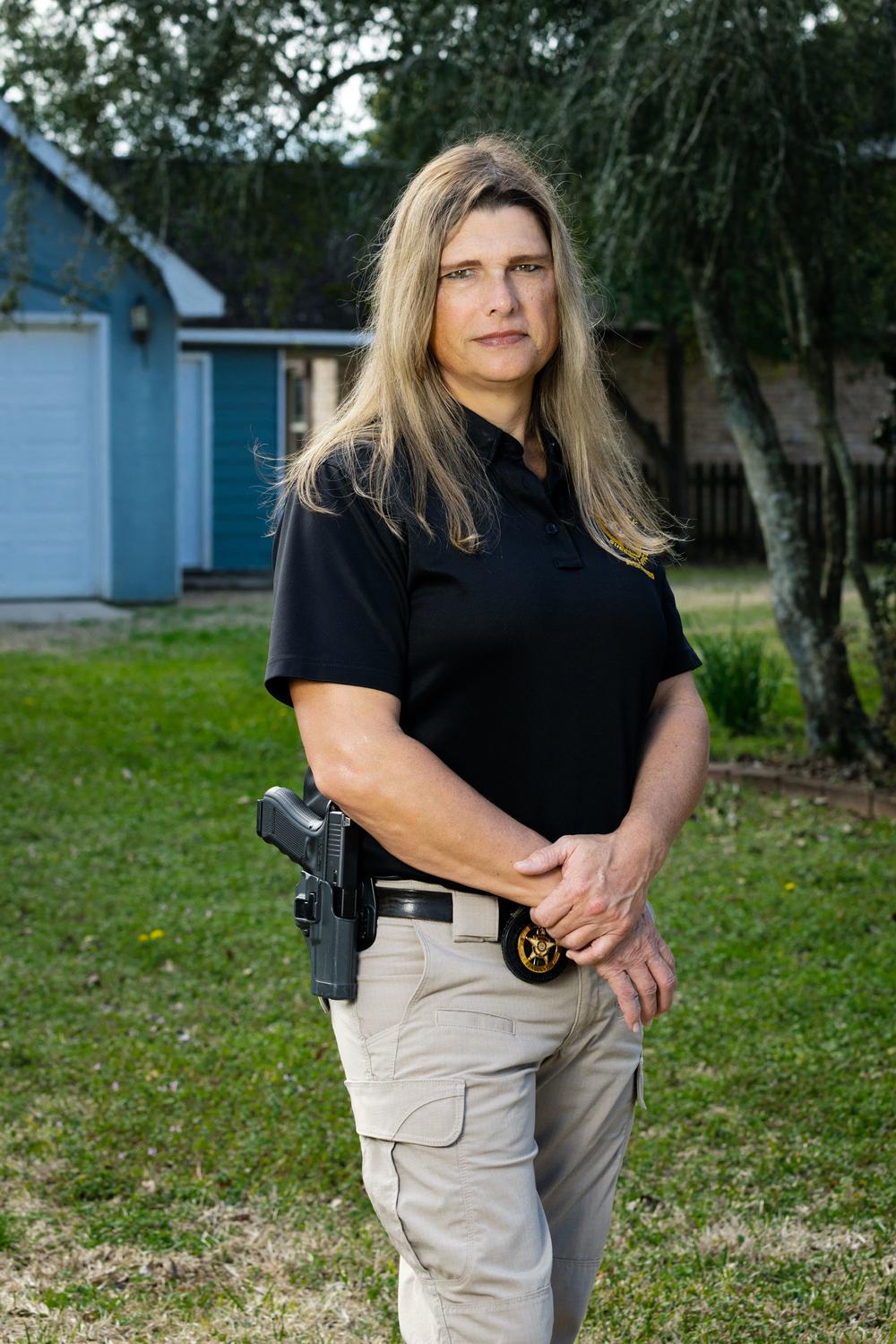 Aliyya Swaby and Lucas Waldron, ProPublica
This story was originally published by ProPublica.
When a sheriff's deputy in Georgia's Houston County sought surgery as part of her gender transition, local officials refused to change the department's health insurance plan to cover it, citing cost as the primary reason.
In the years that followed, the central Georgia county paid a private law firm nearly $1.2 million to fight Sgt. Anna Lange in federal court — far more than it would have cost the county to offer such coverage to all of its 1,500 health plan members, according to expert analyses. One expert estimated that including transition-related care in the health plan would add about 0.1% to the cost of all claims, which would come to roughly $10,000 per year, on average.
Since at least 1998, the county's plan has excluded coverage for "services and supplies for a sex change," an outdated term to refer to surgeries or medications related to gender transition. In 2016, the county's insurance administrator recommended changing the policy to align with a new federal nondiscrimination rule. But Houston County leaders said no.
The county argued that even if the cost of expanding its insurance coverage to include transition-related health care was low on average, it could amount to much more in some years. The county also claimed that expanding the plan's coverage would spur demands to pay for other, currently excluded benefits, such as abortion, weight loss surgery and eye surgery.
"It was a slap in the face, really, to find out how much they had spent," said Lange, who filed a federal discrimination lawsuit against the county. "They're treating it like a political issue, obviously, when it's a medical issue."
Major medical associations recognize that access to transition-related care, also known as gender-affirming care, is medically necessary for transgender people, citing evidence that prohibiting it can harm their mental and physical health. And federal judges have consistently ruled that employers cannot categorically exclude gender-affirming care from health care plans, though prior to Lange's suit, there hadn't been a ruling covering Georgia. The care can include long-term hormone therapy, chest and genital surgery, and other services that help transgender people align their bodies with their gender identities.
But banning gender-affirming care has become a touchstone of conservative politics. At least 25 states this year are considering or have passed bills that would ban gender-affirming care for minors. Bills in Oklahoma and Texas aim to ban insurance companies from covering transition-related health care for adults as well.
At the same time, state and local government employers are waging long legal battles against covering gender-affirming care for their employees. With recent estimates showing that 0.6% of all Americans older than 13 are transgender, these employers are spending large sums to fight coverage for a small number of people.
ProPublica obtained records showing that two states — North Carolina and Arizona — have spent more than $1 million in attorney fees on legal fights similar to the one in Houston County. Both have claimed in court filings that the decisions they made not to cover the care for employees are purely financial and not discriminatory.
But budget estimates and real-world examples show that the cost of offering coverage of gender-affirming care is negligible. When the state of North Carolina briefly covered gender-affirming care in 2017, the cost amounted to $400,000 — just 0.01% of the health plan's $3.3 billion annual budget.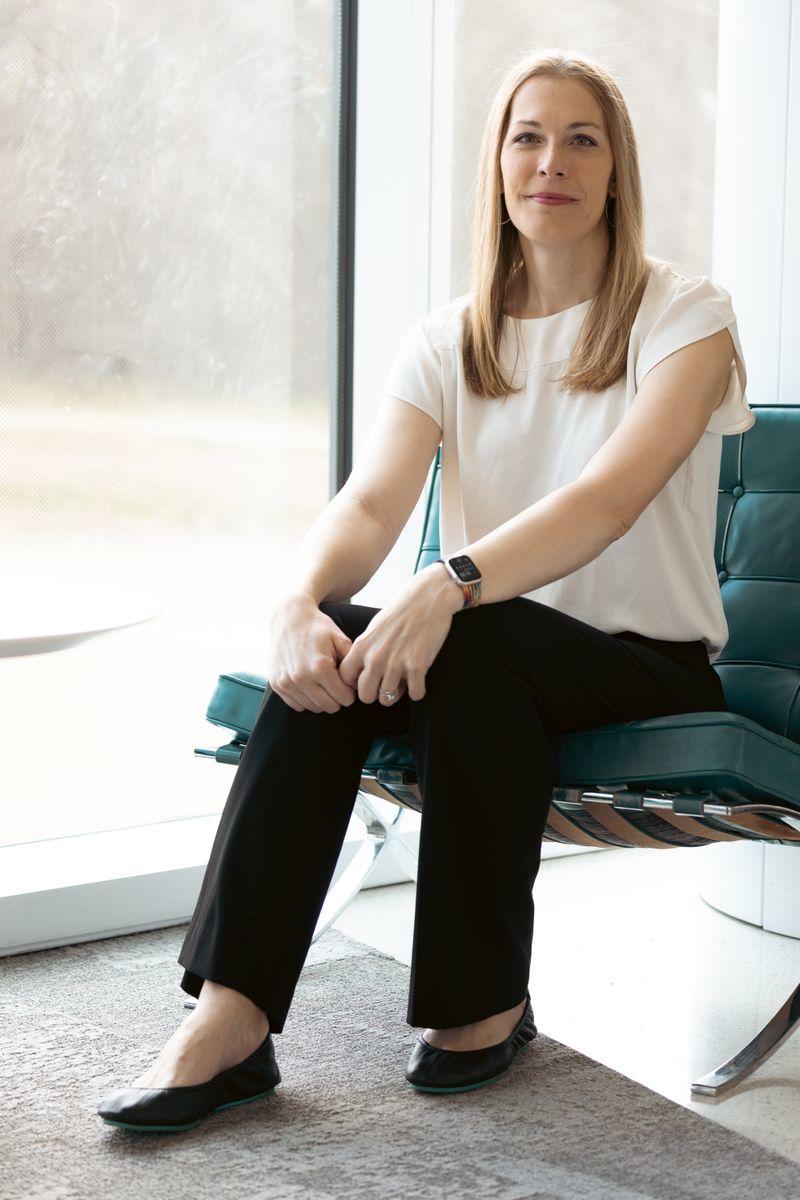 Two years later, North Carolina employees sued to get their gender-affirming care covered. The state hired several expert witnesses who expressed professional beliefs contradicting the major medical associations' standards, including that transition care is unnecessary and even harmful. One expert, whom North Carolina paid $400 per hour, stated in court proceedings that transition care might be a "fad" or "consumer fraud," similar to the widespread medical use of lobotomies in previous decades.
Julia McKeown, a professor at North Carolina State University and one of several plaintiffs suing North Carolina officials for denying their coverage, spent more than $14,000 out-of-pocket on gender-affirming surgery, pulling from her retirement account and personal savings. "They're always talking about saving taxpayer money and being judicious with how we spend it," McKeown said. "But here they are throwing money left and right to score political points, to discriminate, to target."
Officials in North Carolina, Arizona and Houston County, Georgia, did not respond to questions from ProPublica about the amount of money they spent or their reasons for continuing to fight the lawsuits. Dan Perdue, chair of the Houston County Board of Commissioners, referred ProPublica to the county attorney, who declined to comment beyond pointing to existing court documents.
Compared to North Carolina and Arizona, Houston County stands out for the huge legal bill it amassed relative to its small size. North Carolina's employee health plan covers more than 700,000 people and Arizona's covers over 130,000 people, dwarfing Houston County's 1,500. Yet Houston County has spent a similar amount of money on legal fees as those states in a shorter time, according to records ProPublica obtained.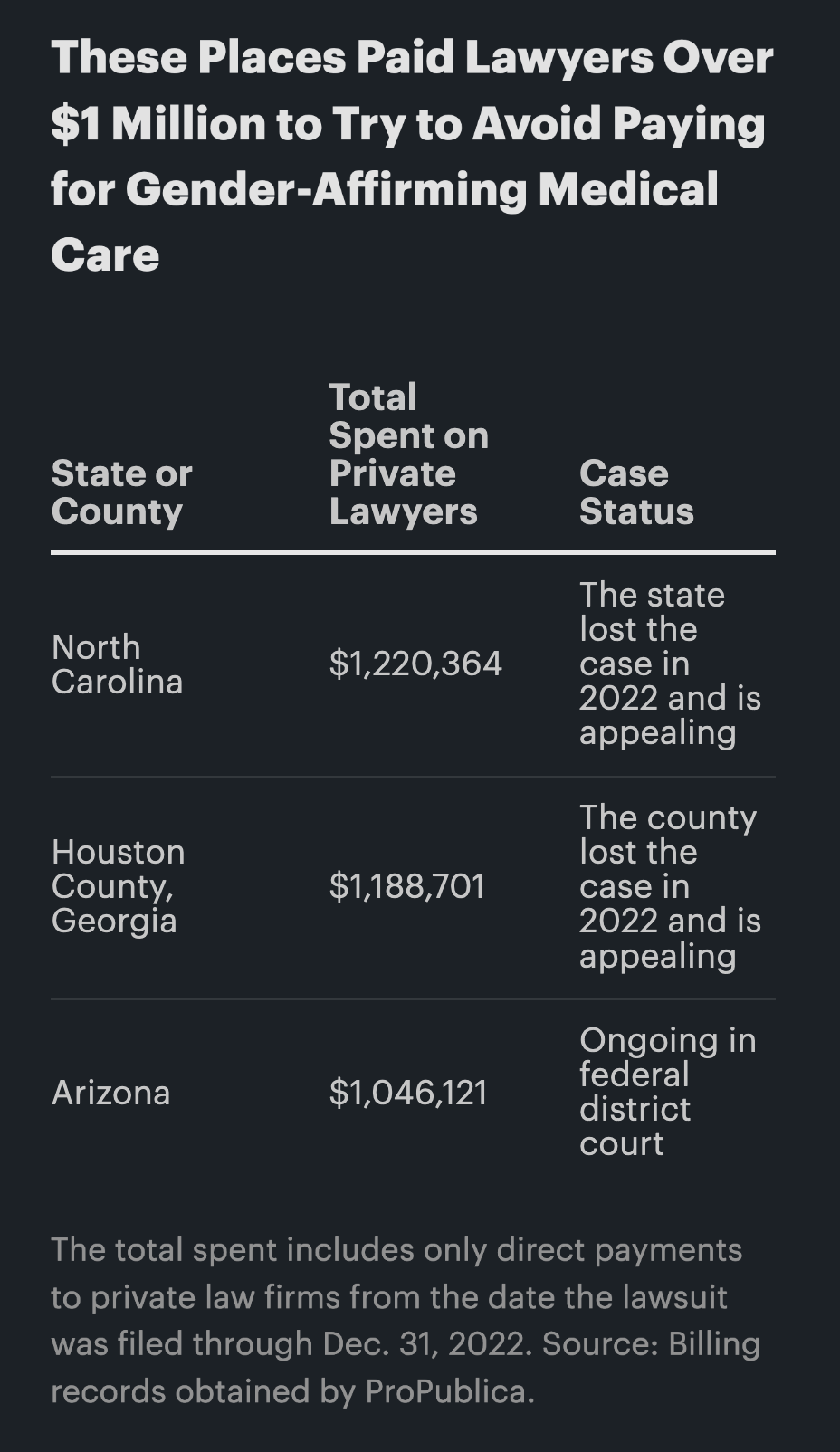 In fact, Houston County's total legal fees on the Lange case have amounted to almost three times its annual physical and mental health budget. "Is this a good use of public money? No," said Joanna Grossman, a law professor at Southern Methodist University who focuses on sex discrimination. "It's fair to say that this is an issue where it's pretty clear they're going to lose."
———
After more than a decade working for the Houston County Sheriff's Office, Lange came out as a transgender woman to her boss and colleagues in 2017. A therapist had diagnosed her with gender dysphoria, characterized by significant distress at the mismatch between her assigned and actual gender.
Sheriff Cullen Talton, who has been in office since the early 1970s, first thought Lange was joking, according to a legal deposition. When he realized Lange was serious, he told her that he didn't "believe in" being transgender but that she would have her job as long as she kept working hard.
Lange let herself feel cautiously optimistic. But she soon found that the county's health plan would not cover any of the surgeries needed to make her body align with her gender — the operations are on a list of procedures that the county explicitly opts out of paying for, which are known as exclusions.
After coming out as transgender, Lange found that her county's health plan would not cover any of the medical procedures needed to treat her gender dysphoria. Credit: Annie Tritt, special to ProPublica
Lange's insurance does cover the hormonal medication she takes regularly, but not the lab work she needs once or twice a year to monitor how her body is responding to it. She receives a bill for $400 each lab visit, which is hard to afford on her $58,000 salary. The bills go to debt collectors, and she pays off smaller amounts when her budget allows.
Lange was able to cobble together several thousand dollars from savings and retirement funds to pay out-of-pocket for a chest surgery in early 2018, but the next surgery she needs costs more than $25,000, well above what she can afford. She sent letters to the insurance administrator and the county asking them to remove the exclusion in 2018 and 2019. Her appeals were denied.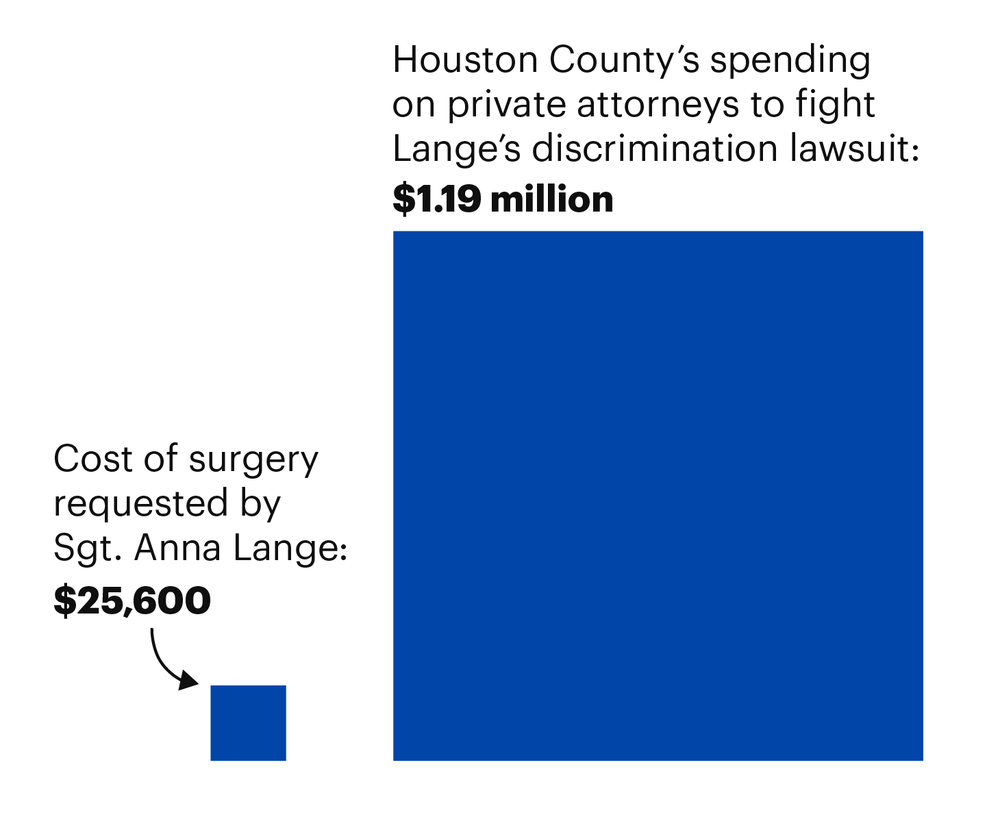 In early 2019, in a last-ditch effort, Lange walked into the county board of commissioners' meeting to ask the board to remove the health plan's exclusion, hopeful they might hear her out. She mentally prepared herself to broadcast some of her most personal struggles to an audience that seemed less than receptive, bringing her son and a friend with her for support.
As Lange nervously waited for her turn at the podium, she watched someone familiar step up right before her. One of her neighbors had come to ask the county not to agree to her request. Addressing the row of commissioners at the front of the room, he launched into his list of questions: How does Lange's request relate to her work? Why should taxpayers be on the hook for her surgery? How does her request differ from any kind of elective cosmetic surgery that also isn't covered by insurance?
Lange watched, disheartened, as a commissioner reassured the neighbor that the board would not make any changes to the health plan that year. Lange would go on to speak that evening, despite believing it was a futile exercise. "You knew right then and there that no matter what I said, that it wouldn't matter," she said. "It's a really helpless feeling."
So she turned to the legal system. She worked with a team of attorneys handling a similar case — a lawsuit brought by a transgender employee against Georgia's university system. In September of 2019, the university system agreed to a settlement that awarded the plaintiff $100,000 and provided all of its employees access to gender-affirming care. Just weeks after the settlement, Lange filed a lawsuit against the county for employment discrimination, arguing that denying her medical care subjected her to "inferior treatment." Soon after, commissioners unanimously voted to continue excluding gender-affirming care from health coverage for yet another year.
In response to Lange's lawsuit, the county's lawyers said health insurance premiums had already soared and that the county wanted to prevent a flurry of requests to remove other exclusions in the plan. The county spent $57,135 — $390 per hour — on a budget expert who concluded that keeping the exclusion in place was "reasonable and consistent with general industry practices."
The county's expert argued that removing the exclusion could result in a "catastrophic claim," in which a member of the county's health plan seeks multiple surgeries in a single year that, combined, could cost hundreds of thousands of dollars. The county's plan is self-funded, meaning that the employer — not an insurance company — is responsible for paying all enrollees' medical costs, making it harder for the plan to absorb a high-cost claim.
Lange's lawyers hired their own budget expert, whose estimate was in line with what other experts, government officials and academics have found. In her report, Lange's expert wrote that, over time, the financial impact of removing the exclusion would be small, especially since few people would use the benefit. The expert also noted that the county has a separate insurance policy to cover unexpectedly large claims. She estimated that the cost of covering gender-affirming care would be "an amount so low that it would be considered immaterial."
———
Without necessary treatment, transgender people are at higher risk for depression, anxiety and thoughts of suicide. Russ Toomey, a professor of family studies and human development at the University of Arizona, has helped establish that fact through his research on the mental health of transgender youth. He also has firsthand knowledge of discrimination: Toomey is suing his employer for withholding coverage for gender-affirming care.
When he was recruited for his job in 2015, he knew the university had hired other trans faculty members and believed it was committed to supporting them. In 2016, Arizona's Department of Administration, which controls the health care plan for public employees like Toomey, chose to keep excluding gender-affirming surgery from its health plan, ignoring the advice of its insurance vendors. That same year, Arizona commissioned an internal analysis, in which a state budget expert described the cost of covering gender-affirming care as "relatively low." A state employee was directed to delete that sentence from the analysis, according to legal documents.
In 2018, Toomey sought coverage for a hysterectomy to alleviate the distress of his gender dysphoria, and he was denied. In 2019, he filed a lawsuit against the state and its board of regents, which oversees all three of Arizona's state universities.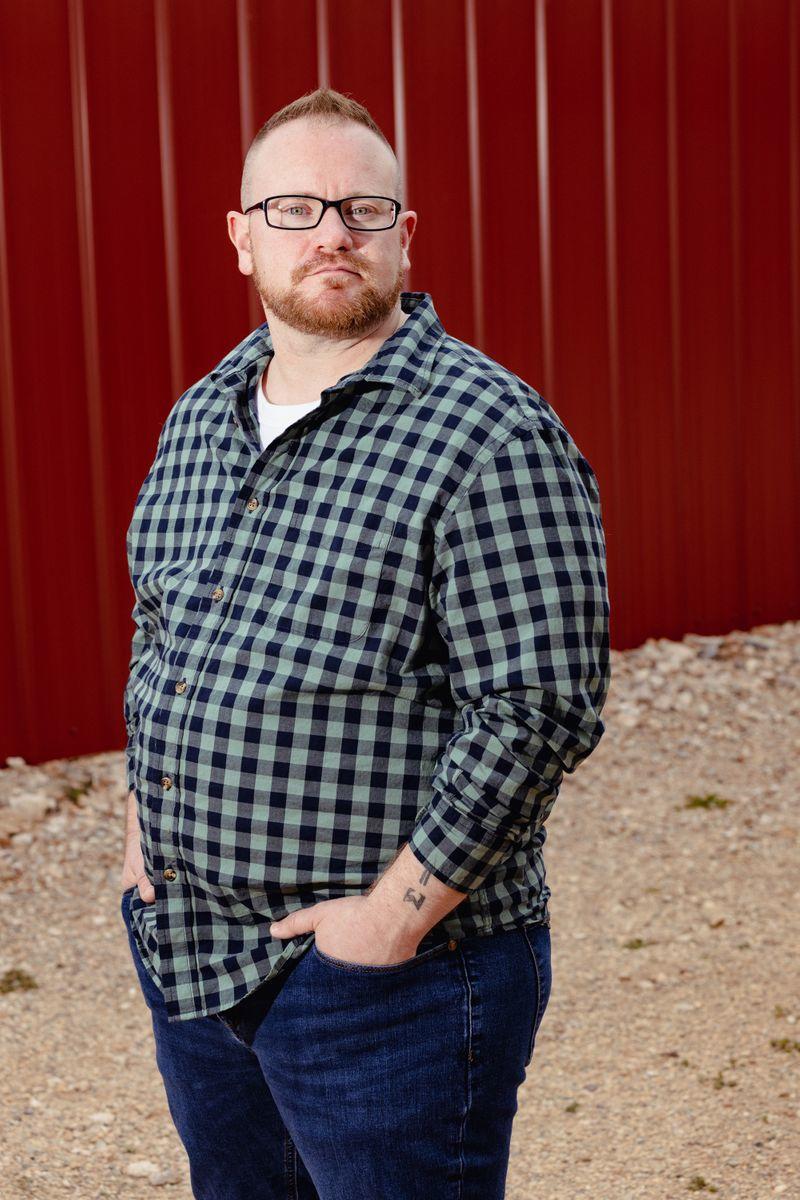 The experience made him "see and feel very intensely" the link he'd studied between gender discrimination and mental health. Toomey regularly feels the anguish of "knowing that I have these organs inside my body that shouldn't be there" and not being able to afford a hysterectomy. Toomey said the unfairness of Arizona's health plan hit hard last year, when his friend and colleague, a cisgender woman, was able to obtain coverage for her hysterectomy, while he had been denied. Arizona's employee health plan covers medically necessary hysterectomies except as part of "gender reassignment surgery."
He said that he developed a panic disorder over the last couple of years due to the stress of the lawsuit and his inability to access care. When he heard that the university board had spent more than $415,000 to fight the case, Toomey was shocked. "That hurts in the gut to hear," he said.
The Arizona Board of Regents argued in court filings that it should not be a defendant in the lawsuit because it has no control over the state plan — the board provides health care through a plan controlled by the state. And the state of Arizona argued that it was not legally required to remove the exclusion, a change that it said would be too expensive.
The case is still ongoing in federal court. The state, a named defendant in the case, now has a Democratic governor, Katie Hobbs, whose win last November ended 14 years of Republican control. In response to ProPublica's request for comment, a Hobbs spokesperson declined to answer specific questions about whether the new administration would continue to defend the exclusion but emphasized the governor's support for trans Arizonans.
"The Governor's Office recognizes the need for the expansion of statewide benefits that are all inclusive," Hobbs' press secretary, Josselyn Berry, wrote in a statement.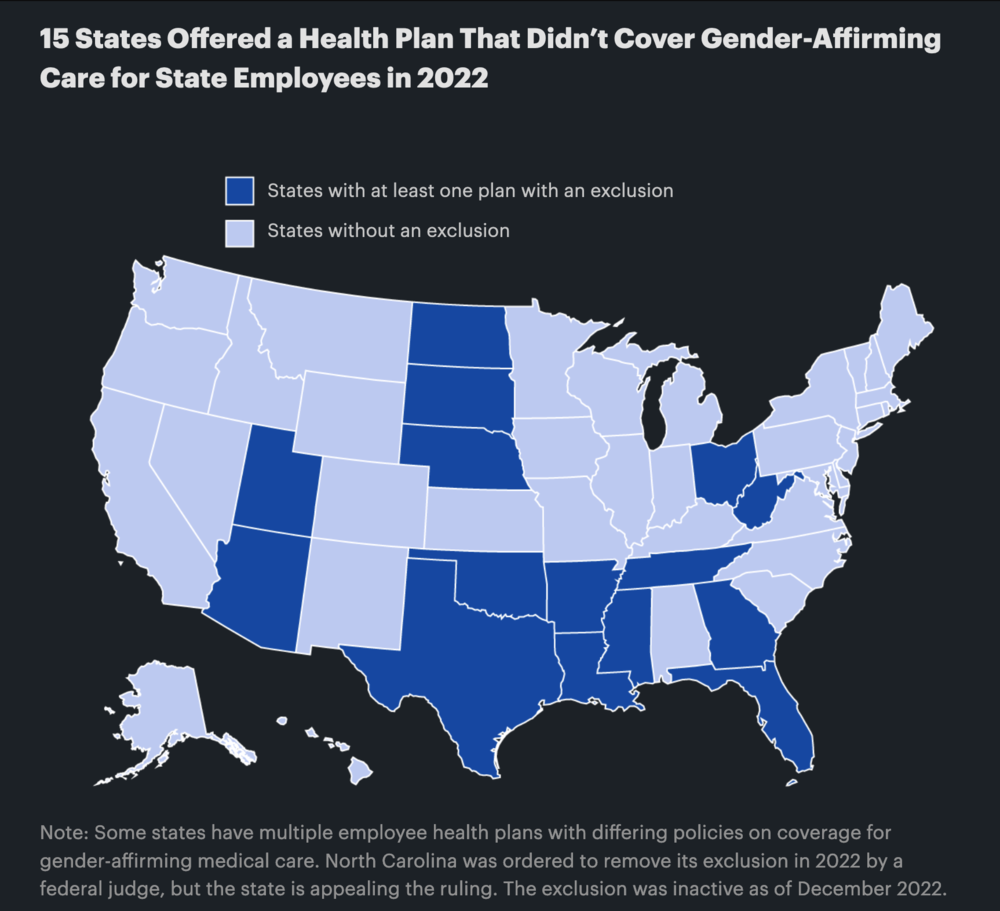 Like Georgia's Houston County and the state of Arizona, North Carolina has claimed that its key concern about removing the exclusion is cost. But the statements of officials suggest that's hardly the only concern.
North Carolina state Treasurer Dale Folwell, one of the named parties in the lawsuit, has consistently referred to gender-affirming care as medically unnecessary, contradicting medical consensus. (North Carolina had briefly removed its exclusion in 2017, before Folwell took office and reinstated it.)
"The legal and medical uncertainty of this elective procedure has never been greater," he said in a 2018 press release. "Until the court system, a legislative body or voters tell us that we 'have to,' 'when to,' and 'how to' spend taxpayers' money on sex change operations, I will not make a decision that has the potential to discriminate against those who desire other currently uncovered elective procedures."
The state also brought forward several expert witnesses who, rather than voice concerns about spending, expressed beliefs that transgender people should be prevented or discouraged from transitioning.
One of those witnesses, Paul Hruz, a pediatric endocrinologist in St. Louis who acknowledged he had no experience treating transgender patients for gender dysphoria, said in an expert report that in many cases the condition could stem from "social contagion" and that delaying care for children allows time for most of them to "grow out of the problem." In his career and during the case, Hruz cited controversial theories, including that "cancel culture" and a "Gender Transition Industry" are preventing public debate on the merits of transition care. According to his deposition, Hruz has attended multiple events hosted by the Alliance Defending Freedom, a religious group that has pushed anti-trans legislation across the country.
In a deposition filed by the plaintiffs' attorneys, a mother of a transgender child recalled a conversation she'd had with Hruz years ago about trans rights and her child's challenging experience. She said Hruz told her, "Some children are born in this world to suffer and die."
Hruz denied in his deposition that he made that statement. He declined to provide comment for this story.
Hruz's views are so extreme that Judge Loretta Biggs limited what topics he was allowed to speak about during the case. "His conspiratorial intimations and outright accusations sound in political hyperbole and pose a clear risk of inflaming the jury and prejudicing Plaintiffs," she wrote in a ruling last year. "It is the Federal Rules of Evidence, not some 'Cancel Culture,' that excludes this portion of Hruz's testimony."
She ordered North Carolina to remove its exclusion and allow transgender employees to access gender-affirming care. The state quickly appealed.
———
In 2020, as Lange anxiously watched her case inch through the courts, her legal chances suddenly seemed better than ever: The U.S. Supreme Court ruled that employment discrimination based on transgender status is illegal. Previously, courts had been divided on the issue.
Lange was driving to collect evidence for a financial fraud case she was investigating when she heard the news. She began to cry. "I had to pull over and just lost it," she recalled. "I was just so happy."
Still, Houston County kept fighting.
While the case dragged on, Lange was sometimes asked why she didn't find another job that would cover her health care, but she felt she couldn't afford to lose her pension benefits. She also loves her work investigating criminal cases, helping victims of violent attacks and fraud. She wondered if any other law enforcement agency nearby would hire a transgender woman, let alone one who was suing her employer. She was in her late 40s at that point and felt too old for a major career change.
"It's been a lonely process and it's just a grind," Lange said. "It just tears at you each day that you go by. You're constantly reminded that you're still not who you're supposed to be."
Two more years would pass before Lange won her case in 2022, with the federal judge citing the Supreme Court decision as a major reason for ruling in her favor. "The Exclusion plainly discriminates because of transgender status," Judge Marc Treadwell wrote in his order. A jury soon after awarded her $60,000 for "emotional pain and mental anguish." Lange celebrated, immediately calling friends who had been there for her through years of heartache, then posting the news on social media. She scheduled an appointment with a surgeon in New York.
But Lange's joy was cut short when the county appealed the ruling, a move that would cost it tens of thousands of additional dollars; it also meant that Lange wouldn't get any of the money she was awarded until the process was complete. The county asked the court to let it keep its exclusion in place as the appeal moved forward, arguing again that the cost of covering Lange's surgery could be exorbitant. In its argument, it referenced a New York Times article, "How Ben Got His Penis," about a costly surgery not for a transgender woman but for a transgender man. That surgery is much more complicated than the one Lange sought. While the judge weighed the arguments, Lange had to postpone her surgery yet again.
Lange called her friend Shannon West when she found out the county was appealing. "She was really upset. She was crying," West recalled. "It's like climbing a stairwell and you get to the top. You're about to go through the door and then somebody shuts the door and you get hit back down."
This month, the door reopened: Treadwell ordered Houston County to cover transition care for its employees. He admonished the county for misrepresenting the cost of Lange's surgery in its most recent legal argument, calling the decision "irresponsible." He stressed that no connection existed, "anatomically or otherwise," between the surgery mentioned in the New York Times article and the one Lange sought. The county, he added, had already received a specific, much lower estimate for the cost of Lange's requested surgery.
Treadwell also said the county was "factually wrong" in suggesting that other transgender people would seek out even more expensive care. "It is undisputed that the Health Plan's third-party administrator generally 'concluded that utilization of gender-confirming care was low,'" he wrote. "In the four years this litigation has been pending, no other Health Plan members have sought gender confirmation surgery, or even identified as transgender."
Lange heard about the ruling from her lawyer and struggled to feel excited. After the roller coaster of the previous several years, she had tamped down her optimism.
In many ways, Lange's life has been on hold. She feels uncomfortable in her body and self-conscious about participating in activities she used to love: swimming, refereeing soccer, anything that would expose her body to heightened scrutiny. She's divorced but has been hesitant to date. She goes to work, she comes home, on the weekends she plays tennis. She knows the surgery won't restore the time she has lost.
Now, for the third time, she is starting the process of scheduling her surgery, hoping that the courts won't yank the opportunity away again. She's reluctant to book a hotel stay, already anticipating having to cancel it. "Until the case is done-done and over with, that's when I can have some relief," she said.
This story comes to GPB through a reporting partnership with ProPublica, a nonprofit newsroom that investigates abuses of power. Sign up for Dispatches, a newsletter that spotlights wrongdoing around the country, to receive our stories in your inbox every week.
Secondary Content
Bottom Content