Section Branding
Header Content
'I'm very proud of us': despite NCAA loss, Kennesaw State students optimistic about team's future
Primary Content
LISTEN: Fans of Kennesaw State University rise in cheers as the men's basketball score a point against Xavier University in their first March Madness game.
In honor of Kennesaw State's men's basketball team's first NCAA Tournament for the first time, the university hosted a watch party Friday for their Division I tournament against Xavier University.
Although the game was held at the Greensboro Coliseum in North Carolina, KSU's Convocation Center hosted the watch party.
Doors were open to all students, parents, faculty and fans of the KSU community to watch the historic moment for the school on the jumbo screen in the arena.
Owl fans enjoyed giveaways during breaks in the match. The competitions included a three-point contest, three rounds of Know-the-Song, a trivia quiz about Kennesaw State, Connect 4 and a 45-second basketball skills game.
Prizes ranged from free KSU t-shirts to a basketball signed by Men's basketball coach, Amir Abdur-Rahim.
Friday marked the Owl's first men's basketball tournament since joining NCAA Division I in 2005, and fans were elated to witness the excitement.
"I'm very proud of us," KSU freshman Joey Van Sickle said. "I think we've come from almost nothing, so this is a huge statement for the school and for the team."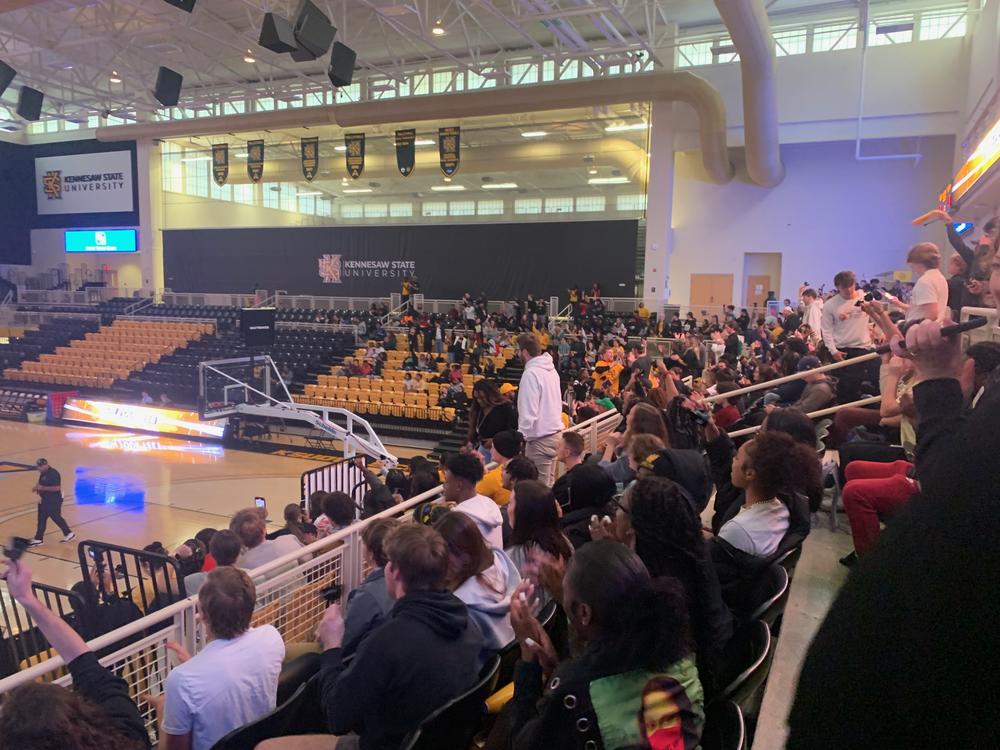 Fans erupted in cheers, ringing their KSU branded cowbells throughout the arena during special highlights of the game. The crowd went absolutely crazy when senior guard, Terrell Burden caused an Xavier player to stumble prior to getting a two-pointer.
Precious Anyakudo, a sophomore at Kennesaw, said the moment showed the level of support by fans who will be a driving force for the team moving forward.
"Support goes a long way," she said. "I think a lot of the success comes from having the fans cheering the team on."
In the end, Kennesaw suffered a loss to Xavier with a score of 72-67, but fans like Anyakudos are proud of the team's hard work throughout the season.
"No matter what, you made history. Keep doing what you're doing, and we're really proud of you guys," she said.
​
Secondary Content
Bottom Content