Section Branding
Header Content
Lawmakers: Controversial bills clear Senate and House on Day 28
Primary Content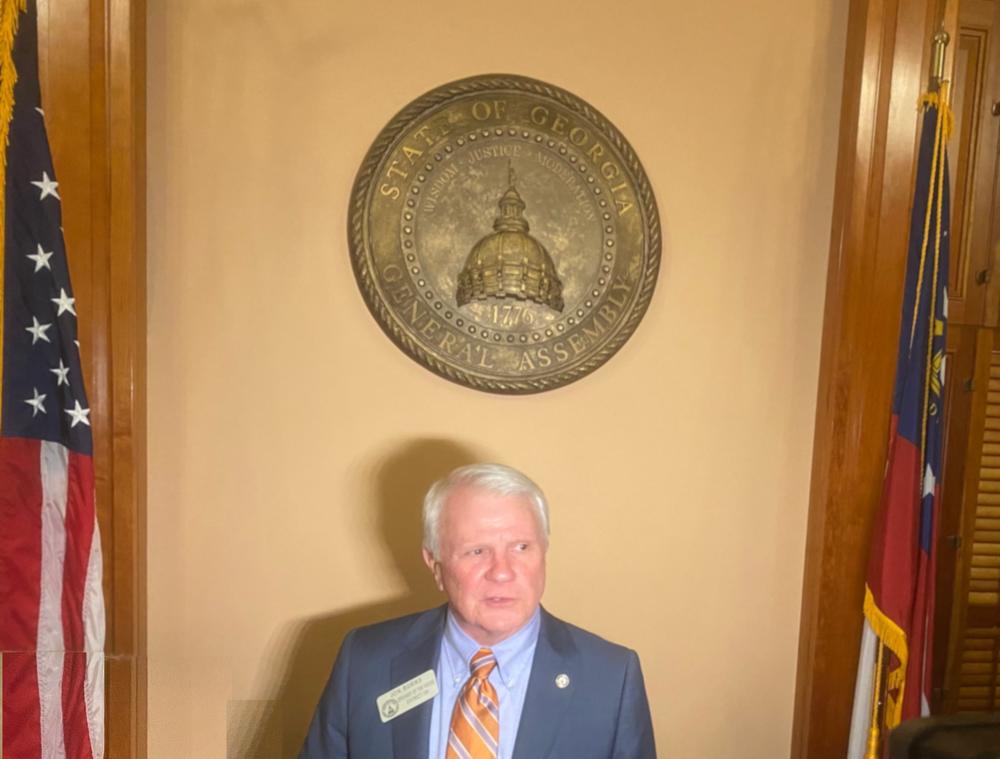 Bills dealing with school vouchers, kratom, gender-affirming care, and other topics advanced through the Georgia legislature on Day 28. 
Day 28, called "Crossover Day," is the last day that proposed bills moving through the legislature must pass in their chamber of origin to move forward during the session. Bills that do advance by Crossover Day will move to the other chamber for consideration. All bills, except for local bills, must pass both the House and Senate to become law. 
House Bill 18, the amended fiscal year budget for the current year passed the Senate. 
Bills relating to education passed in both chambers.
The Senate took up Senate Bill 233, which would provide some public school students with a $6,000 voucher to use at a private school or homeschool. Supporters of the bill said that it helps every family make the best decision about education for their child. But, opponents said SB 233 takes necessary funding away from public schools and pointed out that private school tuition in Georgia often costs significantly more than $6,000. SB 233 passed the Senate 33 to 23.
Senators also established a Georgia Council on Literacy to review literacy rates and make recommendations to schools.
The House passed HB 538, the Georgia Literacy Act, which would provide literacy training for teachers, curriculum to promote literacy, and literacy reviews to see which students are falling behind early on. A Senate Bill to promote braille literacy for visually impaired or blind Georgians also passed the Senate. 
The House took up legislation that would create an oversight panel for prosecuting attorneys in Georgia. HB 231 would create a commission that could remove district attorneys or solicitor generals for refusing to prosecute certain crimes, or other types of incompetency.
Republicans said that the bill promotes accountability for prosecutors in Georgia, but some Democrats raised concerns that it could disproportionately target Democratic attorney generals.
The Senate passed a similar bill, SB 92, on Day 27. The bill narrowly passed the House in a 98 to 75 vote. 
The House tackled antisemitism and passed HB 30. The bill would provide a state definition for antisemitism, which could be used in hate crimes persecution. The bill passed 136 to 22. 
Another bill that passed the House: Kratom regulations.
HB 181 passed to restrict the sale and use of Kratom. Kratom is a Southeast Asian evergreen plant that produces an opioid-like effect. Kratom can be found in powder, capsule, pill and beverage products sold in Georgia. Only Georgians 21 and up could purchase the products, and certain forms of Kratom, like e-cigarette Kratom, would be banned. The products would also need to be sold from behind a counter, similar to cigarettes. The original form of the bill banned Kratom sales outright, but the new version regulates the drug instead. HB 181 passed the House 171 to 3. 
Trucking weight regulations caused a lengthy debate in the House. HB 189 would increase the maximum truck weight allowed on Georgia roads without a fine from 80,000 pounds to 88,000 pounds. Opponents of the bill said that the heavier trucks could damage roads and bridges, but supporters say the bill would support the trucking industry that is vital to the supply chain. HB 189 narrowly passed in a 93 to 81 vote.
The Senate took on a controversial topic and passed a bill to severely restrict gender affirming care for transgender youth. SB 140 would prohibit doctors from prescribing hormone therapy or performing gender-affirming surgeries on transgender people under the age of 18. The bill's sponsor, Sen. Carden Summers (R - Cordele) said it prevents children from making a potentially irreversible decision.
Democrats opposed the bill, saying the decision to pursue medical treatments is highly individual among transgender teenagers. Transgender teenagers are at a higher risk for suicide than their cisgender peers. 
"The problem I have with this bill is that it only addresses what it won't do for our children. Instead, I think we need to focus on what we can do for our kids," Sen. Sally Harrell (D - Atlanta) said. "We cannot take away treatment from these kids without having something in place, and we have nothing in place." Harrell shared her own experience raising a transgender son. 
SB 140 passed the Senate 33 to 23. 
Lawmakers did not pass any sports betting legislation in either chamber. A senate push to create a constitutional amendment to allow voters to choose if they wanted sports betting to be legalized failed to get the required two-thirds votes required for a constitutional amendment.
Another bill that aimed to legalize sports betting without a constitutional amendment failed on Day 27.
The House did not debate sports betting legislation, effectively killing the effort. Speaker Jon Burns (R - Newington) said that "this year was not the right time for it in the House," in a news conference after adjournment. 
Before the session ends, language to legalize sports betting could still be amended into another bill that crossed over.
The Senate and House both passed a variety of other bills on Crossover day. 
Correction
House Bill 189 aims to increase the maximum truck weight without a fine to 88,000 pounds. A previous version of the story said that the maximum weight without a fine would be 93,000 pounds.
Secondary Content
Bottom Content