Section Branding
Header Content
Lawmakers: Bills targeting protestors pass the House on Day 26
Primary Content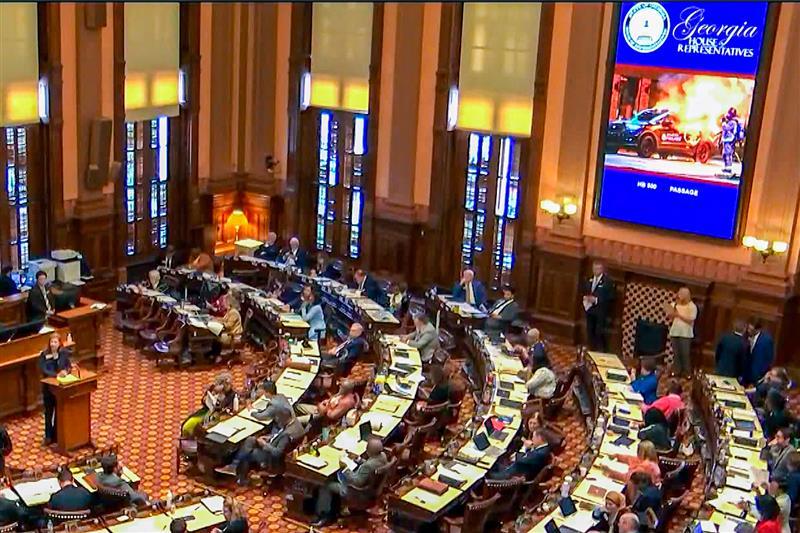 The Georgia House passed two bills targeting violent protestors on Day 26 after contentious debate about the consequences. 
House Bill 505, sponsored by Rep. Mike Cheokas (R – Americus), would classify rioting as a felony charge. Rioting is a misdemeanor charge under current Georgia law. The new classification would mean increased jail time for offenders.
HB 505 calls for a minimum sentence of one year in jail. Rioting is defined as two or more people committing violent acts under Georgia law. 
Republicans say the bill protects people and property from violence.
"Our Governor and our Attorney General have made it clear that Georgia will provide no safe haven to rioters. This legislation puts that vision into state law and sends a signal to troublemakers throughout the country that they won't get a slap on the wrist if they come here and engage in rioting," said Cheokas. 
He also mentioned the riots in Atlanta in response to the death of a protestor and the public safety training facility, nicknamed "Cop City." An activist was killed at the site of "cop city" in January after exchanging gunfire with law enforcement. 
"The violence we saw recently that grew out of the violent riots against the Atlanta Public Safety Training Facility was broadcasted far beyond our state lines," Cheokas said, saying protests downtown could hurt the tourism industry. 
Some Democrats raised concerns over the bill impacting peaceful protests. Rep. Soloman Adesanya (D -- Marietta) reminded the Representatives of measures taken to suppress historical civil rights protests.
"What this bill is asking for is 'do not dare to assemble and exercise your first amendment.' We have seen many times where law enforcement consciously arouses peaceful protestors and then be the ones to spark the riot. And we are asking these protestors to be punishable up to 20 years," he continued. "Just take a look at countries where the leaders limit the rights of its citizens or ability to express their grievances. We have come too far and we have fought to hard to go back."
Rep. Omari Crawford (D – Decatur) raised concerns that schoolyard fights and other non-protest offenses could be considered rioting, but Chekoas said the rioting charge does not apply to those situations and the definition of rioting is unchanged.
HB 505 passed the House 98 to 73. It will now move to the Senate.
The House also voted on a bill that would create a new offense for setting a law enforcement vehicle on fire. House Bill 500 created a charge for "arson of a law enforcement vehicle," punishable with five to 20 years in prison or up to a $100,000 fine.
Setting a vehicle on fire is already an arson offense.
HB 500's sponsor, Rep. Deborah Silcox (R – Sandy Springs) said that police vehicles are expensive and difficult to replace. 
"A police vehicle is the primary tool with which our dedicated officers enforce our federal laws," she said. "They are equipped with specialized equipment, often bringing the cost of these vehicles well over $100,000. These vehicles are paid for with our hard-earned taxpayer dollars. And given our computer chip shortage are not easy to replace in these times. Moreover, there are many police departments in Georgia that do not have backup vehicles, or if they do, they're usually older with outdated equipment."
Some Democrats agreed that setting a law enforcement vehicle on fire is a serious crime, but questioned the need for a new charge and a mandatory minimum.
"We've all seen this movie. We know how it ends," Rep. Gregg Kennard (D – Lawrenceville) said. "This is draconian policy from the 80s and 90s. Horrible policy that many lawmakers that were involved in the 80s and 90s now regret and understand that it decimated communities and created mass incarceration. Policies from the 80s and 90s. What's next? Are we going to bring back mullets and parachute pants?"
HB 500 passed the House 100 to 69 and now moves to the Senate.  
Secondary Content
Bottom Content