Section Branding
Header Content
Once a prisoner of war, an Atlanta veteran's story coming soon to Apple TV+
Primary Content
LISTEN: An Atlanta man's experience as a prisoner of war during World War II is now the subject of an Apple TV+ series. GPB's Peter Biello speaks with Chloe Melas about her grandfather's memoir.
In 1943, Frank Murphy of the 100th Bomb Group was flying through hostile skies above Germany when he was shot down. He survived and was taken as a prisoner of war. His tale of survival as a POW for 18 months became the basis of his memoir, Luck of the Draw, which he wrote years later while he was living and working in Atlanta. He died in 2007 at the age of 85. His book is being republished now in part because of the renewed interest in the 100th Bomb Group, thanks to a new Apple TV+ series in which Murphy's character appears. His granddaughter and CNN entertainment correspondent Chloe Melas is, along with her mother, spearheading the effort to share her grandfather's story. Melas spoke with GPB's Peter Biello.
Peter Biello: When did you first learn about your grandfather's experience during the war?
Chloe Melas: I grew up knowing these stories about my grandfather flying high in the sky above Nazi-occupied Europe, and I knew that he was in World War II. I didn't fully understand what he went through and what that meant until I was probably a senior in high school. And then when I was in college and I studied abroad in England (I was in London) I took a train out to the Air Force Base that he flew out of in the countryside called Thorpe Abbots, and I called him while I was there. It was a year before he died. And so that was an incredible experience. But I really got to understand, and that's when my interest really piqued. And I would say that was the beginning of this journey that I'm still on.
Peter Biello: When you first read this book, what surprised you about your grandfather's experience?
Chloe Melas: I had no idea what it meant to be a prisoner of war. I didn't realize that he lost so much weight and [was] covered in lice. And at the end of the war, he had pneumonia. And I had no idea that he was thrown into boxcars. When you think boxcars, I usually think "Holocaust," right? And I didn't realize he had been thrown in a boxcar for three days and nights with no food, you know, little water. I glorified it all. I'm thinking of Steve McQueen and The Great Escape, and I'm thinking of Memphis Belle when I when I was a little girl thinking of World War II or even in my teens. I wasn't thinking that my grandfather nearly died. It really hit me as a mom when I went and I read the book again and I realized that two members of his crew died the day that the plane was shot down. And it really comes back to the title of the book, Luck of the Draw. Just by luck, my grandfather survived, and I'm here on this Earth.
Peter Biello: I imagine you as a mother reading this would read the letters that his mother sent to him after she heard word that there were planes that went down and that he's not responding. What's happening and where is he? That's a stressful moment for the family.
Chloe Melas: His parents didn't know if he was alive and his father was calling the White House every single day saying, "I want to know where is my son? Where is my son?" And then they finally found out months later through a Western Union telegram that Grandpa, or their son Frank, was alive and well, but a prisoner of war. That's when the correspondence started happening. I have a lot of those telegrams, the original telegrams. I have them. And grandpa's asking for chocolate. My grandfather's like, "I'm fine. Don't worry about me. Can you send me some chocolate?"
Peter Biello: Send the important things. Send chocolate.
Chloe Melas: And socks.
Peter Biello: And socks. Yes. So now it's going to be on television. And your grandfather is a character in this new Apple TV+ series. What can you tell us about the character and how he's portrayed?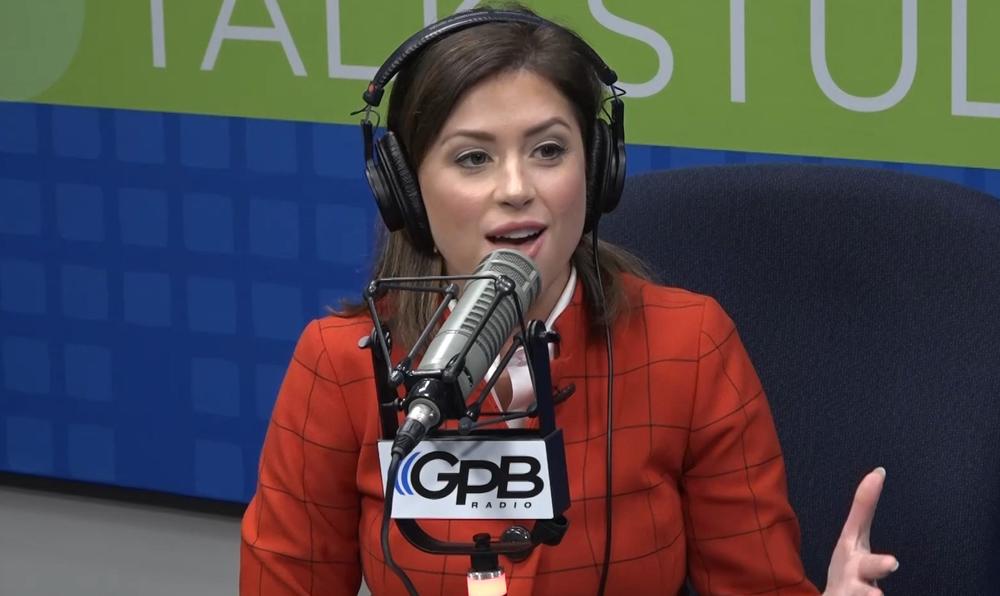 Chloe Melas: Oh, it's so cool. Steven Spielberg, Tom Hanks doing Masters of the Air. And it's going to come out this year starring Austin Butler, very expensive television show. I went to the set. It was remarkable. In the countryside of England, these sets are unbelievable. The attention to detail. They recreated these towns that had been bombed and we're walking through them. And the sets are so big, they're like an hour apart from each other. And it's just so neat. So Jonas Moore is playing my grandfather. He's a relatively unknown actor, but very talented.
Peter Biello: So how close is the resemblance?
Chloe Melas: Pretty good. He looks like a young Frank.
Peter Biello: Oh, that's great.
Chloe Melas: Great. I'm thrilled.
Peter Biello: So you have an appearance along with your mother at the Story in the Square and McDonough on on March 3 and at the Atlanta History Center on March 6. What can those who attend expect?
Chloe Melas: A lot of heart and [to] learn more about Frank and his experiences and this journey to publishing the book and what that was like and why it's so important to remember what your ancestors did before you. I'll just mention to you like what Tom Hanks said. He says, "No words matter more than 'I was there.'" And then he ends it with, "How did those boys do such things?" I wasn't there, but my grandfather told me about it. And we have this book that can really take you there. And that, I think, is so special.
Secondary Content
Bottom Content