Section Branding
Header Content
Watch: Biologists disentangle endangered right whale
Primary Content
LISTEN: A highly endangered whale is spotted entangled in fishing gear — and a Georgia team rushes to the rescue. Watch how they gave a whale named Argo a chance at survival.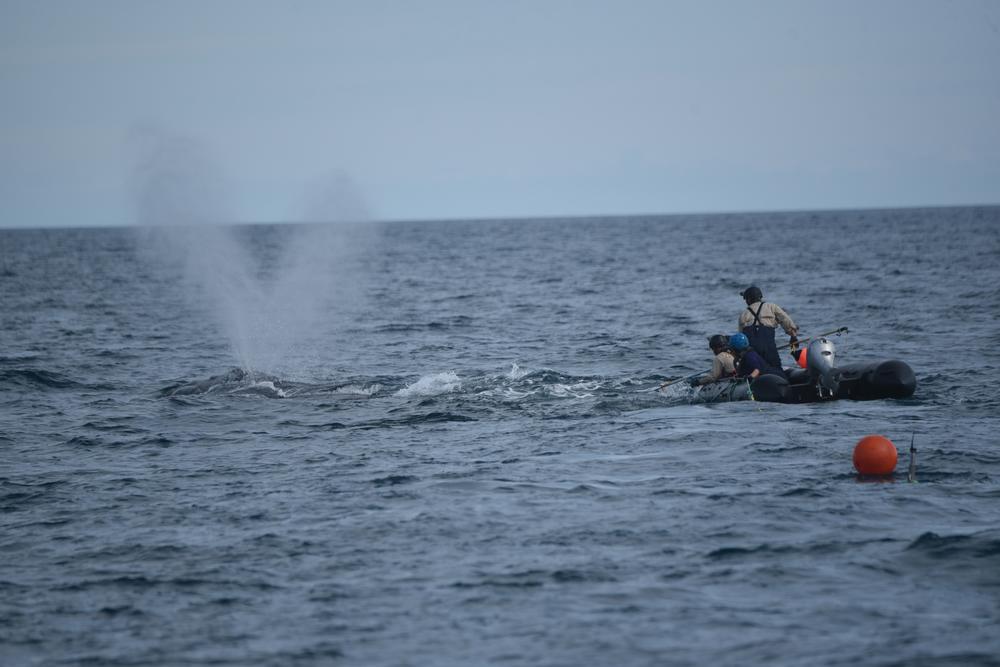 Teams from the Georgia Department of Natural Resources gave two highly endangered North Atlantic right whales a chance at survival last month.
The teams disentangled the whales from fishing gear that had gotten looped up around their tails, a leading cause of death for the species.
These were two rare success stories at a time when the total population of North Atlantic right whale is now down to less than 350.
DNR biologist Clay George was part of the teams that rescued both the first whale, nicknamed Nimbus, and the second whale, nicknamed Argo.
He spoke with Orlando Montoya for GPB's All Things Considered:
Orlando Montoya: What's the first thing that you and your partners do when you get the call that there's an endangered whale that has been spotted?
Clay George: The first thing we have to do is figure out what the situation is. Sometimes whales are entangled in rope and it's not life threatening.  But other times it's evident that the whale needs help. It's entangled in a way that would be life threatening for it if someone isn't able to help it.
Orlando Montoya: How hard is it even to locate the whale?
Clay George: These whales move around all over the place from Florida to Canada. And once they become chronically entangled, it's really just a matter of luck as to whether or not they're seen by a boat or an aircraft and there's a team nearby that can respond promptly and find them. 
Orlando Montoya: Can you describe the small inflatable boat that you call the "combat boat" that you approached the whale with?
Clay George: We call this thing a combat boat because they're similar to the types of boats that Navy SEALs use. They're really good for whale responses because we can boat up to that rope that the whale's dragging behind it, grab a hold of the rope, kick the engine up and turn the engine off and essentially get dragged behind the whale.
Orlando Montoya: Can you describe how exactly you get the rope off?
Clay George: We basically pulled up close behind the flukes. And one of my coworkers was able to use this special type of cutting tool called a flying knife. It's basically a knife that's attached to a piece of rope with a buoy on the other end.  And you can reach out and grab a hold of this heavy rope, which allows you to put a lot of pressure on this really thick rope that you otherwise wouldn't be able to cut.
Orlando Montoya: I've seen the video. It's not much a disentanglement as you would untangle your shoes. It's more like cutting off the entanglement.
Clay George: Yeah, that's right. Most of the time when these animals become chronically entangled, the rope is either twisted up in such a way or knotted in such a way that it's simply just not going to come off on its own.
Orlando Montoya: Does the whale behave as if it knows you're helping?
Clay George: Every case that I've worked in the past, these right whales are really evasive.  But this case was quite unique. Initially, the whale was being evasive.  But about halfway through the operation, the whale really started to slow down. And by the end, it was almost motionless in the water, just holding its flukes out while Mark was able to make these cuts.
Orlando Montoya: How do you train for this?
Clay George: Every year, we go out in the Brunswick River and drag a rope around with one boat and practice approaching it with the second boat and throwing a grapple at it to catch and snag that rope so we can try putting on a telemetry buoy on it. We learned a lot of these techniques from scientists at a place called Center for Coastal Studies up in Provincetown, Massachusetts. They're really the ones that invented a lot of these techniques for disentangling whales.
Orlando Montoya: And how does it feel when you finally let the whale go free?
Clay George: Oh, it feels terrific. And in this case, it was especially sweet because back in 2021, there was a whale down here who had a very similar entanglement to Argo. Unfortunately, he was seen two days in a row just before dark. We were on the water both times and did our best to try to cut this rope off. He was extremely evasive. We weren't able to approach him and help him, and he hasn't been seen since and is suspected to have died.
Orlando Montoya: Thanks so much for talking to me,
Clay George: Thanks for having me, Orlando.
Secondary Content
Bottom Content