Section Branding
Header Content
Dunwoody, Sandy Springs homes papered with antisemitic flyers
Primary Content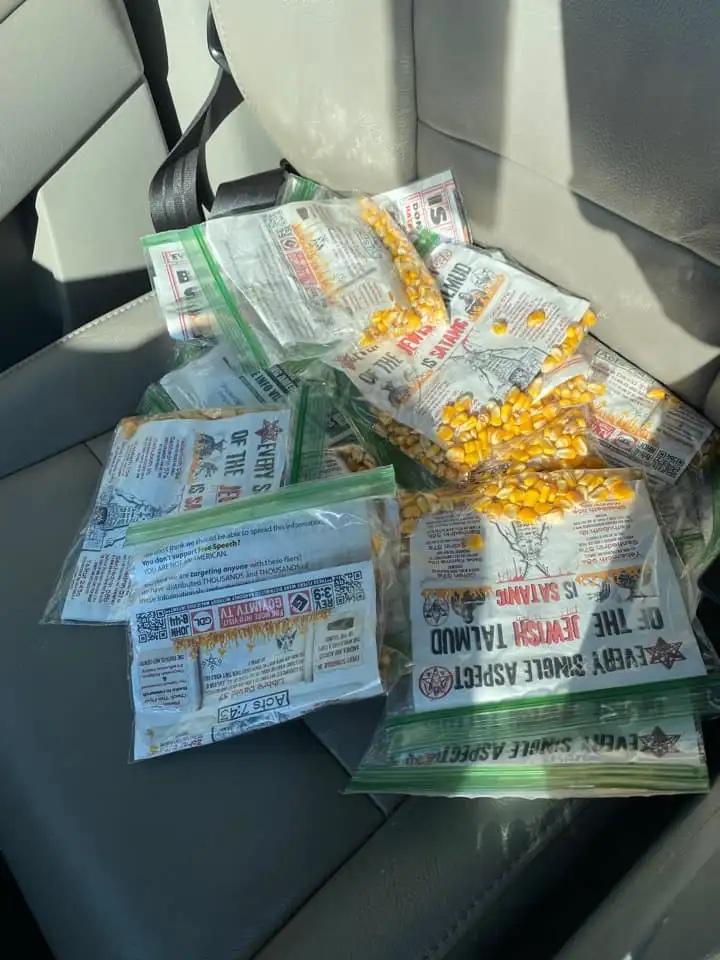 Residents in a half dozen Dunwoody subdivisions woke up Sunday morning to a slew of antisemitic flyers in their yards containing hateful tropes about the Jewish faith. 
Subdivisions affected include Oxford Chase, Meadowlake, and Dunwoody Club Forest, all neighborhoods located within walking distance from the Marcus Jewish Community Center and Congregation Ariel on Tilly Mill Road. 
Sandy Springs residents also reported finding the flyers in their yards.
Dunwoody Police Department is investigating, said Police Chief Billy Grogan. 
The flyers, supposedly distributed by the Goyim Defense League, a small network of antisemitic provocateurs, says in its headline "Every single aspect of the Jewish Talmud is satanic." 
Another rendition of the flyer claims the Anti-Defamation League "was established in 1913 to protect a Jewish child murdering pedophile."
On the flip side of the flyer, the authors made several claims that these types of communication are protected under the First Amendment. 
One flier reads: "You don't think we should be able to spread this information? You don't support free speech. You are not an American. You think we are targeting anyone with these flyers? We have distributed thousands and thousands of these informational indiscriminately across the whole of America. Our only target is the uninformed and the deceived."
The flyers were stuffed into clear plastic bags, and included dried corn kernels, presumably to weigh the bags down. Several Dunwoody residents reported that their surveillance cameras picked up a white four-door sedan vehicle throwing the flyers from the vehicle between 1 and 2 a.m. on Feb. 5.  One resident said that several flyers were left in their little free library box.
Another resident reported finding about 50 flyers thrown behind St. Luke's Presbyterian Church on Mount Vernon Road. 
Valerie Chambers, who lives in the Meadowlake subdivision, said she was dismayed to see her entire street papered with the flyers. 
"Two families got together and picked up all the flyers we could find," she said. "We didn't want anyone, including kids or older residents, getting upset seeing them."
Chambers, who is the Kennesaw State University campus director for Hillel, the foundation for Jewish campus life, said she is saddened, but not surprised by the action.
"Unfortunately, I see this kind of stuff all the time," she said. "It's not my first rodeo, but it is even more upsetting when it's right in front of your home." 
"They are the most vile antisemitic flyers you could possibly read. That's upsetting because I'm Jewish and because every home in the neighborhood got it," said one Dunwoody resident. 
Jeffrey Albertson, a Dunwoody resident who lives near the area where the flyers were dropped, condemned the action and said they trigger painful memories of past persecution.
"These flyers dredge up the painful parts of the Jewish experience steeped in anti-semitism and false tropes," he said. "As a Jewish community, we rise against hatred and intolerance to continue building a more inclusive and respectful community."
Dunwoody Mayor Lynn Deutsch encouraged residents to contact the police if they have any information that would be helpful in finding the perpetrators. 
"The purpose of activities like this is to cause fear and to divide us. Dunwoody is a community that values our diversity and is home to people of a myriad of faiths, races, ethnicities, and more," Deutsch said. "We live, work, serve and play together. At our Martin Luther King Jr Day of Service, Jews, Christians and Muslims worked together planting daffodils in memory of those who perished in the Holocaust. Dunwoody Police Department is aware and is investigating." 
"I stand with our Jewish community and all who face intolerance. I believe that love always conquers hate. Please be good to each other," Deutsch added.  
Sandy Springs Mayor Rusty Paul also condemned the act, and said the city is checking security cameras to identify the culprits. 
"We are a tolerant community, but this is intolerable," he wrote on social media. "If legal charges are possible, they will be brought."
Eytan Davidson, the Anti-Defamation League Southeast regional director, said there were 150 similar episodes in Georgia last year, including incidents in the city of Atlanta and Sandy Springs. 
"It is a longtime tactic of white supremacist groups, but it's ramped up in the last couple of years. We are still investigating, but [this incident] looks very much like a group that we are familiar with from similar incidents across Georgia," Davidson said. 
ADL reported that antisemitic acts are at an all-time high. Georgia reported at least 238 hate crime incidents in 2021 – an increase from 195 incidents in 2020, reaching the highest number it has been in over two decades, the ADL website states. 
Rep. Esther Panitch (D-51st District) took to Twitter to comment on the incident. 
"Welcome to being a Jew in Georgia-my driveway this morning. @SandySprings_PD came and took for testing. Govern yourselves accordingly, GDL and Anti-Semites who seek to harm/intimidate Jews in Georgia. I'm coming for you with the weight of the State behind me."
Temple Emanu-El, located on Spalding Drive in Sandy Springs, emailed its congregation informing them of the incident, saying "clearly this type of stunt was meant to be deliberately antagonistic, and to make Jews feel 'other' in our own homes."
This story comes to GPB through a reporting partnership with Rough Draft Atlanta.
Secondary Content
Bottom Content