Section Branding
Header Content
Atlanta Mayor Andre Dickens announces 'Cop City' compromise as protestors fill City Hall
Primary Content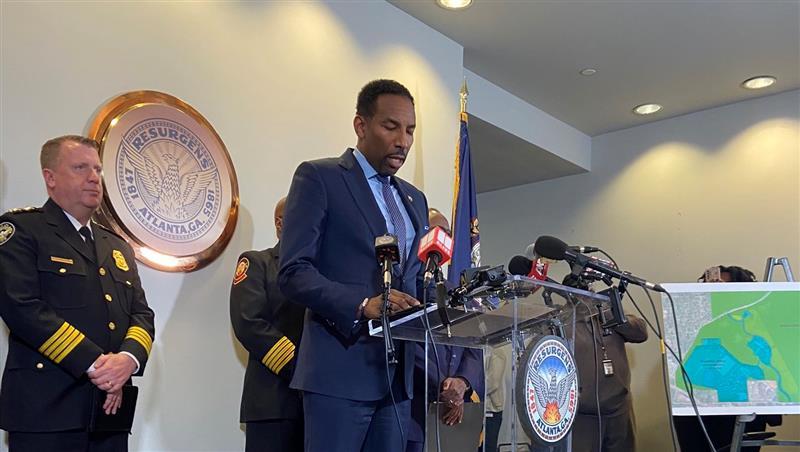 Tuesday afternoon, Atlanta Mayor Andre Dickens and DeKalb County CEO Michael Thurmond announced changes to the planned Atlanta Public Safety Training Center known as "Cop City." They said their compromise will protect the environment, spur local business and serve as a community resource.
"Cop City" is the forested area in Atlanta where protesters camped out for months in opposition to the construction of a police training center. A 26-year-old protester, Manuel Esteban Paez Teran, also known as 'Tortuguita,' was shot and killed on the site Jan. 21 by law enforcement, who said Teran shot first and wounded a state trooper. The Georgia Bureau of investigation released information about a firearms transaction record from September 2020 that said the protester legally purchased the firearm that was used to shoot the trooper.
At City Hall on Jan. 31, some members of the press were denied entrance to the meeting room inside City Hall where the mayor's announcement was set to begin at 3 p.m.
Protestors dressed in face masks and crocheted skullcaps banged on a wall bearing a gold city seal and shouted, "Andre Dickens, blood on your hands" and "APD, shut it down!"
Our GPB News reporter was among those blocked from entering the conference room.
In a live stream broadcast by 11Alive, Dickens outlined the agreement and its new recommendations.
"We're here taking the recommendations to add a 100-foot tree buffer, the recommendations to add sidewalks, the recommendations to have the firing range moved further away from the residential area."
The agreement clears the way for construction permits, he said.
"Our development partner has committed to replace any hardwood tree that will be destroyed in construction with 100 hardwood trees for each one, as well as replacing invasive species with hardwoods," the mayor said. "So the site will include double erosion control to ensure viability of Intrenchment Creek, the main waterway in the South River Forest Basin. The site itself will have greenspace open to the public, featuring trails, ball fields and picnic areas."
Dickens said the facilities were necessary for officer training but would offer additional uses, including "a pavilion and accessible meeting spaces for the community."
"The city of Atlanta has the most extensive training requirements in the Southeast," Dickens said. "Our training includes vital areas like de-escalation training techniques, mental health, community oriented policing, crisis intervention training, as well as civil rights history, education. This training needs space, and that's exactly what this training center is going to offer."
Dekalb CEO Michael Thurmond added that the site plan included grading and drainage plans, stormwater management, a tree protection and replacement plan and "a biological assessment of any critical habitat in endangered and threatened species."
"This is what informed and shaped our ultimate decision, which was to issue the land development plan," Thurmond said. "It wasn't politics, it wasn't political pressure. It was objective, professional assessment of the information that was provided to us."
After the press conference, protests continued outside of City Hall.
Secondary Content
Bottom Content