Section Branding
Header Content
Savannah College of Art and Design creates new studios in partnership with Deloitte
Primary Content
LISTEN: The new Deloitte Foundry marks what SCAD calls a "new chapter" in its partnership with the global consulting firm. GPB's Benjamin Payne reports.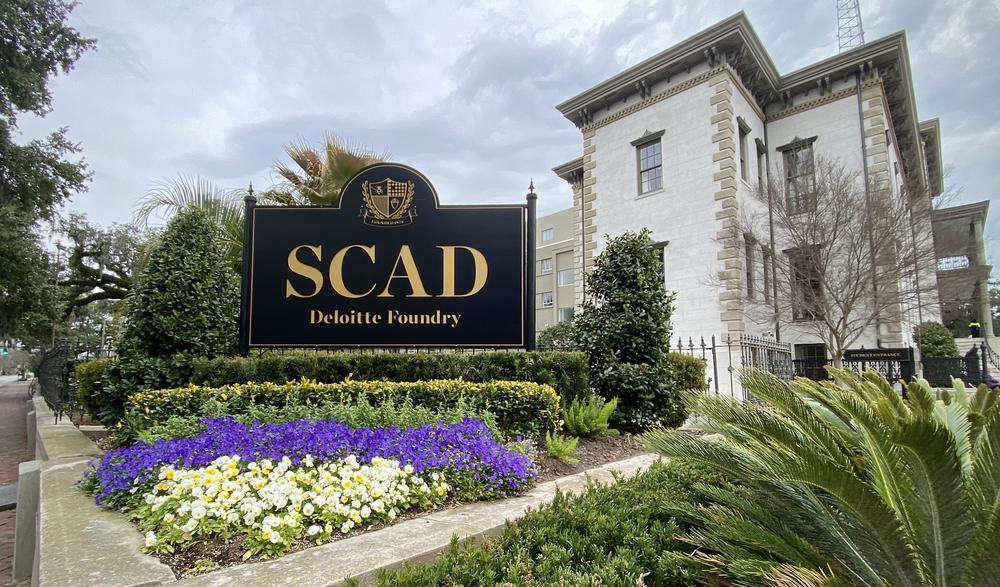 The Savannah College of Art and Design is partnering with the world's largest provider of professional services to give students new opportunities for real-world experience.
SCAD announced Wednesday that it has renamed Ruskin Hall as Deloitte Foundry. Located just east of Forsyth Park in the same building that once housed Candler Hospital — Georgia's first hospital — it will now be home to several new initiatives with global consulting firm Deloitte.
"We'll have new studios, new opportunities for students to be recruited, and new opportunities for students to really dig into new types of technologies, whether it's immersive reality, blockchain, NFT," said SCAD administrator Paul Stonick. "And it gives them an opportunity to really understand what the future looks like, and really provides Deloitte an opportunity to expand their thinking in their creativity and innovation."
Among the new initiatives are the Deloitte Rapid Implementation Studio, where multidisciplinary teams of students and faculty devise solutions to business challenges; the Digital Frontier Studio, focused on research and design through emerging technologies including artificial intelligence; and the Deloitte Concierge Recruiting Center, for mentorship and recruitment after graduation.
"We saw it as an extension of work that we could do on our own, using students who had not been constrained yet by what you can and cannot do in business," Deloitte principal Gretchen Brainard said. "They didn't have the rules that apply to them, and getting them to think about the art of the possible and challenging us on our own orthodoxies and beliefs and trying to take it to the next level was really intriguing to us."
SCAD's partnership with Deloitte began informally in 2019. Since then, the school says that hundreds of students have gained experience creating design solutions for the firm. More than 30 SCAD students who participated in these collaborations were hired by Deloitte upon their assignment's completion.
Secondary Content
Bottom Content