Section Branding
Header Content
Lawmakers: Senate Majority Caucus announces priorities on Day 8
Primary Content
Senate Majority Leader Steve Gooch lays out the Senate Republican's priorities for the upcoming session.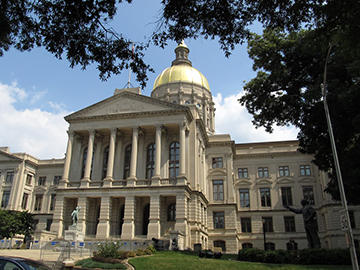 The Georgia Senate Majority Caucus announced its legislative priorities for the 2023 legislative session today at a news conference. 
Following Gov. Brian Kemp's lead, Senate Republicans plan to focus on economic growth, education and public safety this session.  
Majority Leader Steve Gooch (R - Dahlonega) said Senate Republicans are planning a "prudent" income tax reform and tax credit review. Gooch also said they want to reduce and eventually eliminate personal and corporate income tax.  
Electric vehicle manufacturing is shaping up to be a major force propelling Georgia's economy. Kemp announced four electric vehicle manufacturing plants in his first term as governor.  
Gooch said Republicans intend to lay the groundwork for more electric vehicles in Georgia. He expects to see legislation to facilitate infrastructure growth by the end of the session.  
Gooch stressed the importance of creating an educated workforce amidst Georgia's booming economy. He said that effort starts with elementary school students.  
"One unique Senate-led effort will be our quest to improve literacy rates here in Georgia," Gooch said. "So much emphasis in recent years — and rightfully so — has been put on increasing graduation rates as the benchmark for educational success. However, we need to make sure that graduation equals preparation." 
Sen. Billy Hickman (R - Statesboro) said Georgia's literacy rate for third grade students is concerning. According to Hickman, the average rate of Georgia third-graders reading at a third-grade level in 2021 was 43%. Researchers commonly use third-grade reading level as a key benchmark for academic success. 
Despite a low third-grade literacy rate, high school graduation rates in Georgia remain high. The Georgia Department of Education reported that in 2022, the statewide high school graduation rate was 84%. 
Gooch said Republicans also plan to tackle school and community safety. Senate Republicans want to put panic buttons into school classrooms to increase school safety, and more specific legislation on the topic will be introduced.   
As Kemp announced in his 2023 State of the State address, Republicans plan to increase penalties for recruiting minors into gangs. Gooch said that Senate Republicans will also push for bail bond reform for violent offenses.  
Senate Republicans also touched on rural health care access. Sen. Larry Walker (R - Perry) will lead a committee on innovative health care solutions for rural underserved communities, and Republicans will work with Kemp to create additional benefits for some pregnant women. Gooch also said that Senate Appropriations Chair Blake Tillery (R - Vidalia) will push for support for foster families and children in the budget.  
Not among the priorities: gambling. Gooch said that he anticipates some debate over legalizing sports betting, but it is not a priority for Senate Republicans. Past efforts to put a constitutional amendment on the ballot to allow gambling have failed. 
Secondary Content
Bottom Content