Section Branding
Header Content
Sen. Sonya Halpern on her ride-along with law enforcement
Primary Content
LISTEN: GPB's Ambria Burton asks Democratic state Sen. Sonya Halpern on what made her want to participate in a ride-along with Georgia State Patrol.
——
​State Sen. Sonya Halpern, an Atlanta Democrat who represents District 39 in the Georgia Legislature, recently participated in an evening ride-along with the Georgia State Patrol.
She became interested in participating in a ride-along after a conversation with a Georgia State patrolman working security at the Capitol.
The patrolman introduced her to Maj. Kendrick Lowe, who is responsible for the northern half of the state for the Department of Public Safety. Lowe then set up the ride-along on Halpern's behalf. 
Halpern hopes that sharing her experience of the ride-along will give her fellow lawmakers and the public a better understanding of what law enforcement officers face in the field and why their work is vital to the community.
The evening shift
It was Saturday night, Jan. 7, in the city of Atlanta and Halpern was scheduled to observe a full shift with the Georgia State Patrol, from 7 p.m. until 2 a.m.
Before taking off for the ride-along, she had to be fitted with proper attire. She was given protective body armor in the form of a bulletproof vest to provide a layer of safety.
Despite not knowing what to expect upon her arrival for the ride-along, Halpern had several realizations while spending time in the passenger side of the squad car.
"I was really excited to be able to join," Halpern told GPB in a phone interview over the Martin Luther King Jr. holiday weekend. 
"I went along with members of the Georgia State Patrol, but the Crime Suppression Unit is inclusive of other departments, as well," she said. "I joined what ended up being a team of maybe 50 or so people and I rode with Cpl. Anthony Munoz in his car. It was the two of us as part of this larger team."
It wasn't until she was in her gear riding in the car that it dawned on Halpern: Members of law enforcement can encounter unforeseen circumstances at any moment of the job.
"What I came to realize is that every stop, you just don't know what might happen," Halpern said. "'Is somebody going to try to flee? Is somebody going to just pull over? What might be going on inside of the car that you just pulled over?'"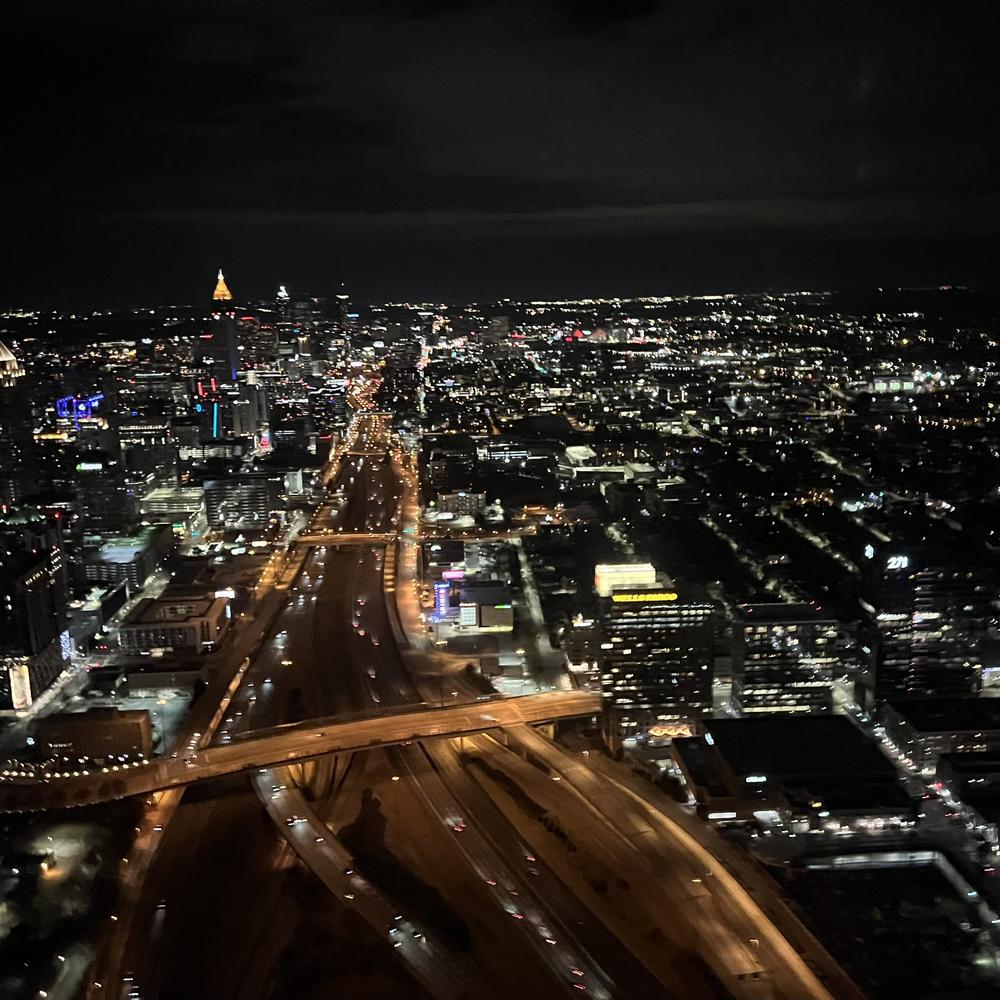 View from the sky
Halpern participated in both ground and air patrol. 
The air patrol allowed her to go on a helicopter ride to help on-the-ground officers with a case they were pursuing in which a suspect had abandoned their car to flee into the woods. While in the air, Halpern admired the view of the city at night.
"It was a beautiful clear night," she said. 
"Had I just been out on the streets … I would have been saying, 'What a beautiful night.'" she said. "As somebody who was riding with law enforcement, I really was like, 'Wow, this beautiful night really does belie what's actually happening below."
"It was a very strong reminder for me that our law enforcement officials/officers are there to help protect us and keep us safe," she added. "And it is a profession that they take seriously."
Crime affects every district
According to the Georgia Bureau of Investigation's 2021 Crime Statistics Summary, the Metro Atlanta area had the highest percentage of crime out of the reported metropolitan statistical areas in Georgia at 61.8%.
District 39 is located in Fulton County with GBI's data also reporting that Fulton County had the highest index crime total of the counties in the Atlanta-Springs-Alpharetta area at 32,903 reported crimes.
Halpern's interest in a ride-along stemmed from her desire to improve the statistics in the district where she lives and serves.
"As a legislator, I think that it's important for me to remember that we are creating the laws that we're expecting law enforcement to enforce," she said. "As a leader, I think it's also incumbent upon us — and myself obviously included — to make sure that we've got relationships with our law enforcement, just in the same way we're saying our communities need a closer relationship with law enforcement. As leaders, we do as well. We can help to become a bridge in that effort."
Lt. Gov. Burt Jones, who is the president of the Georgia Senate, suggested in the sessions last week that lawmakers should focus on the issue of crime in Georgia. Halpern believes the ride-along experience gave her a new lens through which to view issues throughout the 2023 legislative session.
"I do think that the perspective will be an important one to lend to those discussions," she said.
Lessons for the person — and the senator
On the topic of what she learned from the ride-along, Halpern said she gained a stronger understanding of the hard work law enforcement does.
"It's quite another thing to be able to do a ride-along and be able to have those conversations directly with [law enforcement]," she said. "To be able to see for myself and gain insight and perspective on what actually happens, and how different one moment to the next hour may be in terms of the kinds of issues that may come up, to better understand the approach that is taken to the work that needs to be done, and again, to enforce the laws that we have codified."
Halpern walked away impressed with the level of professionalism and coordination among the Georgia State Patrol officers.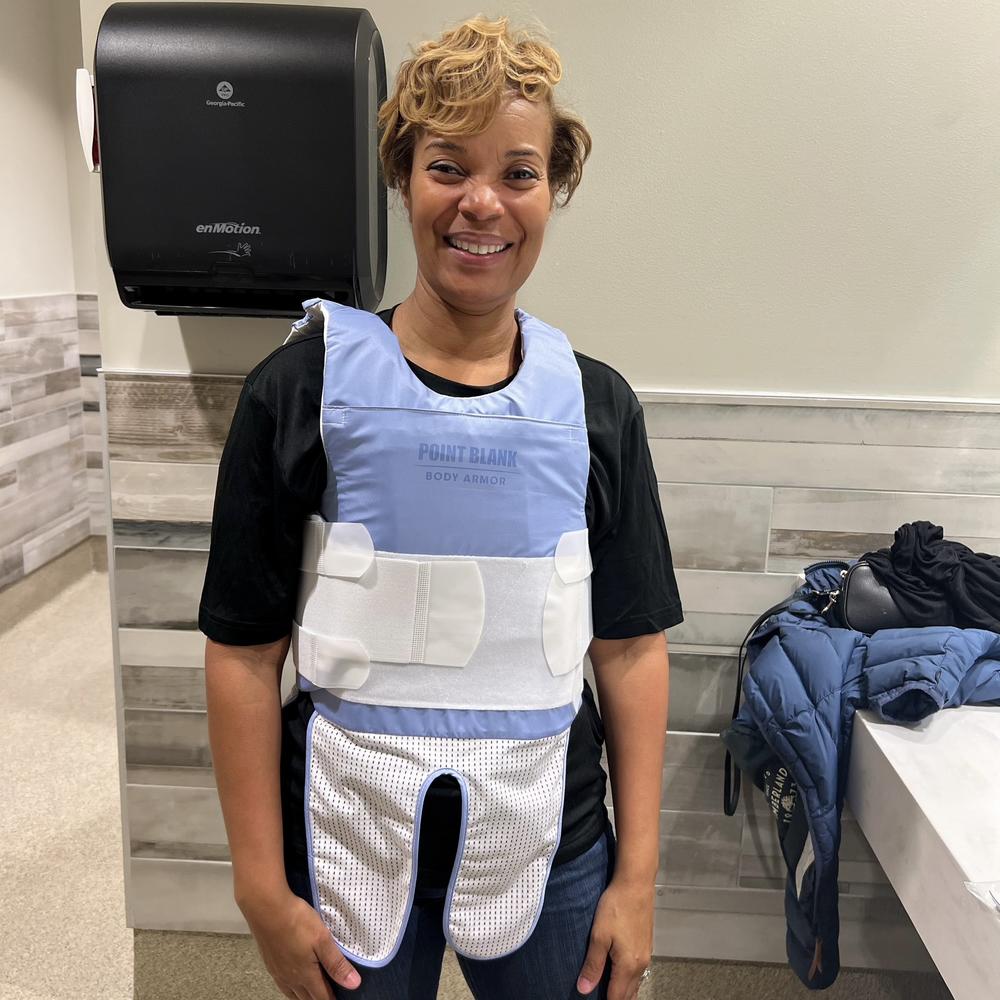 As a result of her experience, Halpern announced that she started a club for Senate members, the Arms Around Safety Club, where the only requirement to join is the completion of a ride-along with Georgia State Patrol during the current session.
With her dedication to having a great relationship between herself as a lawmaker with law enforcement, Halpern shares that there are more opportunities in the future for more ride-alongs.
"This may have been my first ride-along, but it won't be my last," Halpern said.
Secondary Content
Bottom Content