Section Branding
Header Content
Lawmakers: Kemp addresses storm damage on Day 4  
Primary Content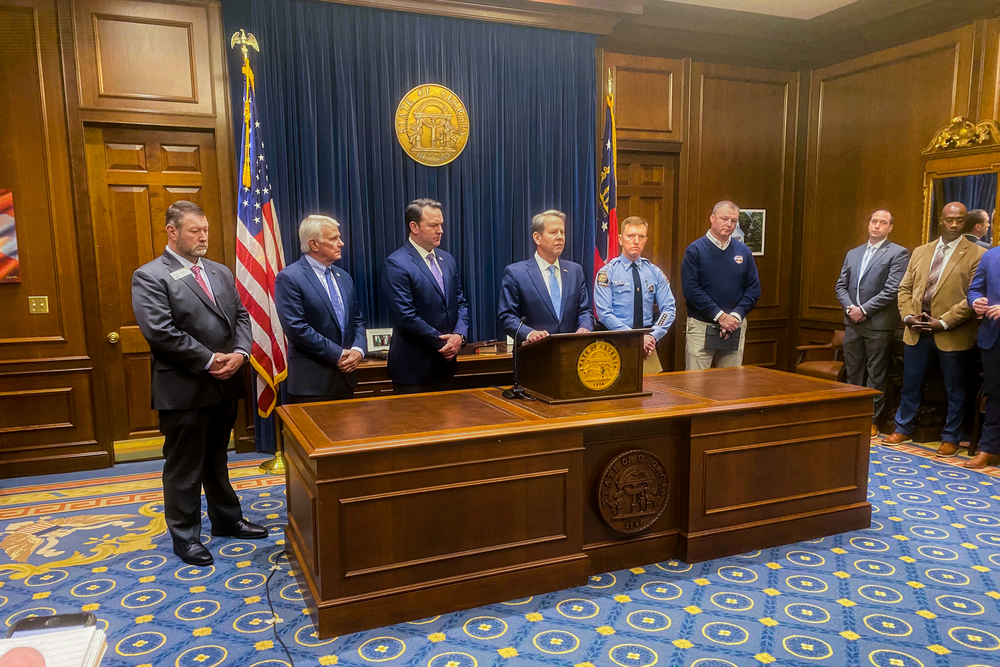 Gov. Brian Kemp spoke at a press conference Friday morning, addressing the deaths and damages from extreme weather that swept through the state on Thursday.
Two people have been killed by storm debris so far. One of the victims was a 5-year-old child killed by a tree falling on a car. An adult was also critically injured in an accident in Butts County, Lt. Gov. Burt Jones' home county. One Department of Transportation employee was also killed while responding to storm damage.  
Georgia Emergency Management Agency Director James Stallings confirmed that four tornadoes touched the ground during the storm. He also noted that some areas that did not see a tornado, experienced winds up to 75 mph. Spalding County was hit the hardest by the storm, and Stallings cautioned Spalding residents to be mindful of falling debris post-storm.  
"Don't be shocked to find out that more trees are going to come down and limbs are going to break loose," he said. "There's still some wind in the front moving through, so anything that's loose will still fall."  
A subdivision in Spalding sustained damages that displaced people from 50 homes.  
State agencies were still working to clear roadways and have power restored in areas most heavily impacted.
Economic damages have not yet been assessed.  
"That's a main priority of GEMA certainly, but first is life and safety issues and restoring power and those types of things, necessities for people," Kemp said. Georgia will seek federal assistance for disaster relief if the state qualifies, he said.  
Kemp, Jones, and Speaker of the House Jon Burns will take a helicopter tour of statewide damage. But Kemp said that they will not be on the ground immediately to allow state agencies to continue their storm responses without disruptions.  
Secondary Content
Bottom Content