Section Branding
Header Content
National championship game is a once-(or twice-)in-a-lifetime trip for diehard Georgia Bulldogs fans
Primary Content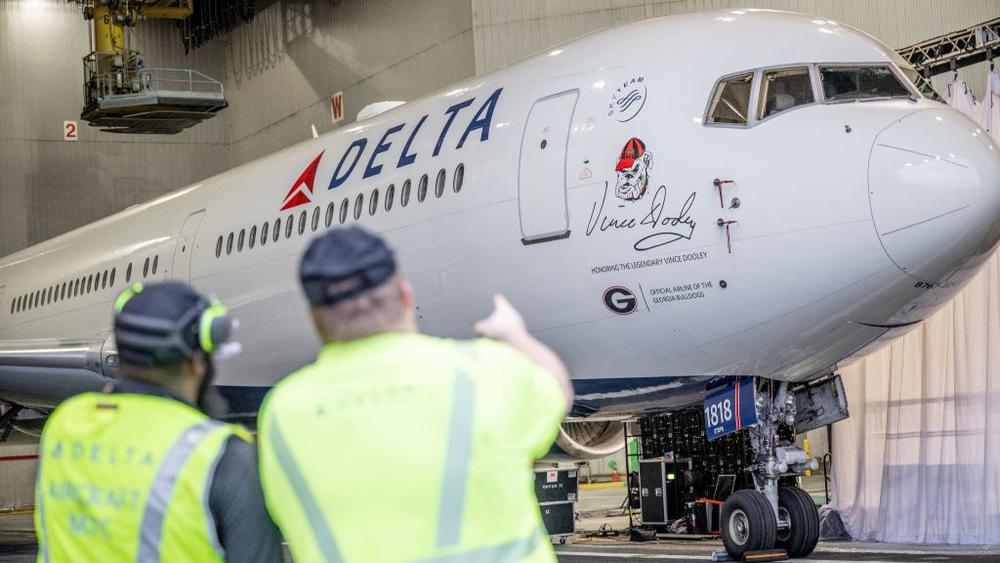 When the Georgia Bulldogs defend their national championship title outside of Los Angeles on Monday, they'll have a dedicated fan base joining them.
For many of the most diehard red and black fans, travel planning began long before last weekend's last-minute win against Ohio State — and it doesn't come cheaply.
Macon attorney David Cooke said his wife asked him before Christmas if he'd be comfortable with receiving an expensive gift this year.
He was surprised and thrilled when he opened a card on Christmas that said that if Georgia made it to the national championship, he'd be going.
"I'm not a huge sports fan," said Cooke, a University of Georgia alumnus and a former member of the school's marching band. "But when it comes to the Dawgs, it's different."
His wife started planning the trip weeks before Christmas with other former band members, friends with whom Cooke will be sharing a rented house in California.
It will be his first national championship game.
Macon surgeon and former Bulldogs player Ryan Schnetzer, on the other hand, was at last year's title match in Indianapolis, when Georgia won the game for the first time since 1980.
He planned that trip within a week of the game and ran into problems with driving and lodging.
So this year, he started planning right after the Nov. 5 Georgia-Tennessee game, booking refundable plane tickets and hotel nights in case his former team didn't make it.
"We owe it to the team and the players, as many fans that can get out there, to get out there and support them," said Schnetzer, who was a Bulldogs player from 2003 to 2005. "I don't think I'd be where I am in life right now without playing football at the University of Georgia."
He'll be part of a group of 14 fans, whom he describes as friends and regular football mates, who'll be staying in La Joya and renting a "party bus" to take them to the game in Inglewood.
Compared with the Maconites, Savannah attorney Ansley Threlkeld is a more spontaneous traveler to this particular destination.
She said that she made the decision to go to California after the team's come-from-behind victory on New Year's Eve.
"For us, Georgia is really about family and friends," said Threlkeld, who attended law school at UGA, married a UGA alumnus and has a daughter about to enter UGA.  "Would it have been nice to have planned this long ago and saved financially?  Absolutely. But I think part of the fun is just in the adventure of it."
Online searches suggest that waiting to book a flight added hundreds of dollars to the price.
But Threlkeld said that she regretted not accepting a friend's invitation to join her at the game in Indianapolis last year and wouldn't miss this game, which she calls a "once-in-a-lifetime trip."
She's looking forward to staying and reconnecting with an old friend and UGA graduate in Los Angeles.
Just how much these once- (or twice) in-a-lifetime trips cost depends on a variety of factors, of course.
Online searches find nosebleed seat game tickets starting at $354, inconveniently-timed round-trip flights with layovers starting at $552 and budget hotels starting at $140 per night.
Atlanta-based Delta Air Lines announced Tuesday that it would once again be transporting the Bulldogs to the national championship game.
The airline commemorated the life and legacy of renowned UGA football coach Vince Dooley with the dedication of a Boeing 767-400 featuring a memorial seal honoring the Hall of Famer.
The 2023 College Football Playoff National Championship is scheduled for 7:30 p.m. EST with the Georgia Bulldogs facing the Texas Christian University Horned Frogs.
Secondary Content
Bottom Content