Section Branding
Header Content
With their latest album 'Bellringer,' hip-hop artist Linqua Franqa captures the essence of 2022
Primary Content
LISTEN: If you wanted an album that perfectly captured 2022, you'd be hard pressed to find a better one than "Bellringer," the latest full-length release from Georgia musician Mariah Parker, performing as Linqua Franqa. GPB's Peter Biello reports.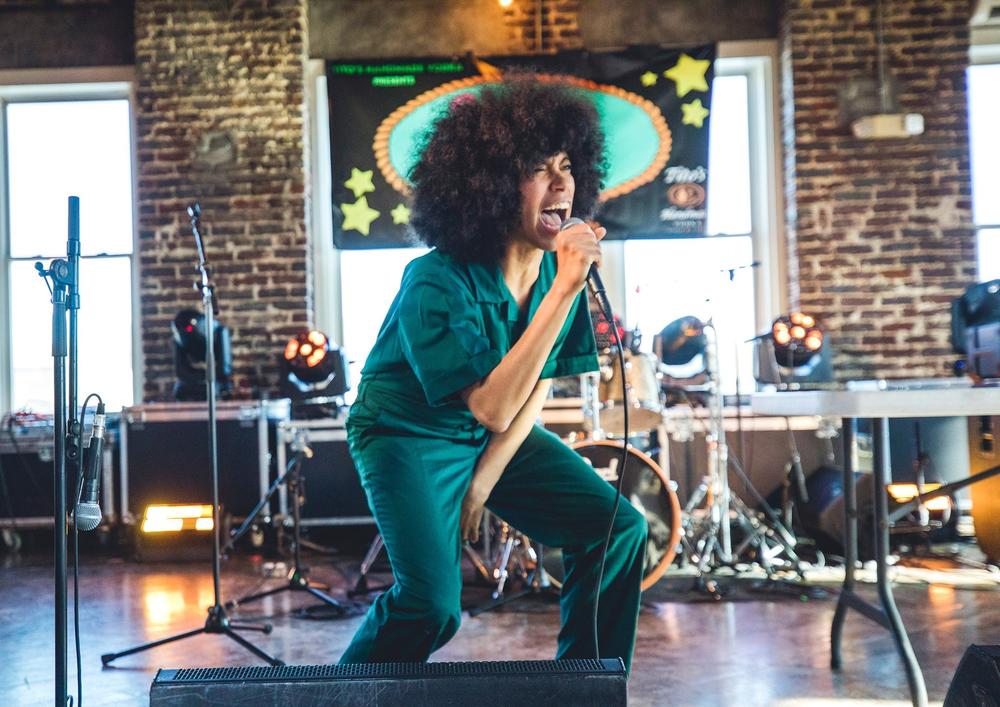 Each December, NPR counts down the best music of the year. Here's a name that could stand with that roster: Athens, Ga., hip-hop artist Mariah Parker — a.k.a Linqua Franqa — whose album Bellringer grabbed attention with its pointed (occasionally explicit) socially conscious lyrics and globally inspired rhythms.
Parker, who moved to Athens in 2013 after lamenting the lack of diversity in the arts scenes of hometown Louisville, Ky., and at Warren Wilson College in Swannanoa, N.C., said in an interview with NPR earlier this year that they began organizing hip-hop showcases in Athens and "rapping about public policies and personal struggles," connecting their experiences to social inequality and the need for change.
That led Parker to run for Athens-Clarke County Commissioner at age 26 while pursuing an advanced degree at the University of Georgia. But while Bellringer doubles as Parker's Ph.D. dissertation in Language and Literacy, it also grew out of Parker's curiosity about current events.
"I wrote 'Wurk' not necessarily because I was a strong labor advocate at the time, but just trying to understand the movement that seemed to be suddenly up surging across the country," Parker said in an interview with GPB.
"Wurk," comes as organized labor is gathering strength across the country.
"Workers ship the boxes
They swiffer and the mop and
Look chipper whenever talking
And whipping the shopping carts
They pack the beer in thе walk-ins
And stack the weird little boxеs
Keep our kitchen fridges stocked and
Our financial markets solvent."
Parker now works for the Service Employees International Union supporting fast food workers in Georgia. Just a few weeks ago, Parker released a song in collaboration with the Union, "Coming for Ours."
Their musical uplifting of unions has gained so much popularity they were asked to perform "Wurk" at the June 2022 AFL-CIO Convention in Philadelphia where President Biden also made an appearance. 
For a second example of Linqua Franqa rhyming with the times, listen to "The Tree," in which Parker explores the consequences of violent political rhetoric with an imagined scenario of a threat appearing on their doorstep
"Answering a knock to see if my doordash is here
but it's a MAGA-hatted kid brandishing magnums with a leer,
so when he grabs me and he drags me to a van
and throws me in the back of it I say a prayer to my ancestors…"
Parker said in the course of their work — including the Athens-Clark County Commissioner position they resigned this summer — they have been the target of violent threats. 
"Some people do desire harm for me, my property, my family, and so in my hypervigilance around that reality kind of gave birth to an imagining on that song of like, what's the worst that could possibly happen?"
And while some of Parker's work grapples with difficult subject matter — mental illness, political violence, racism and structural inequities — there is a more heartfelt side to this album.
Which brings us to "13 Weeks," a song about choosing to become a mother. 
"Nobody tells you, even if you feel prepared to keep and clean and feed him
Push the baby carriage, cherish him and barely sleep
Entering parenthood is such a scary thing
Never knowing where the story's going's the only guarantee"
"'13 Weeks' meditates on my choice to become a parent last year and the struggles that parents still face, even when they're so excited about having kids — to pay rent, to afford doctor's bills."
This song is a follow-up to an earlier track released a few years ago, "8 Weeks," which recalls the experience of having an abortion.
"It's a daughter but she's gotta go, though could you spare a life?
Could you prepare her right if you tried? Are you the parent type?
Prepared to fight for the right of choice
And yet embarrassed by the choice
If it's a parasite, why ya eyes all moist?"
Parker said in a state like Georgia, where abortions after about six weeks are now illegal with few exceptions, where Medicaid hasn't been expanded, and parental support is hard to come by, it's important to be innovative in pushing for political ends. Music is one way they can. 
"So you might put on a song like 'Wurk' and think the beat is just dope and vibe to it," Parker said, "but then start to really reflect on its message and wonder what that potential is in your own workplace to organize folks. Or you might listen to a song like 'Til We're All Dead' and hear the story of this community coming together in the aftermath of a police murder, to organize the neighborhood, to elect someone that can represent their interests."
Secondary Content
Bottom Content