Section Branding
Header Content
Georgia's young voters turned out for the U.S. Senate runoff. Here are their thoughts on the results
Primary Content
LISTEN: GPB's Ambria Burton asks Kennesaw State University student Zae Brewer about Georgia's 2022 runoff election for U.S. Senate and how young voters helped Sen. Raphael Warnock win.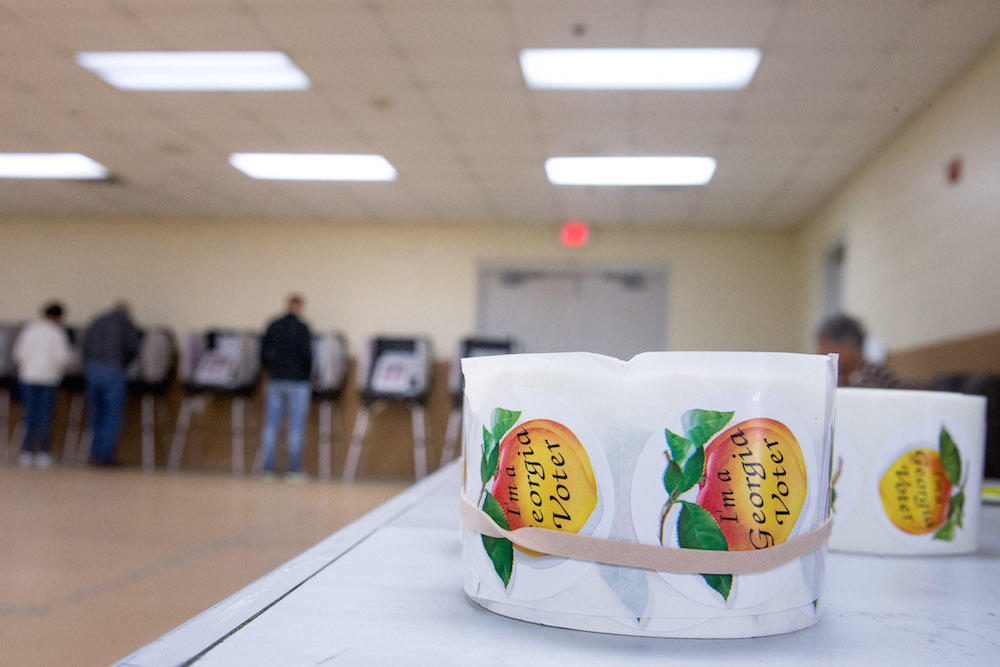 In a hard-fought race that concluded with Georgia's runoff election on Dec. 6, 2022, Democratic U.S. Sen. Raphael Warnock defeated Republican challenger Herschel Walker to reclaim his seat in the U.S. Senate for a full six-year term. 
Warnock's win adds another Democratic seat in the Senate, creating a 51-49 majority over Republicans — though that majority slimmed Friday when Sen. Kyrsten Sinema of Arizona announced she's leaving the Democratic Party to register as an independent. 
The demographic that helped push Warnock ahead of Walker in the runoff? Young voters between the ages of 18 and 24, who represented a greater share of votes in the Dec. 6 runoff than either the 25-29 or 30-34 age groups.
Despite the runoff election's lower overall turnout numbers compared to the general election on Nov. 8, young voters played a substantial role in Warnock's victory. 
According to data provided by the secretary of state's office, about 91,000 young voters cast their vote in the runoff election, giving them a turnout rate of 11.4%. This compares to the 230,000 young individuals who voted in the midterms. 
Both candidates began campaigning with young voters in mind, but Warnock fared better in reaching them.
In the early stages of his campaign, Herschel Walker took advantage of the support of his 23-year-old son, Christian Walker, who is well-known for his conservative-based social commentary on TikTok. Christian later became one of his beleaguered father's most vocal critics, and Herschel Walker did not continue to actively target the youth vote after things went sour.  
19-year-old voter Andrew West, a Kennesaw State University information security and assurance student who identifies as a Republican and supported Walker, says Walker failed to communicate his message with the youngest voter category.
"I think, in his campaign, [Walker] did not do a good job in connecting young people to the issues," West said. "It was very broad and open."
Walker got into hot water with comments he made on the campaign trail about people born after 1990 perhaps not deserving voting rights. But West says what made it easy for him and other Republicans to vote for Walker is that he agreed with a lot of the ideas that Walker stood for. 
"It was a myriad of issues," West said, "like the right to bear arms, right to self-defense, voter ID laws, and backing law enforcement. All those issues resonate with what Republicans have been feeling for the past god-knows-how-long now and I think that's why we as Republicans voted the way we did." 
Unlike his opponent, Warnock made a strong effort to target the young vote by paying visits to several Georgia colleges and universities throughout his campaign. Just last week, Warnock held a rally at Kennesaw State University, one of Georgia's largest public institutions, to campaign and talk to students.
Amongst those present at the event was 19-year-old KSU political science student, Zae Brewer, who says candidate quality was the main cause to spearhead his decision in voting for Warnock. 
"I just thought that Herschel Walker would have been an embarrassment for the state of Georgia," he said. "I did not want him representing me. I don't think — and I think a lot of Georgians feel this way — that the Trump agenda reflects Georgia, and I think that's best shown for 2020 and 2022. But Sen. Warnock is a very inspiring senator."
KSU public relations student Lauren Chapman, 23, feels that Warnock won the election because he spoke to progressive issues that young voters are passionate about such as abortion, climate change, and LGBTQ+ rights. 
"One is abortion rights," Chapman said. "I am very much 'Don't tell me what to do with my body if you don't have a uterus,' and it's my body, my choice. What I do should not affect you because you're not living my life. Gun control and gun reform is also a huge issue. For me, it's just knowing that there's someone who thinks along the same lines as I do in a position in power." 
Warnock acknowledged throughout his campaign and received praise for his bipartisanship efforts in working closely with both Democratic and Republican officials. Some voters, like Brewer, hope that bipartisanship continues when needed during Warnock's time in the Senate seat. 
"He is very bipartisan and me, as someone who's more of a moderate to conservative Democrat, I do like to see senators working across the aisle; people in our government are putting the party aside every now and then and working to get things done," Brewer said. "So, I hope he keeps up that bipartisanship, and honestly, I just really hope to see he continues to do what he's doing." 
As far as how Republicans can come back from losing the Senate, West says that they should try to dip into the young vote that the Democratic party has secured.  
"Going forward, for Republicans staying united is the biggest thing," he said. "You need clear messaging, and you need to get back the young vote, even if it's still a Democrat majority, like what we saw in Cobb County. You still need to at least change the mindset of the young vote where it makes it competitive again."
With Warnock now having a full term in the Senate, Georgians have to wait until 2026, when Sen. Jon Ossoff is up for reelection before voting for a U.S. Senate seat again. 
 
That gives politicians time to work on their ground game with targeting the 18-to-24 set, but to young voters for whom progressive goals are key, it's unlikely the issues that matter to them will change.
Secondary Content
Bottom Content