Section Branding
Header Content
Stevie Wonder plays last-minute virtual concert for Sen. Warnock before Georgia's Dec. 6 runoff
Primary Content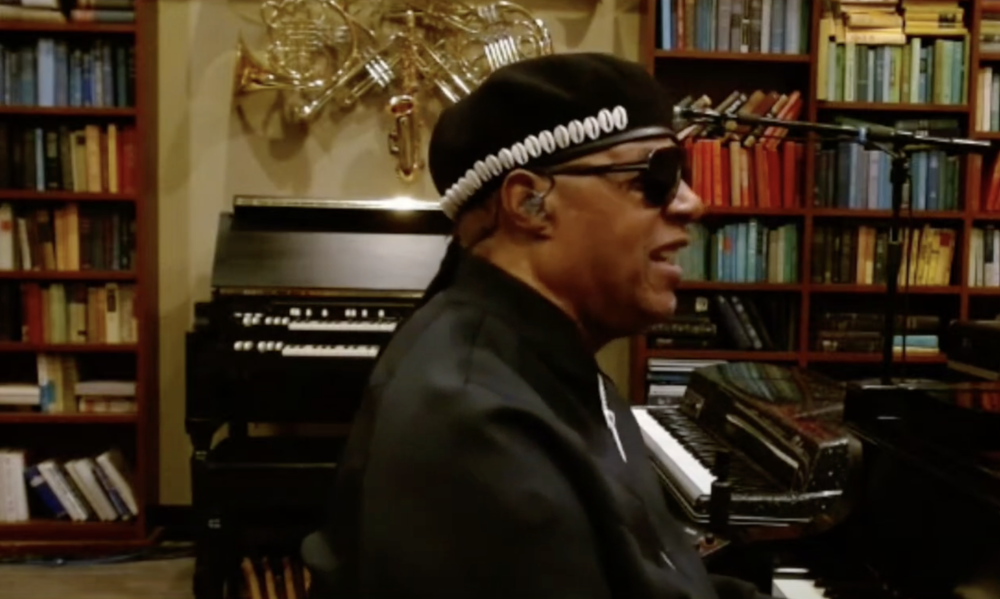 Sen. Raphael Warnock's campaign sent out a press release Saturday announcing Stevie Wonder would perform a concert online Sunday for phone bank volunteers heading into Tuesday's runoff election against challenger Herschel Walker.
The casual gig was part of Warnock's weekend blitz of canvassing and supporter appreciation gatherings before Dec. 6 which also included a weekend drone light show over Atlanta's Piedmont Park.
In true Wonder fashion, the virtual appearance from his music studio Dec. 4 was filled with the kind of peace-and-love mantras for which the star has been known since he went to No. 1 on the Hot 100 with "Fingertips Part 2" as a 12-year-old Motown prodigy in 1963.
After being introduced by Democrat Warnock, who said he was a lifelong fan and has used the singer's classic "Higher Ground" as a musical theme this year as he campaigns to retain his U.S. Senate seat, the 72-year-old Wonder explained he composed that song shortly before being seriously injured in a 1973 North Carolina automobile accident, which put him in a coma for "for some days and weeks" and prevented him from performing for seven months.
"I was listening to that song in the car where we were going to drive to a performance," Wonder said about the 1973 crash on I-85 and how the music helped him recover. "And I believe that that [song] was saying to me that this is our commitment, and me saying that I am going to keep on trying until I do reach my highest ground.'"
Before launching into a patchwork, eight-minute version of "Love's in Need of Love Today" from his 1976 album Songs in the Key of Life, Wonder said, "My commitment is encouraging all of you to live in truth, live in love. And there's nothing and no one that can bring us together with negativity. That's not where we are, that's not what we're about. We must become a truly united people of these United States."
More banter followed before Wonder turned to his piano for a jazz-inflected take on 1969's "My Cherie Amour," in which he introduced Warnock's name into a personalized scat (similar to the funny cameo he made in a 1986 episode of The Cosby Show), ending by warbling with a smile, "For the senator, make those calls, make those calls."
In 2021, Wonder told Oprah Winfrey that the anger and racism in American politics made him consider a plan to move his family to Ghana in West Africa, a statement he'd also made back in 1994. But the singer has been stalwart in his support of American civil rights leaders for more than half a century, having first met Martin Luther King Jr. at age 15, later attending King's funeral in Atlanta, writing a "Happy Birthday" song in his honor and working decades to make the eventual MLK national holiday a reality in all 50 states. He's also performed an unforgettable version of John Lennon's "Imagine" with the Morehouse Glee Club at the 1996 Olympic Games in Atlanta and has held close ties to many of the city's mayors and its business community.
On Sunday night, Wonder told the Georgia volunteers he would always "be there" when political and charitable causes needed him: "I'm thankful for what you've done for me," he said. "And I will continue to do this until my last breath."
Wonder then played an upbeat backing track called "Can't Put It in the Hands of Fate" from a new project called Through the Eyes of Wonder before finally kicking into "Higher Ground" on his Harpejji (an electric stringed instrument) with the instrumental of the original recording underneath his vocals, and asking the virtual audience who was tuned into the playback on YouTube to clap their hands to the beat. "Sen. Raphael Warnock, lead us to higher ground," he sang repeatedly.
He did not mention Walker's name during the performance.
"Stand with your knowing that you are the future, and you are the ones that will make tomorrow a greater time and day for everyone," Wonder said after the finale. "Peace, and God bless you." 
Then, before the camera turned off, he let the music have the final say, quickly moving his hands over the keys, letting out a laugh as he plucked out a cartoonish seven-note closer, "Shave and a Haircut (Two Bits)."
Sadly, Wonder's harmonica did not make an appearance, but the brief, unscripted concert was a refreshing break from the nonstop political ads that have inundated Georgians over the past few months.
How this concert might affect voting on Dec. 6, 2022 is anyone's guess. But political parties and elections aside, a pep talk from Stevie Wonder never hurt anyone.
Secondary Content
Bottom Content