Section Branding
Header Content
Dave Matthews visits Cobb County as Georgia set a new single-day record for in-person early voting
Primary Content
On the Tuesday, Nov. 29 edition of the Georgia Today podcast: Georgia sets a record for early in-person voting, the fastest-growing sport in Georgia schools is flag football, and Dave Matthews makes an appearance in Cobb County for Sen. Raphael Warnock.
TRANSCRIPT:
Peter Biello: Welcome to the new Georgia Today podcast from GPB News. Today is Tuesday, Nov. 29. I'm Peter Biello. Coming up on today's episode: Georgia sets a new single day record for in-person early voting. The fastest-growing sport in Georgia schools is girls flag football. And Dave Matthews made an appearance in Cobb County last night for Sen. Raphael Warnock. These stories and more coming up on Georgia Today.
Story 1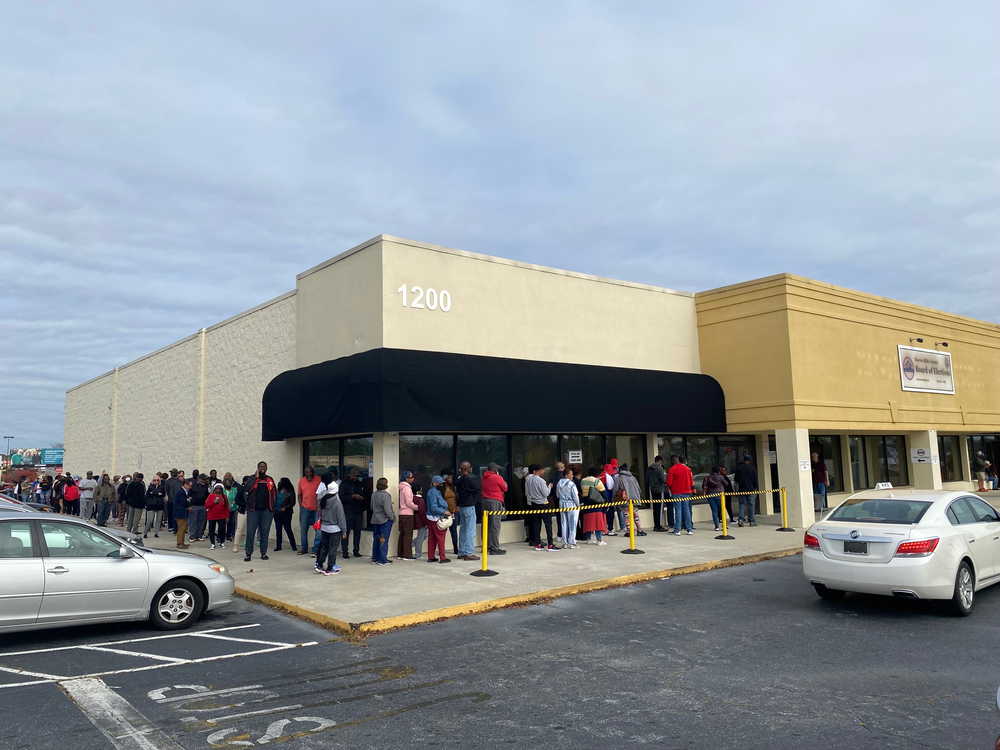 Peter Biello: Georgia has set a new single-day record for in-person early voting. More than 300,000 people cast ballots yesterday. GPB's Stephen Fowler has more.
Stephen Fowler: On the first statewide day of in-person early voting, people showed up in force. Even though the runoff for U.S. Senate is only four weeks — or may be because of it — well over a quarter million Georgians cast their votes Monday, more than the 252,000 that showed up the final early day in the 2016 presidential election. This came after unprecedented numbers this weekend, too, as a handful of counties opened their doors to people after the Thanksgiving holiday. What remains to be seen is if this torrid pace of voting continues and what election day turnout will look like — plus, of course, who wins the runoff between Sen. Raphael Warnock and Republican Herschel Walker. For GPB News, I'm Stephen Fowler.
Story 2
Peter Biello: Clayton County Schools will pay $10 million to the parents of a 16-year-old high school basketball player who died after collapsing in sweltering heat during practice. The mother of Imani Bell, Dorian Bell, said today the settlement was bittersweet and partly will fund a foundation that will offer scholarships and work to prevent heatstroke deaths while also keeping Imani's memory alive.
Dorian Bell: She was caring, kind and just really goal-oriented. She had a lot. She had everything together, herself together. This will be our baby, the foundation. And we will do all we can to just keep her memory alive. I don't want her to be forgotten. You know, and that's just impossible. Every day, you know, we think about her. She'll never be forgotten. I know that. And I know that.
Peter Biello: The temperature was in the upper 90s when she collapsed in August of 2019. Prosecutors have charged two coaches with murder and child cruelty in connection with her death in a case that is still ongoing.
Story 3
Peter Biello: An international center focused on ocean-based climate solutions launched last month in Atlanta. The Ocean Vision's U.N. Decade Collaborative Center for Ocean Climate Solutions is a partnership between the Georgia Aquarium, Georgia Tech and the nonprofit, Ocean Visions. Courtney McGeachy is the center's director. She says ocean climate solutions can come from many places.
Courtney McGeachy: That could be anything from mangroves, salt marshes, seagrasses, seaweed restoration projects. But any sort of, in this particular case, marine plant that could be used to absorb and store carbon.
Peter Biello: The center also is looking at ocean-based renewable energy technologies, sustainable fisheries and aquaculture to produce low-carbon food. McGeachy says she hopes they can also partner with local communities and universities throughout the state. Headquartered at the Georgia Aquarium, the center is part of the United Nations Sustainable Development Goals to achieve by 2030.
Story 4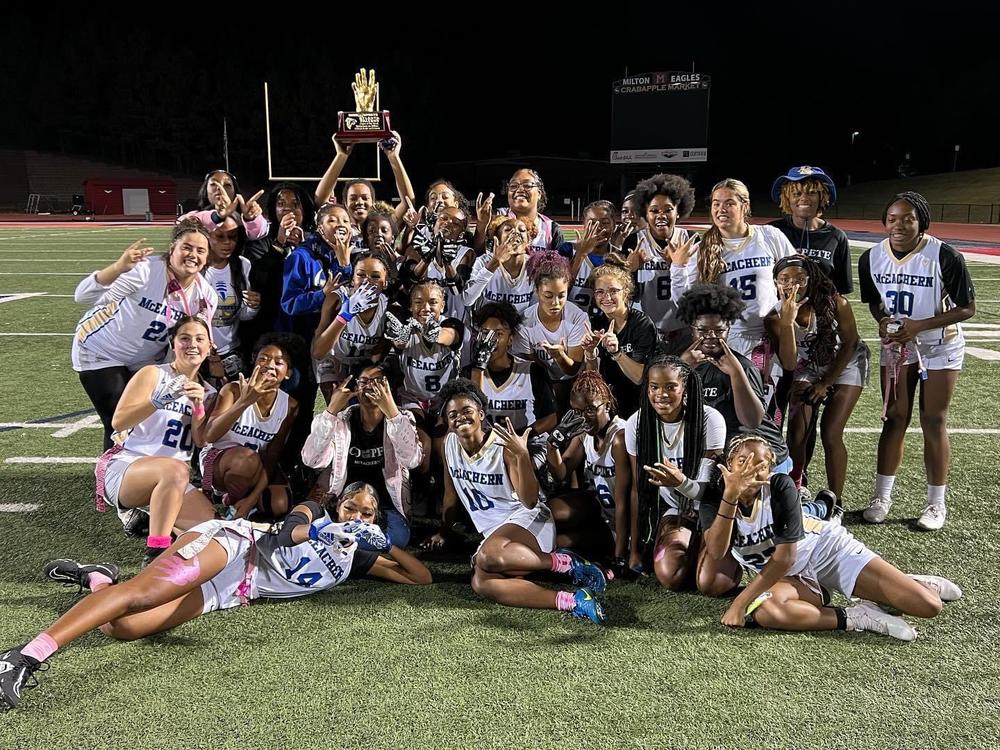 Peter Biello: Girls flag football is the fastest-growing sport in Georgia schools, and McEachern High School is one of the top-ranked teams in the state, taking a 16 and 0 record into the playoffs that get underway tonight. GPB's Leah Fleming sat down with the team's quarterback and coach to discuss their success and the rise of the sport's popularity.
Leah Fleming: It's GPB. I'm Leah Fleming. It is the fastest-growing high school sport in Georgia right now: Girls flag football, according to the Georgia High School Association. Over half of their schools now have a team, with more on the way. Today, the playoffs get underway. McEachern High School is currently the top-ranked team in the state. That's according to MAXPREPS, which is a high school sports website. And their senior quarterback, Amber Kirkpatrick, was recently named the Georgia High School Football Daily Player of the Week. Amber led McEachern to a 16-0 regular season and finished the season with over 2,800 passing yards, 49 touchdowns and 254 rushing yards, among other accomplishments. She joins me now along with her coach, Jake Bergdorf. He is the flag football coach for McEachern and he graduated from Valdosta State where he played football for a while. He's also coached tackle football. You'll hear from him in a minute. But first, I want to start with you, Amber. How did you start playing flag football?
Amber Kirkpatrick: Once the sport was new to my school. I wasn't very interested in the sport at first. However, my family is a very athletic family and I figured I would give it a shot. And once I gave it a shot, I actually love the game. I have — I loved the game as soon as I tried it; like, I'm so happy I decided to play it. It gave me something new to do and learn about. And now I just have a lot of love for the game, especially my teammates that I have today.
Leah Fleming: So what are your goals as an athlete?
Amber Kirkpatrick: No matter the sport I'm playing, whether it's flag football or lacrosse, I always plan to be a student of the game and always take in what my coaches have to tell me and just prepare myself for everything that I need to.
Leah Fleming: Does your school have as much, you know, school spirit for girls games as they do for the boys? Do they come out and like watch you all play?
Amber Kirkpatrick: I would say after they saw how successful our season was, they started to come out and see us. But there's definitely a lot more love for the boys' sport than it is for us.
Leah Fleming: You know what I love about girls' sports? You know, with boys you may see the sheer strength, but with girls, you see a lot of all of the technical play, you know?
Amber Kirkpatrick: Yes.
Leah Fleming: So, Coach Bergdorf, you graduated from college where you yourself played football. How did you get into coaching girls flag football?
Jake Bergdorf: I did. I graduated from Valdosta State and played football for a couple of years. And my dad was a head football coach for many, many, many years. He was the high school coach for 30 years. And, you know, I was always on as a as a kid on the sidelines. I was the water boy. I grew up around the game of football. I've always had a love for the sport and actually coached high school football for seven years, tackle football six years at McEachern. And I honestly had never coached girls before. And I was like, "You know what? I got a daughter and this a perfect opportunity for me to learn." And so I really, really, really have enjoyed it. You know, we do and treat the game of flag football exactly like we did with tackle football. We watch film. The girls are all into it, you know, and that that's what's made our program so successful, is how serious are our players take it.
Leah Fleming: Girls, when they are playing, they're not actually tackling but there's still some physicality to it. Is that right?
Jake Bergdorf: That is correct. It's a lot more physical than — than what you would think. We are you know, we wear flag belts in high school, triple threat flags. That just means that there's three flags. And that's how you tackle someone is by pulling their their flag belt. But in college — the sport is growing on the collegiate level as well, and they wear what's called pop flags, which means that there are two flags, one on each hip. And so it is. What I also love about the sport is that it's growing at the collegiate level and it also gives, you know, girls another sport that they can go play at the college level and get their education paid for. So it's just giving them more and more opportunities as they move forward.
Leah Fleming: So what has been the secret to your success this season, do you think? Because certainly there are other schools in Georgia that have started flag football. But you all are, I mean, 16 and 0. So what? What do you attribute this to?
Jake Bergdorf: I really we have a great coaching staff. All of our coaching staff has coached tackle football at one point. But it really comes back to our our players and their buy-in. You know, we don't we our girls don't miss practice. They are at everything. They watch a ton of film. They all have a huddle account. And like we have 10 players who watch hours and hours of film because they're just trying to perfect their craft and learn and do what we ask them to do. And I mean, it really comes down to them as players and and just how they've come together as a group. And they play really, really, really hard for one another. You know, you can have the greatest coach in the world, but if you don't have the willingness from your players to do what you ask them to do and for them to come together and play together, you're not going to be very good. And, you know, that's that — it's really all on them. Players like Amber and we have many other great players on our team that have that — that make this, you know, make everything go. No, it's it's all them.
Leah Fleming: Yeah, well, it has been exciting to watch you all as you get ready now for the playoffs. What are you looking forward to as you get ready for these playoffs?
Jake Bergdorf: I don't personally like talking about and looking forward too much. With our group, we focus on today and today only because if we look, look ahead, you may overlook a team and it's win or go home at this point. And we've got to take it day by day and focus on getting better today. And so that that's just been kind of what our focus is. And we kind of have a saying to, you know, right now, why not us? Somebody has got to win each and every week, so why not us? Why can't it be us? And so I'm looking forward to us coming out, competing on the 29th, and hopefully we can walk away with two wins that night and move on to the next round. But, you know, I'm just looking forward to another day of practice with these young ladies and just taking it week by week, day by day at this point.
Leah Fleming: Jake Bergdorf, you are the coach of the girls flag football team at McEachern High School in Powder Springs. Amber Kirkpatrick, you are a senior student — getting ready to graduate — and you're also the quarterback of the team. Thank you both for your time and good luck in the playoffs.
Amber Kirkpatrick: Thank you.
Jake Bergdorf: Thank you so much.
Peter Biello: GPB Sports will provide a live stream of the first and second round playoff action from McEachern High School tonight. You can watch it on board or on the GPB Sports app.
Story 5
Peter Biello: And finally, Dave Matthews was at the Battery Atlanta in Cobb County last night for an event with Sen. Raphael Warnock, kicking things off with a song fitting for a reverend: "Save Me."
Dave Matthews (singing) Driving through the desert, I met a man / who told me of his crazy plan / He'd been walking there for 20 days / He was gonna walk on for twenty more / I said, "How 'bout a drink or a bite to eat?" / He said, "No, my faith is all I need" / I said, "Then save me, save me / Mr. Walking Man, if you can" / Ah, you don't ...
Peter Biello: Before he started playing, he spoke on stage with Sen. Warnock. And they both pitched a message that not voting is a vote without any direction, a giving away of your power, so to speak. Matthews also said this about our loss of shared truths.
Dave Matthews: If truth is banished from the political discourse, then it's really hard to go in the right direction. And if there's just gaslighting and lighting fires and screaming fires are coming, and instead of actually talking about how to help each other and how to give the people all the way down to the very bottom a life of dignity, then we're going in the wrong direction.
Peter Biello: GPB's Kristi Wooten has a nice write up about last night's event with Dave Matthews and Raphael Warnock. You can find that at GPB.org as well as some photos from the event. GPB is also going to be covering an event for Republican Herschel Walker later this week. Stay tuned for that. And if you have not voted yet in the runoff election, there is still time. For information on poll locations and hours, go to mvp.sos.ga.gov. That's a mouthful. I'll say it again: Go to mvp.sos.ga.gov.
And one last thing. Today, Nov, 29th, is Giving Tuesday. Because GPB News is an important part of your life, please support it with a gift at GPB.org. We are here on this podcast. We also have the radio, of course, tons of stories at GPB.org. All of that is worth your support. We hope you'll make a gift today as part of Giving Tuesday, and thank you so much. We really do appreciate your being there for GPB. That's it for today's edition of Georgia Today. We welcome your feedback. You can send it via email. The address is GeorgiaToday@gpb.org. Thanks so much for listening to the Georgia Today podcast from GPB News. I'm Peter Biello. We'll see you tomorrow.
Secondary Content
Bottom Content