Section Branding
Header Content
'Women's Rights' exhibit in Macon showcases international collection of political posters
Hero Image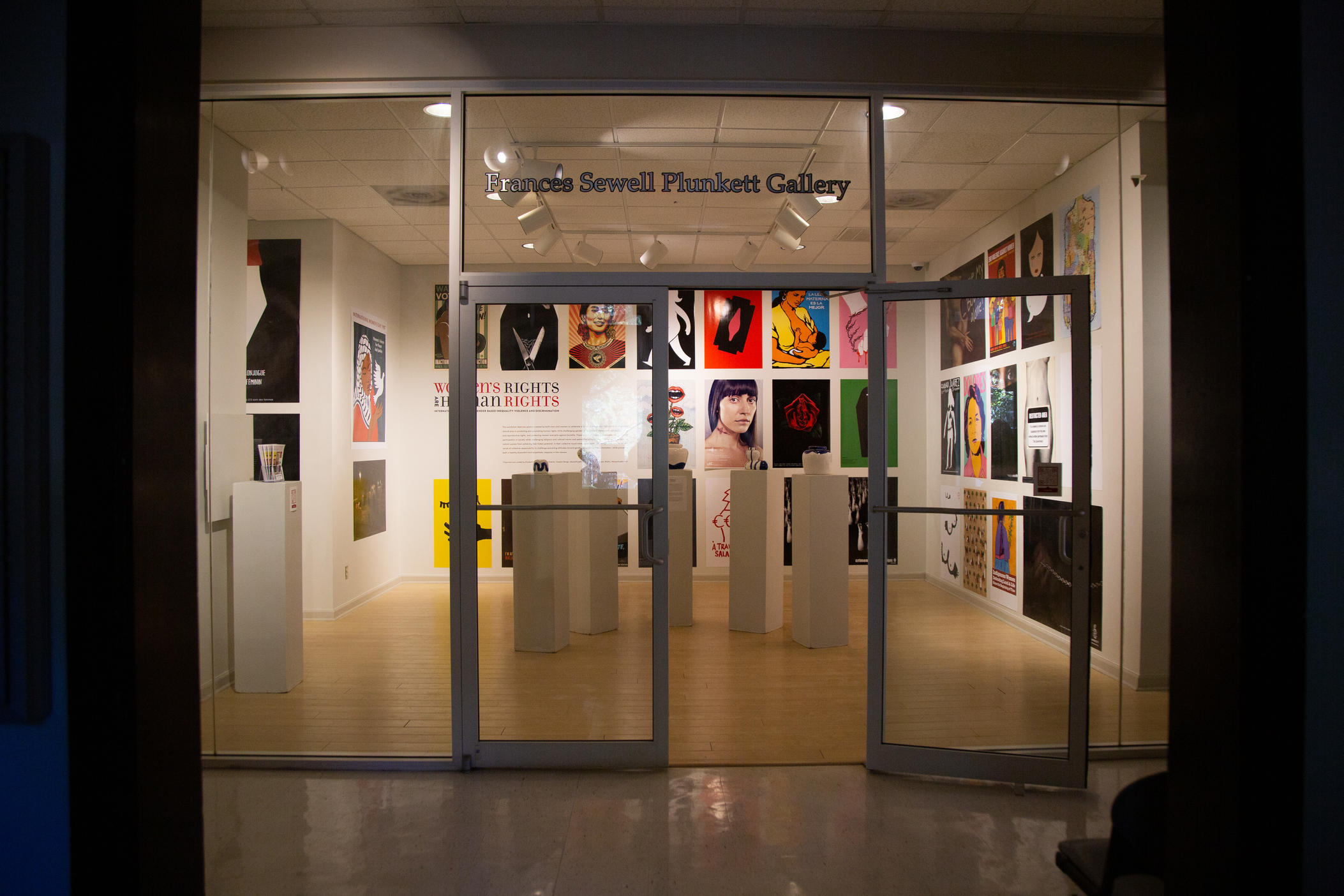 Primary Content
As part of a worldwide exhibit, 50 posters spotlighting international women's rights issues are on display at Mercer University through January. 
The exhibit, "Women's Rights are Human Rights," was curated by Elizabeth Resnick, a graphic designer and curator out of the Massachusetts College of Art and Design. Its namesake is from a 1995 speech by then-first lady Hillary Clinton. 
Resnick said she started curating the exhibit during Clinton's 2016 presidential campaign. 
"I think everybody was very buoyed by that and excited and really thought that, you know, we were going to finally see the first woman president," Resnick said. 
The exhibit does not feature U.S. campaign posters but, rather, politically charged designs from around the world.
"Women's Rights'' is Resnick's fourth exhibition of sociopolitical posters.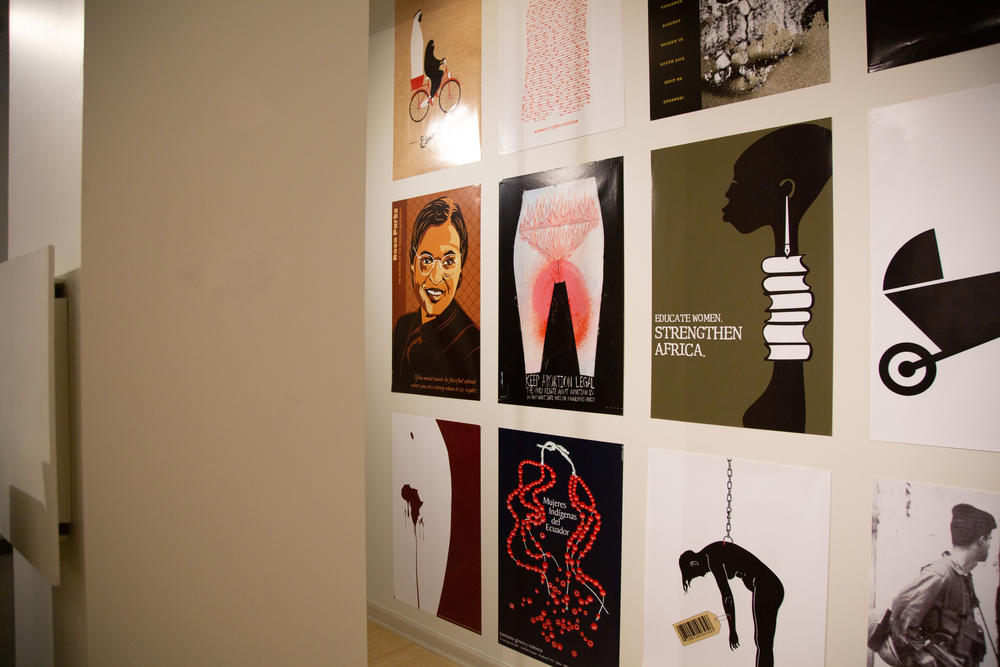 "It's really important to say, you know — especially for commercial artists, as we've been known — to be able to use our skill set for good," Resnick said. 
The oldest poster, from 1987, a design for International Women's Day, comes from Asian American visual artist Nancy Hom. Most of the posters, of which there are 109 total, were created in the 2000s and visually represent ongoing women's rights issues, such as gender violence in Mexico and equal pay in Belgium. 
In a series of two posters from 2013 and 2014, Kuwaiti artist Mohammad R. Sharaf uses graphics of a Saudi Arabian couple on a bicycle to bring up a controversial policy. It wasn't until 2013 that Saudi women were allowed to recreationally ride bicycles, but only if accompanied by a man. The rule has been slackened, though women still face arrest. 
"I just can't even imagine having those kinds of, like, restrictions on what you can do," said Mercer student Haven Estabrook.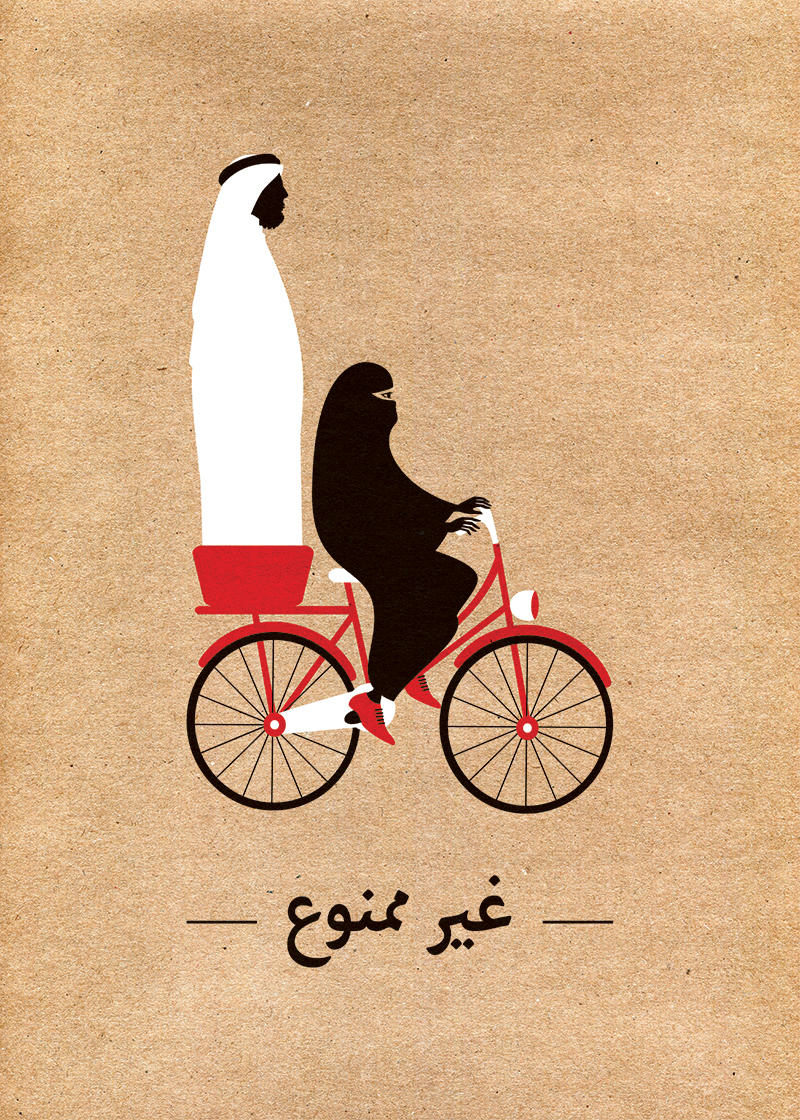 Every poster was created and curated digitally, so galleries across 10 countries can host the exhibit at the same time. In Macon, the posters hang on three white walls.
Mercer student Erin Williams checked out the exhibit with a friend, Demitriyah Lane. 
"When I walked in here and actually started paying attention to them and reading them, I can really say that I liked how so many different aspects of different cultures were incorporated together," Williams said. "Because a lot of the time, we just focus on the problems going on with, like, American women."
But Williams can't avoid talking about abortion rights, a conversation that hits close to home. 
"I just feel like we're backtracking when it comes to women and their rights," Williams said. 
Georgia's own strict abortion ban was overturned just last week. But a higher court could keep it in place — as happened when the Georgia Supreme Court reinstated the ban pending its future review — or lawmakers could revive it. 
"It wasn't just so long ago that, you know, we got the right to vote and do this and do that," Lane said. "Even today's women are still oppressed."
Resnick said abortion is just one human's right issue visually represented in the exhibit. That's intentional. 
"It's always been important to me to go beyond the borders of our country and to expand thinking, especially for students, that they live in a global world," Resnick said. "Women are discriminated against in just about every country in the world, including ours."
And that, she said, is the thread that connects the exhibit across millions of miles.
Secondary Content
Bottom Content