Section Branding
Header Content
Ruwa Romman feels 'huge responsibility' as first Muslim woman elected to the Georgia House
Primary Content
LISTEN: On Election Day, Ruwa Romman made Georgia history: She became the first known Muslim woman elected to the Georgia House — and the first Palestinian American elected to any office in the state. GPB's Peter Biello speaks with the representative-elect.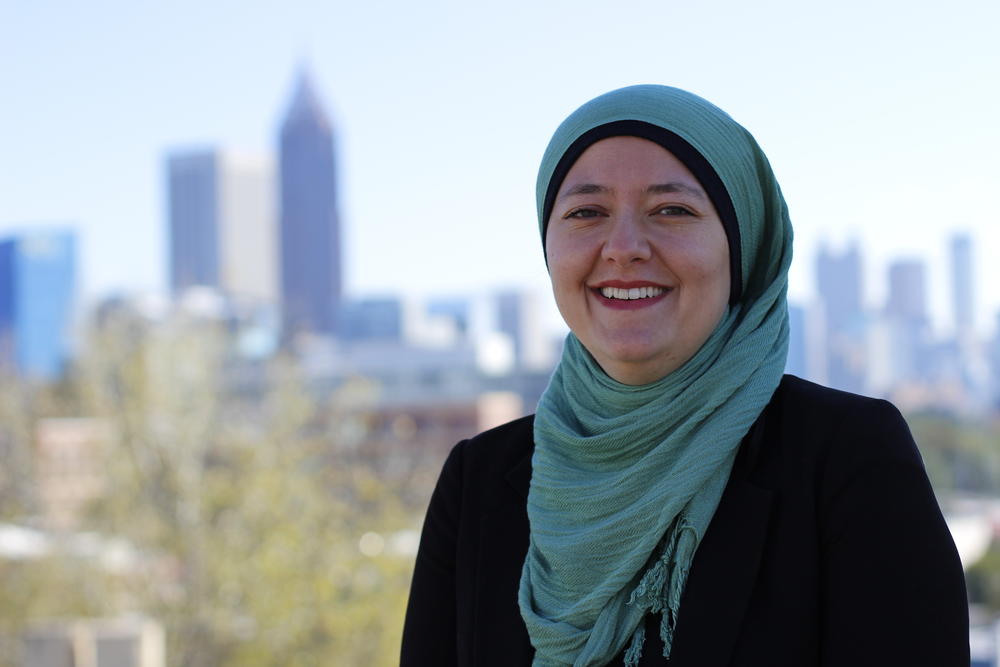 On Election Day, Ruwa Romman made Georgia history: She became the first known Muslim woman elected to the Georgia House of Representatives, and she is also the first Palestinian American elected to any office in the state. She'll be representing District 97, northwest of Atlanta. Romman spoke with GPB's Peter Biello.
Peter Biello: What made you want to run for office?
Ruwa Romman: I did not want to run for office — that is the sort of ironic joke of this. I was helping a friend at Georgia Muslim Voter Project. She had developed a training and said, "You should really come to this and we'd love your feedback." And that was sort of the point of me going. And there was a reporter there, and she had done this beautiful writeup about the importance of women — and particularly minority women — in politics. And her focus ended up being on Muslim women. And she started that article and the first sentence was, Ruwa Romman is contemplating a run for office, which I was absolutely not. I was going to run a marathon this year and like help out statewide later on in the year. But the response was so overwhelming for my community. And then we found out that I lived in a new district that recently was created through the redistricting process. And 15 days later, we launched my campaign.
Peter Biello: Did you ever end up running the marathon?
Ruwa Romman: No. Sadly, I ended up listening to way more Taylor Swift than usual, which says a lot.
Peter Biello: Well, what does it mean to you to be the first Muslim woman and the first Palestinian elected to the house?
Ruwa Romman: Yeah, it's a huge honor and it's a huge responsibility. So it's incredible. And I'm so stoked that we did this in Georgia. At the same time, I recognize that this comes with an added layer of what people expect from you. It's not just your district that now has expectations. It's these groups of people that for a long time have been marginalized, ignored — in whatever capacity, whether as politically or economically or otherwise. And so it's definitely a huge responsibility. And I feel that.
Peter Biello: What expectations do you feel are being placed on you?
Ruwa Romman: In general I mean — this is also me growing up. I wear a headscarf, I wear a hijab. And even from when I was younger, it felt as if anytime I did something wrong, it almost reflected on the entire 1.2 billion Muslims around the world, which is incredibly unfair. But for a lot of people who never met a Muslim before or never met a Palestinian before, all of a sudden you are the expectation that they put on those groups of people. And so, you know, you kind of have an extra layer of responsibility there.
Peter Biello: So are there policies that you're going to pursue out of the gate?
Ruwa Romman: They're the same policies we've been running on all year, which is expanding access to health care, fully funding public education, bridging the economic opportunity gap, making sure that access to the ballot box is something that people continue to have.
Peter Biello: And are there policies that you expect from the other side that you are ready to fight?
Ruwa Romman: We don't know what's going to happen with the recent decision on abortion because we know it's going to go up to the Georgia Supreme Court. But if that decision holds, we do expect another bill attempting to ban abortion in Georgia. So that is definitely something I plan on fighting because to me, abortion is health care. Similarly, I think that we're going to see more efforts to privatize education, which, at a time when people are desperate for good thinkers, good workers, it seems to me as if we're setting ourselves and setting our state up to fail in the future.
Peter Biello: Where do you think you'll see the most common ground with Republicans in the House?
Ruwa Romman: Ironically, also public education. There is actually quite a broad coalition, especially Republicans coming from rural areas that don't have access to private schools, that don't have access to these privatized options, that want to keep public school in their districts and want to maintain that support system for the kids in their district.
Peter Biello: You'll be sworn in in January. What are you doing now to prepare?
Ruwa Romman: I am actually trying to slow down a little bit, which is not happening, especially with the runoff. But I am someone who genuinely believes that in order for us to give the best for our community, we have to do the best for ourselves as well. So my plan is to find some time to rest, recover and recharge while simultaneously setting aside time to look at what are my policy areas, what are my priorities, and also how do I start writing those bills, figuring out the different procedures, going to trainings, talking to my fellow freshman Democrats who are also trying to figure it all out — and also fellow freshmen Republicans.
Secondary Content
Bottom Content