Section Branding
Header Content
Donna Lowry: Ralston 'understood the job that we do as journalists'
Primary Content
LISTEN: GPB's Peter Biello speaks with Donna Lowry about the late Georgia House Speaker David Ralston's life and legacy.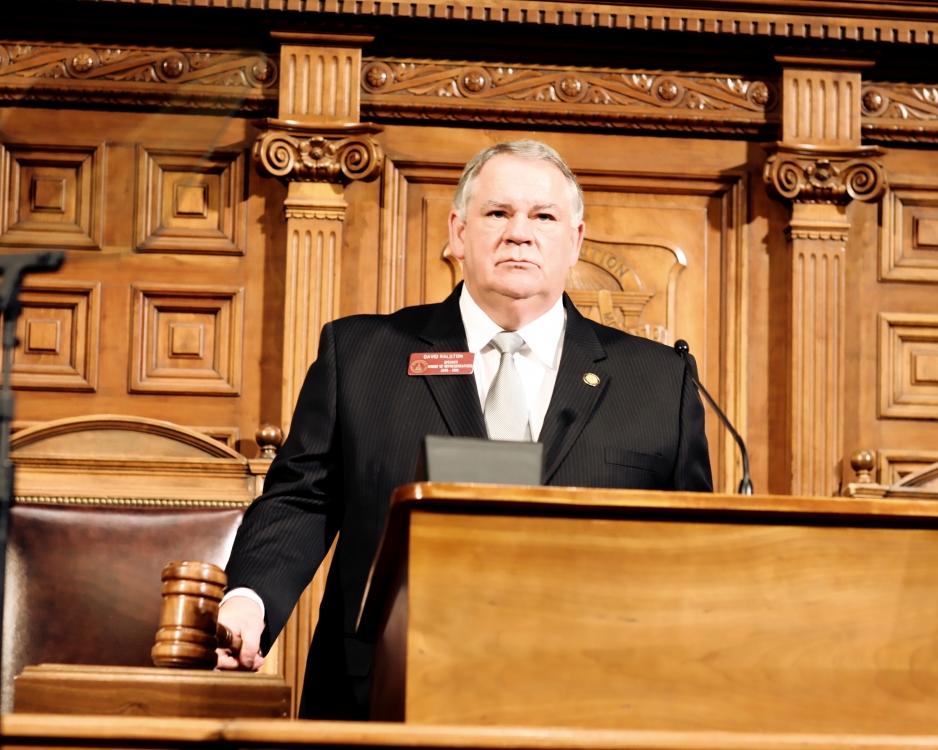 Georgia House Speaker David Ralston has died at the age of 68. A spokesperson says he passed away Wednesday following an extended illness, less than two weeks after he announced he was stepping down as speaker because of health concerns. The Blue Ridge Republican served 13 years in his position, making him the longest-serving state House speaker in the U.S. at the time of his death. GPB's Donna Lowry spoke with host Peter Biello about Ralston's life and legacy.
Peter Biello: So you've reported on the legislature for more than two decades. Talk a little bit about your reporter/source relationship with him. What was he like to work with as a journalist?
Donna Lowry: Speaker David Ralston understood the job that we do as journalists. He had a lot of respect for us, and it was mutual. I understand from a conversation I heard earlier today that he actually worked as a journalist briefly. So he understood what we do and why it's important. We don't always agree on how things are told. He didn't always agree with the way we did our jobs, but he understood our need to to do our jobs and to tell the facts. And that was the main thing that he focused on, was making sure that we got the facts straight, even if they were facts he didn't agree with.
Peter Biello: Do you have any particular memories of Ralston that you'd like to share?
Donna Lowry: So many. One of the things with Lawmakers: Beyond the Dome is we are — One: we're a live show at 7 p.m. on Georgia Public Broadcasting TV and we don't finish until 7 p.m. and many times we would be in the Capitol really late. I remember the times when we'd leave the Capitol and he would be there leaving too. Instead of just saying hi to us, he'd always stop and talk and ask about us. And I thought that that was really special for the Speaker of the House to stop and want to have conversations and to ask about people on our staff. That was important. The other thing is, as a leader, he was a conservative but had a lot of respect among those in the other party, the Democratic Party. So a conservative Republican who was respected among the Democrats. And a lot of the — the main word that I hear from Democrats, even now since his passing, who reached out, talked about access. He gave them access, at least to listen to them. And they felt that that was important, whether in the end their views were expressed in terms of legislation. That was one thing maybe that he didn't agree with, but he would at least listen.
Peter Biello: Were there any key pieces of legislation that he championed?
Donna Lowry:There are a lot of legacies, but the big one will be the last major one, and that is House Bill 1013 which is the Mental Health Parity bill. The Mental Health Parity bill is an enormous bill that he championed from the beginning. He talked about this for a number of years, but last year pushed it through and he put Democrats on the committee. He made sure that everybody had a voice in all of this. He was criticized from some very conservative Republicans, but he felt it was important that mental health in this state be treated like physical health. And I think that will be one of his biggest legacies. It was very emotional for him after it passed. He allowed the press to come on to the floor to be able to experience what people were feeling afterwards. But it was — it was something he felt was important for this state. And Georgia was lagging behind, had been lagging behind other states when it came to access to mental health services.
Peter Biello: Ralston is being succeeded by new House Speaker John Burns, who represents Newington in South Georgia. How, if at all, do you expect things to change?
Donna Lowry: I really don't expect a lot of major changes. I think they worked together. John Burns was majority leader and so he worked closely with Ralston. So I think they were in line step on a lot of things. Also, the person who is interim House speaker is Madam Jan Jones, who is the first woman to be House speaker because of the time between the death of Speaker Ralston and when the legislative session happens in January where the formal vote will take place. John Burns has been nominated by his party to be speaker. Madam Jan Jones is — has been a part of Ralston's team for years, and she will continue as Speaker Pro Tem. That's how she moved up into this position. And I think because they have worked together in that group, that trio, we won't see major changes. I think that they are pretty lockstep in a lot of ways. 
Secondary Content
Bottom Content