Section Branding
Header Content
For LGBTQ+ people in Georgia outside Atlanta, the progress of pride is a process
Primary Content
LISTEN: Atlanta is known as a Southern mecca for LGBTQ people. But there's been progress in Georgia outside of the capitol, too — the result of hard work. Jenna Sanders of the Mercer University Center for Collaborative Journalism reports.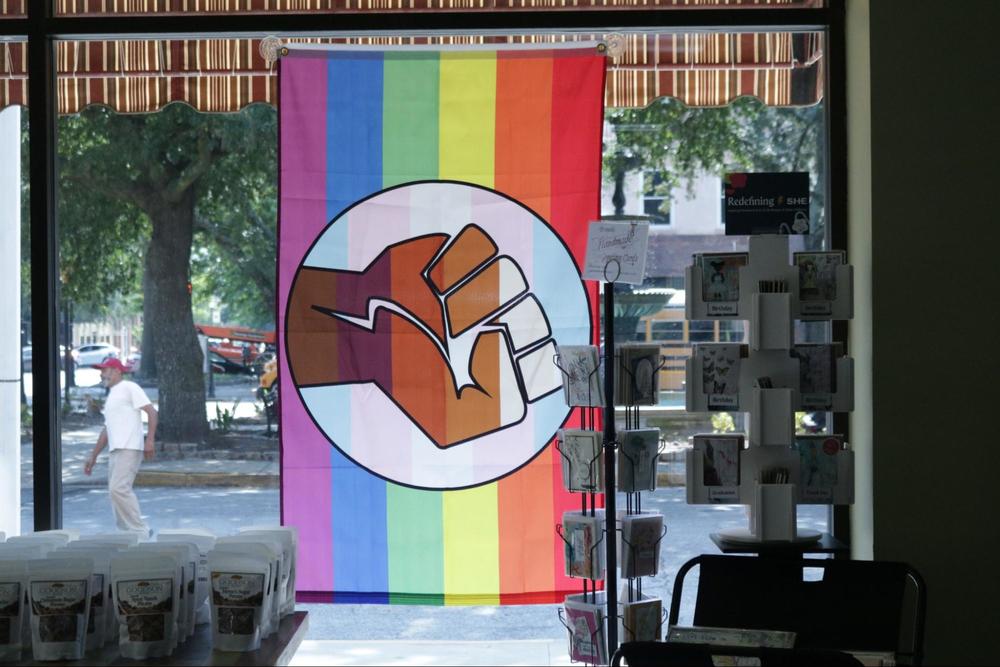 Singing and laughter filled Macon's Third Street Park as two performers sang Chaka Khan's "I'm Every Woman."
A drag queen and piano player engaged the audience with questions and jokes to keep the energy flowing in the park.
"Are we having a great Macon Pride Week?" the drag queen asked.
The question was met with cheers and screams from families on picnic blankets and people dancing around. Excitement continued when the crowd cheered after each performer and sang their own songs.
Jessica Smith was one of the people in the crowd at Karaoke Night. She is from up the road in Monroe County. She says that the feeling of pride is everywhere. You just have to work to see it.
"A lot of it has to do with getting out and meeting elder queers and just realizing there are queer people around you wherever you are, even if you're in the middle of nowhere," Smith said.
Atlanta is known as a Southern mecca for LGBTQ people. But of course, LGBTQ folks live outside the region's largest city, too. And there has been progress in Georgia outside of the Capitol. The progress has been and still is the product of hard work.
Mitchell is President of Macon Pride but he grew up in the small town of Barnesville about 40 miles away. Today he owns a gift shop, the Bohemian Den, in downtown Macon where the pride flag flies year-round.
He sees a lot of people from all over come into his store. He said that they ask him where the "gay section" of town is, meaning the gay bar or neighborhood.
"We really don't have that because we're just everywhere," Mitchell said. "You know, you can go to any restaurant downtown and feel comfortable in your skin. You can go shopping and feel comfortable. We have really strived to make all of downtown a safe space for the LGBTQ community."
But kids may not feel that sense of safety. That's why today Mitchell leads a youth group at Macon's Centenary United Methodist Church for LGBTQ kids between 12 and 18. 
"A lot of times the kids just want to hang out, you know, like, do things that kids do," Mitchell said. "Play tag. I mean, like, it's all the things that they didn't get to do on the playground growing up, you know, like because they were probably over by themselves alone."
Annise Mabry knows that feeling, too. She grew up 80 miles away in Sumter County. She came out in her teen years in 1992.
"I was the only person in my community that came out and as a result, I was kicked out and I lost contact with my family for over 20 years," Mabry said.
That experience was part of what inspired her to create the Annise Mabry Foundation. One focus of the foundation is helping homeless LGBTQ youth complete high school. Mabry said young people in the region still need allyship. 
"I think about how, if my ex-brother-in-law, who was the only person in the entire family who gave me a place to sleep, would not have opened up his door," Mabry said, "what would my life have looked like?"
When Mabry was young, she had a community of one. Back at Macon Pride in 2022, it's clear that LGBTQ kids have more people to call friends.
Secondary Content
Bottom Content