Section Branding
Header Content
Amid concerns of voter intimidation, poll chaplains in Georgia offer support
Hero Image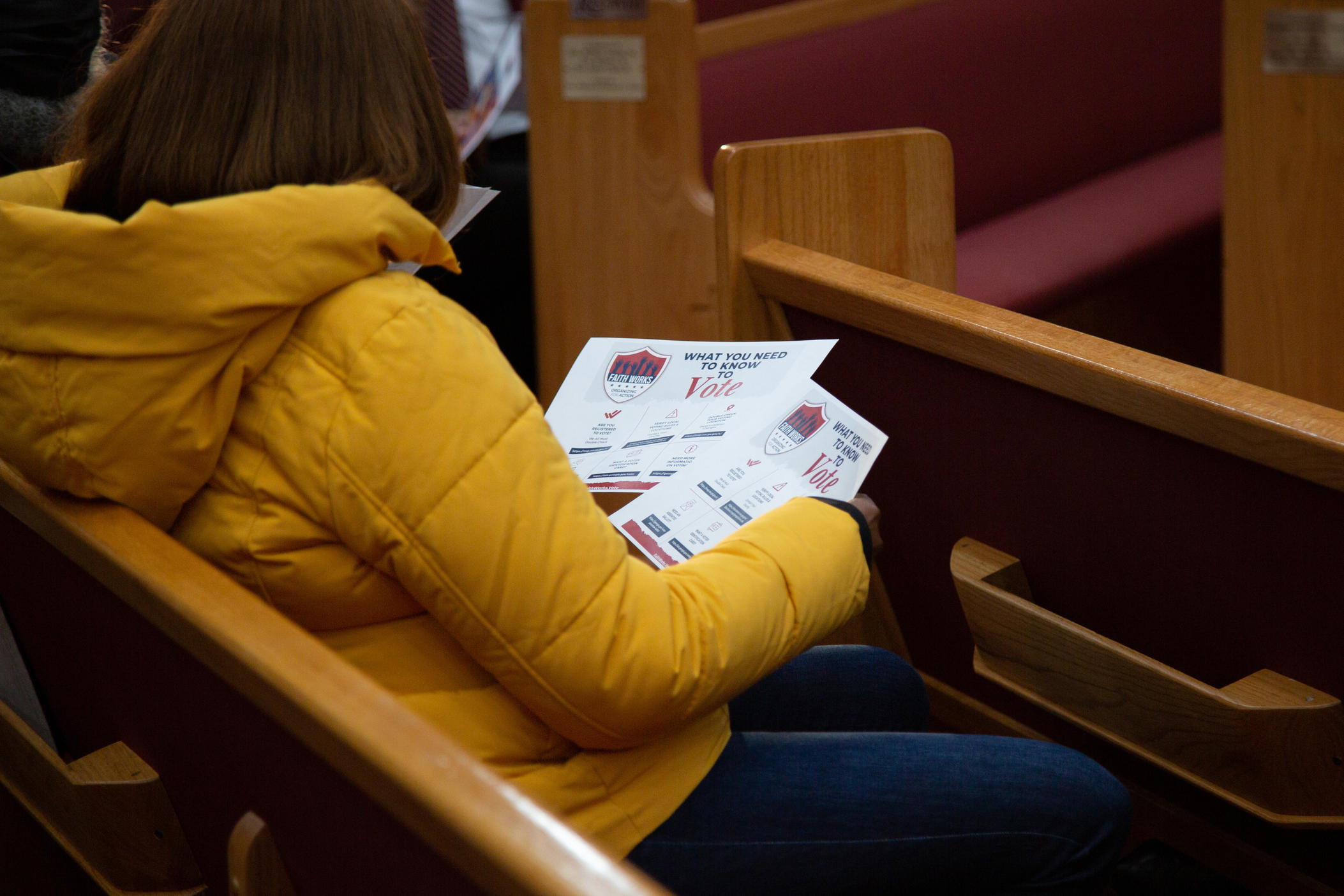 Primary Content
LISTEN: So-called "poll chaplains," or Election Day volunteers from places of worship, will be at select polling places on Tuesday. They plan to support voters and help them navigate changes in Georgia's election law. GPB's Sofi Gratas reports.
——
During a virtual meeting hosted by the New Georgia Project in October, the group's lead faith organizer Tiffanie Mackey is training poll chaplains. 
"The key words are, 'I am a nonpartisan volunteer poll chaplain and I will be outside of the 150 feet,'" Mackey says during the training. "'And I'm only here to provide support and assistance as needed.'"
The New Georgia Project is a political action group focused on voter mobilization. It was founded by Democrat Stacey Abrams in 2014, then a member of the state house, and is one of many faith-based groups putting poll chaplains on the ground in Georgia.
The term "poll chaplains" was coined in 2020, when volunteers, often from churches, offered support, water and snacks to people waiting in voting lines. That midterm election saw some lines in metro Atlanta span hundreds long on Election Day, lasting up to five hours. 
But for this midterm election, Mackey briefs the volunteers on Senate Bill 202, Georgia's election law. 
"If we were to hand out water and if the voter was to receive the water, then we would both be at risk of arrest," Mackey says. 
The law, passed last March, also sets stricter requirements for ID and voter verification. Those changes have encouraged a surge in voter challenges. 
Georgia law allows any elector to submit written petitions against a voter's eligibility. While that's not new, there have been over 300,000 voter challenges in Georgia since the 2020 election. 
There's also been lots of confusion over exactly when and how voters can be challenged leading up to the Nov. 8 midterm election. And often, voters won't know if they've been challenged until casting a ballot in person. 
The majority of voter challenges have been tossed out, but that hasn't stopped both poll workers and volunteers like poll chaplains from preparing for possible voter intimidation. 
"So the last part of this is voter protection," said the Rev. Thurman Tillman, speaking with GPB about his own poll chaplaincy training. 
Tillman leads the First African Baptist Church in Savannah. It's his third election working as a poll chaplain in Georgia. 
"We didn't have to have as much training as we have to have this year," Tillman said. 
Because Tillmann says part of protecting voters means mastering the language in SB 202, to make sure every eligible voter has the opportunity to cast a ballot. Most poll chaplains will have phone numbers on hand for voter protection hotlines and guides for voters who have their eligibility challenged. 
"A poll chaplain is there just to help eliminate or reduce that whole line of intimidation," Tillman said. "We would have numbers that people could call to get the information they need, to know that their rights are not being violated."
This year, Tillman trained with Faiths United to Save Democracy, a nationwide initiative not affiliated with the New Georgia Project. This group identifies as nonpartisan and includes multiple clergy networks, including the Georgetown University Center on Faith + Justice and Sojourners. 
But technically, anyone can be a poll chaplain. 
"It's just nomenclature," said Mackey from the New Georgia Project. "A civilian could easily be in this program."
However, there's a deeply rooted intersection between the Black church and activism, especially around voting. And traditionally, chaplains already serve in spiritual support roles outside the church. 
Reginald Jackson, presiding bishop of the Sixth District of the African Methodist Episcopal Church, said the relationship between a congregation and their faith leaders is "absolutely invaluable" when it comes to encouraging Black voter turnout and easing concerns about the voting process. 
That relationship is also key to the mission of Faith Works, a statewide coalition of senior faith leaders that Jackson has been part of since 2016. 
"The Black church is the heart of the Black community," Jackson said. 
Georgia's record early-voting turnout has seen older, Black voters as a huge part of the electorate so far. Out of over 2.5 million people who have voted already, 30% identify as Black according to data from the Secretary of State's office. 
Jackson refutes the notion that SB 202 actually makes voting easier, following statements from Secretary of State Brad Raffensperger crediting the bill for record high turnout. 
"The fact is we've done our work and Blacks are resilient people," Jackson said. "The more you tell us what we can't do, the more determined we become to do it."
Secondary Content
Bottom Content