Section Branding
Header Content
Savannah's mayor urges state to provide local workforce training ahead of Hyundai EV factory opening
Primary Content
LISTEN: Savannah Mayor Van Johnson used part of his State of the City address to push for Hyundai workforce training, as well as an end to acrimonious 'infighting' between City Council members. GPB's Benjamin Payne reports.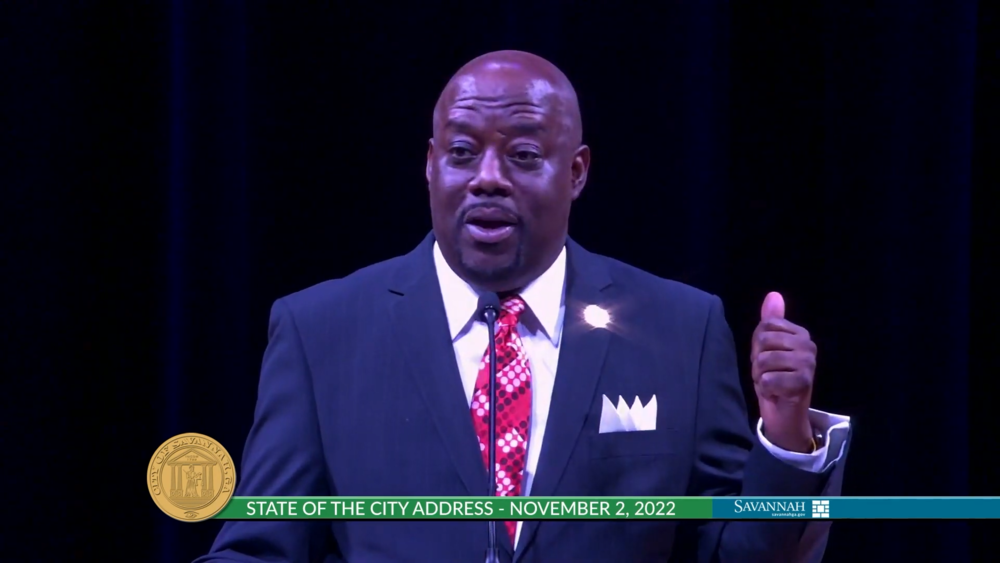 Savannah Mayor Van Johnson is calling on officials from the state government, the Savannah Economic Development Authority (SEDA) and Hyundai to invest in local workforce training well before the South Korean automaker opens its $5.5 billion electric vehicle plant in nearby Bryan County.
"While I'm extremely happy about the Hyundai plant, I'm asking, 'Where is the training?'" Johnson said Wednesday night during his annual State of the City address. "What are we doing to prepare Savannahians for these opportunities first, before 8,100 people have to come this way?"
As the largest economic development project in Georgia's history, Hyundai's planned "Metaplant" is expected to create about 8,100 jobs, many of which will require advanced training.
To that end, Johnson urged the state, SEDA and Hyundai to create workforce training programs at local high schools and postsecondary institutions — including Savannah Technical College, Savannah State University and Georgia Southern University — well before Hyundai begins to manufacture electric vehicles and batteries in 2025.
"If I sound like a broken record, I will be a broken record, because before we know it, 2025 is here, and 2025 is too late to start talking about how we prepare people for those jobs," Johnson said. "They'll already be here. And folks are already moving here from South Korea."
On the topic of workforce training, Johnson touted the city's investment in 100 scholarships for Savannah residents to enroll in forklift operator safety training through Savannah Tech.
"Why is that important? Because our ports are growing, and we need people to work those forklifts," Johnson said. "And when we know people are trained to do better, they do better."
Johnson ended his hourlong State of the City address by admonishing the Savannah City Council for its recent behavior — which he described in part as "infighting" and "backbiting" — and imploring its members to act more civil toward each other.
His remarks came after a September incident in which two City Council members reportedly used racist and homophobic slurs against each other at City Hall.
"Your City Council all took an oath to serve this city — not our egos," Johnson told those in attendance at the Savannah Cultural Arts Center's auditorium in downtown. "Our neighbors are watching. The world is watching. Our children are watching. Our babies are watching. How can we expect better behavior from them when we're not providing a better example for them? We have to do better."
He harkened back to times when, as an alderman, he would disagree with previous mayors but nevertheless worked alongside them and fellow City Council members with respect and dignity.
"We all agreed to serve the city as a council — not as renegades desirous of nothing but division and divisiveness," Johnson said. "We understood what the assignment was. The end of the day, you win some, you lose some. The end of the day, we're still Savannahians."
Secondary Content
Bottom Content