Section Branding
Header Content
In Georgia's 14th District, Dems pin hopes on Marcus Flowers to unseat Marjorie Taylor Greene
Primary Content
LISTEN: GPB's Peter Biello reports on the race for Georgia's 14th Congressional District.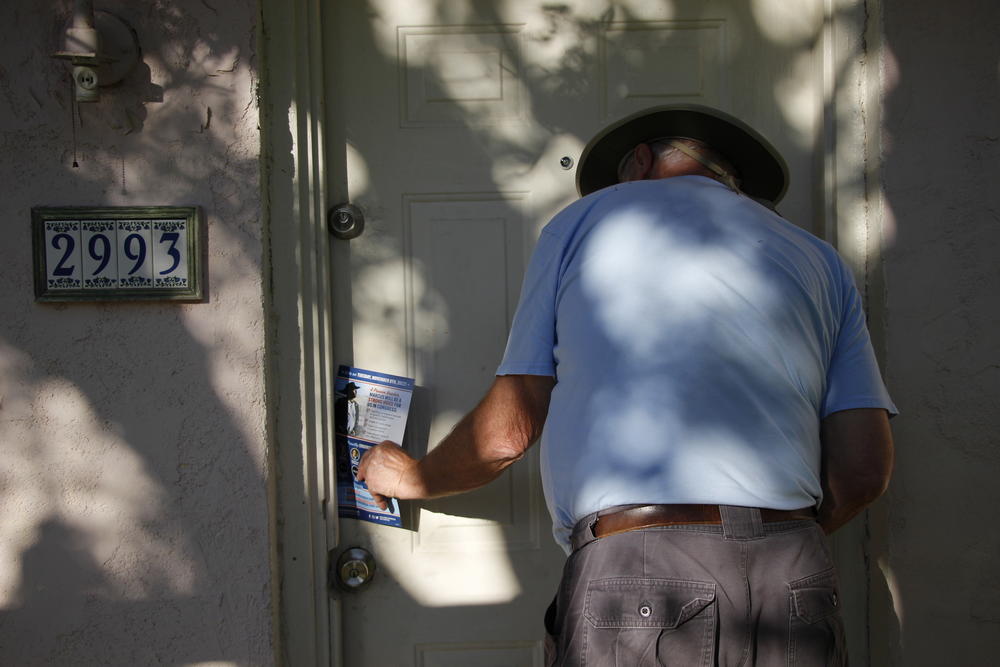 On a Friday evening in a quiet neighborhood in Powder Springs, 40 minutes northwest of Atlanta, volunteer canvasser Kent Buis stops by houses with a clipboard and a stack of flyers. He's wearing a powder blue T-shirt that reads: "Send Congress Flowers."
He approaches one home and begins his well-tested pitch: "My name is Kent Buis and I'm campaigning on behalf of Marcus Flowers, who is running for Congress in the 14th District. Do you realize that Powder Springs and Austell were redistricted…"
At this home, 81-year-old Pauline Young listens a bit and then stops him mid-sentence to say she's already made up her mind. She says she's voting for Flowers.
"Now, sometimes I switch up," she says. "I'm not prejudiced like this, voting because you're a Democrat. But the reason I'm voting for him is because of the woman."
Buis completes her sentence. "His opponent, Marjorie Taylor Greene …"
"Oh, yeah, yeah, yeah," Young says.
Republican Marjorie Taylor Greene has sparked intense backlash among Democrats in part because of her amplification of conspiracy theories and lies about fraud in the 2020 presidential election. 
The 14th District doesn't usually attract much attention. It's been a Republican stronghold for years. But this cycle, donations to the Flowers campaign have come from all corners of the country. By the end of September, he'd raised more than $14 million. That's more than 5 times what Greene raised last cycle. Greene's fundraising is also vastly outpacing her last run. For the Flowers campaign, that money is helping to fuel a boots-on-the-ground effort that includes canvassing and house parties.
Recently, at a supporter's home in Acworth, Flowers offered voters a chance to get to know him. 
Dressed in a dark suit and black cowboy hat — which he wears in honor of his grandfather who was a sheriff — Flowers shared his bio. He was born in Troy, Ala., the birthplace of the man he calls his idol, John Lewis. He talked about growing up poor, his service in the Army.
Before long, he attacked Greene.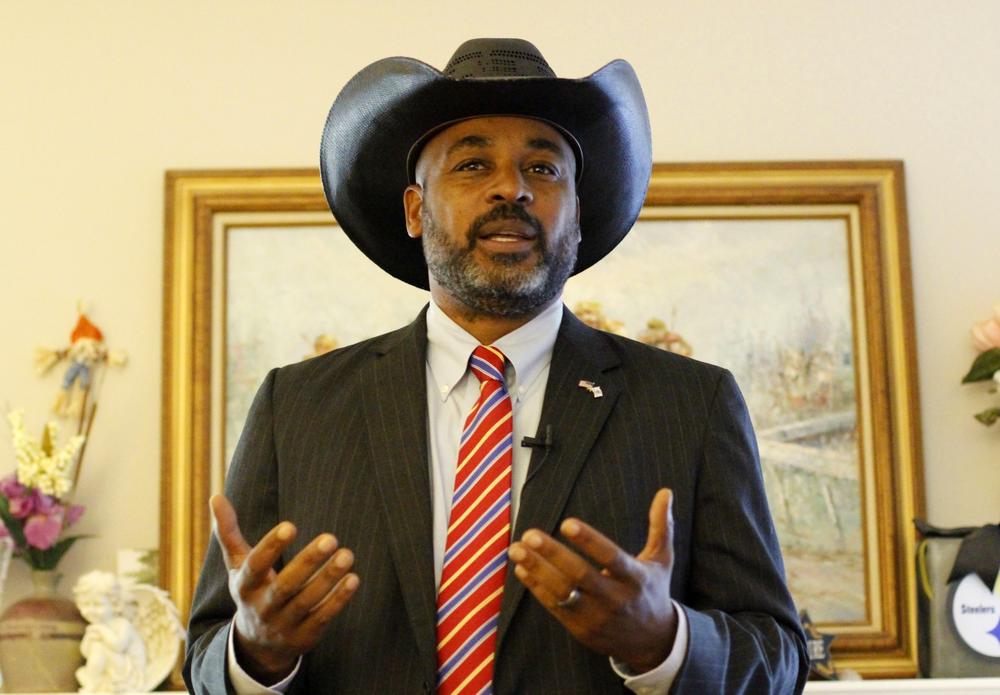 "She seeks to divide us," he said. "She seeks to relegate Georgia 14 — and the country, quite frankly — to 'them and us.' Them and us. There's no 'them and us.' It's 'we.' We the people."
He said a variety of factors inspired him to run for Congress: the murder of George Floyd, the rapid spread of misinformation, and the attack on the Capitol on Jan. 6, 2021. 
"Marjorie Taylor Greene was with those who were pushing the big lie that drove those people to the Capitol that day," Flowers said. "I resigned my post on Jan. 7 to run for Congress against Marjorie Taylor Greene."
The Greene campaign did not accept our request for an interview. But at the Atlanta Press Club Debates hosted by GPB in October, Greene pushed back on one of Flowers' central campaign messages: She said she's not responsible for the riot at the Capitol. 
"I was a victim of the January 6th riot just as much as any other member of Congress," she said. "That was the third day I had on the job. I had nothing to do with what happened that day."
Flowers said he's not running as the "not Marjorie Taylor Greene" candidate, but his campaign tweets and missives often bill him as exactly that. His policies align him with moderate Democrats: He wants to protect abortion rights and Social Security and find ways to make housing more affordable.
But in a district that often votes Republican by wide margins, his campaign is unlikely to prevail, said Audrey Haynes, a political science professor at the University of Georgia.
"The best that Marcus Flowers can hope for is to increase the vote share that he takes with him," she said.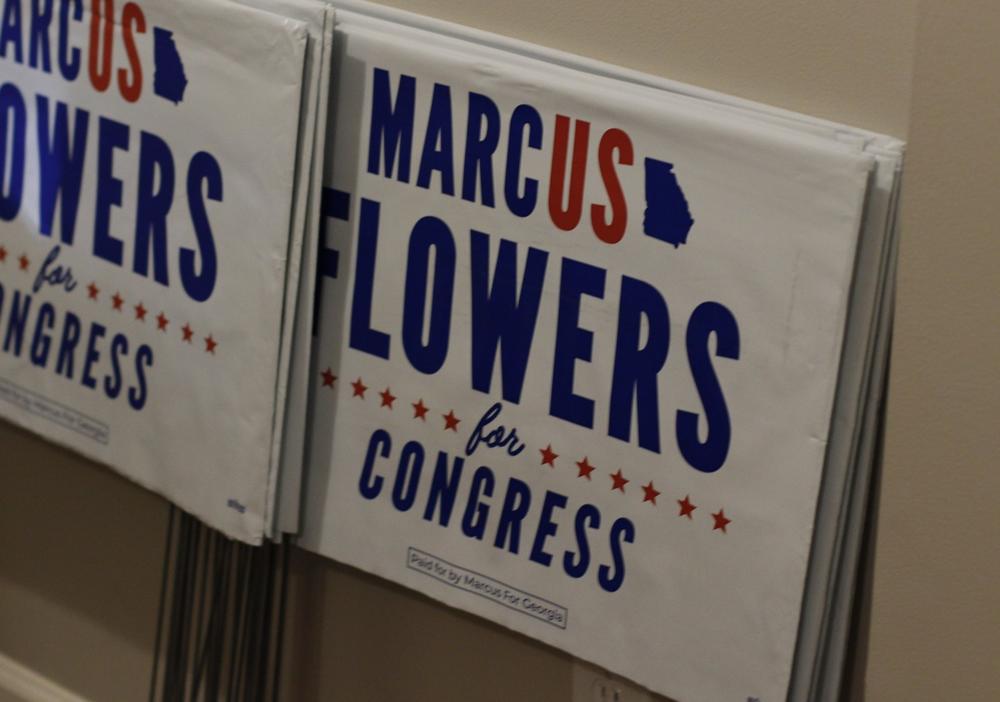 Haynes said Democrats will need at least a decade of effort to flip the district. But for this election, bringing more Democratic voters to the polls in the 14th may help others running for statewide office, like Stacey Abrams' bid for governor. 
"Whether they will be super impactful and make the difference, I'm not sure that will be the case," Haynes said, "but cutting down margins, giving people hope."
In the meantime, Greene seems poised to have influence, if not formal leadership responsibilities, if Republicans take control of Congress next year. 
She told the New York Times that to please the Republican base, the new Speaker of the House would have to, quote "give me a lot of power and a lot of leeway."
Secondary Content
Bottom Content