Section Branding
Header Content
British musical about penicillin launches in Atlanta with dreams of Broadway
Primary Content
The director of the U.S. Centers for Disease Control and Prevention is not always available to welcome traveling stage productions when they arrive in Atlanta. That's not to say Rochelle Walensky, the CDC's current chief, dislikes attending musicals. But the reason she is participating in a panel discussion before the opening of The Mold that Changed the World on Nov. 1 at Atlanta's Pullman Yards is because this particular song-and-dance routine highlights one of the biggest health threats on earth—antimicrobial resistance (AMR).
The Mold that Changed the World is a historical musical centered on the life of Alexander Fleming, the Scottish physician and scientist who discovered penicillin after WWI. Its premise is the heroism of fighting deadly bacteria, and if that sounds like it might be at odds with melodious choruses and emotional epiphanies, then remember that the blockbuster 1980 musical Les Miserables was based on an 1862 novel about the romantic ravages of ... tuberculosis.
Maladies and miracle cures have made for compelling music—from the Renaissance through COVID-19—in works such as 16th century composer Paolo Caracciolo's "Santo Guerrier" (1582) about the plague; "Jesus is coming soon," a 1918 influenza blues lament by Blind Willie Johnson; Bruce Springsteen's 1993 movie hit, "Streets of Philadelphia" about HIV/AIDS; and even Taylor Swift's 2020 song, "Epiphany," which recognizes the mental stress of frontline healthcare workers during the coronavirus pandemic.
Mold's composer and artistic director Robin Hiley, who leads Scotland's Charades Theatre Company, is ahead of his time in his incorporation of AMR themes on the stage. The creative team that tackled Fleming's story– including Thomas Henderson who wrote the book for the score–understood that advocacy should be built into the script to raise awareness.
The Mold that Changed the World premiered at the Edinburgh Fringe Festival in 2018 to sold-out crowds and is now touring the U.S. exclusively in Atlanta and Washington, D.C.
GPB News' Kristi York Wooten interviewed Hiley to find out more.
How did a musical about antibiotics come about?
Robin Hiley: I was approached by an infectious diseases doctor called Dr. Meghan Perry, who is working day in and day out, saving people's lives from all sorts of scary infectious diseases as her job title suggests. And she's also a good amateur musician and has always run music camps in her spare time. She came to me with this proposition of, 'Wouldn't it be great to have a musical about antibiotics and antibiotic resistance?' And I sort of raised my eyebrows a little bit, thinking that's not exactly your quintessential topic for a piece of musical theater! But Megan was dogged, and she persuaded me that there was something to it. And I gravitated toward Alexander Fleming, the Scottish scientist who discovered penicillin, which has arguably been the most important medical discovery of the 20th century or perhaps even the most important discovery, full stop.
Similar to the musical Hamilton, there's a historical figure here in Fleming. How do you make that person's life and contributions have rhythm, how do you set it to music? Both The Mold that Changed the World and Hamilton have protagonists named Alexander.
Robin Hiley: Ah, yeah they do... The thing that Hamilton has done for musical theater is that it has shown that it doesn't have to fit in the same expected form that you get from a lot of the other musicals. And yet this idea of a biopic of someone's life is something that can be quite popular and palatable and interesting and all the rest of it. It has kind of challenged people intellectually, which you don't necessarily get from lots of other musicals. With The Mold that Changed the World, there are light moments and fun moments and dramatic moments and a few intellectual moments thrown in, too.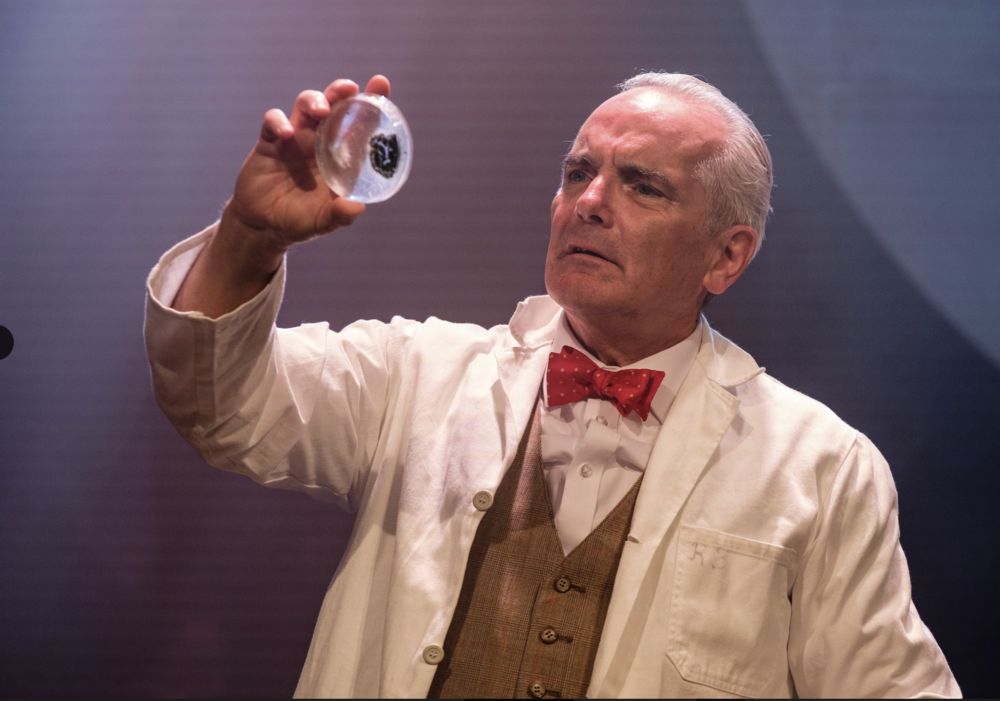 What kind of music were you listening to when the musical formed in your mind? The score has strong Broadway vibes.
Robin Hiley: I studied music in the 'classical music' sense. I did a music degree and a master's degree in writing. I grew up in a sort of Scottish traditional folk music family. My mum's a fiddler. My uncle is quite a renowned accordionist and has played in Ceilidh bands and dance bands for a long time. And my dad's side of the family were more classical musicians. So there's been a lot traditional folk music [in my life], which I think you'll probably hear throughout The Mold that Changed the World. There's something wonderfully nostalgic and uplifting about Scottish folk traditional music. Having studied music, I have moments when I listen to Mozart... but then musical theater-wise was very sad to hear that Stephen Sondheim died last year. He's a master. And I guess some of the bigger ones, like Les Mis and maybe Bernstein. I used to tour in a folk rock band. So I [chose from] a huge pot of influences [when writing the musical]. I've always been into country music, as well. Modern country artists like Sugarland and the Zac Brown band—they're from Atlanta, too, right?
How did this idea of working with people from the local community come to fit in with actors from London's West End?
Robin Hiley: The way that we perform the show is that we have a cast of West End musical theater actors, and they perform alongside an ensemble, a chorus of local scientists and health care professionals. We brought our professional cast over from the U.K. and we have recruited and been rehearsing with an amazing group of professionals from here who work for different universities and different health care providers. And it's these scientists and health care professionals who really understand the AMR message and are working with this challenge. And it's our job as a group, as a sort of creative team and creative professional actors to help give them their voice through the show and through the storytelling and the emotive music and all the rest of it. And it's really special and unique that we are actually having true health care heroes, as we've been calling them, on stage. 
Many productions start in Atlanta and then head to Broadway. What is the path you envision for The Mold that Changed the World?
Robin Hiley: Good question. We had great success in 2018 where we sold out a three-week run at the Edinburgh Fringe Festival, which, if your listeners don't know, is the biggest arts festival in the world. It's the second biggest ticketed event in the in the world, I believe. We saw a real potential from that success. [The musical] was only 50 minutes long at that point, and we've turned it into this kind of two-hour show as you would expect. I guess when you start having success with a musical, the obvious trajectory is to go to off-Broadway or something and try and aim in that direction. I think because of the project's uniqueness in terms of marrying up a community health care chorus with professional actors, there's definitely scope to do this in other cities... And we have some wonderful support from a number of organizations now who are really seeing the benefit of what we're doing.
This project strikes me as the perfect example of music changing the world ... It has a purpose. It has an activist element. At the end of the day, if there was no music in it, would this compelling story even be the same? Is it the music that's the driver here?
Robin Hiley: You and I clearly both know the power of music, how it can touch people, etc. So it is a hugely important part of it all. But in terms of the project, one of the things that I say to our cast members and all of our company is the importance of the message and what we are doing for these scientists and health care professionals who are giving up their own time to be part of it— both in terms of giving them an experience and an opportunity, and then the importance of the wider message. It kind of gives the whole thing this amazing purpose and life to it. That certainly makes me want to push forward and get it as far as we possibly can. 
For more information and tickets, click here.
Secondary Content
Bottom Content