Section Branding
Header Content
A decades-long tradition of Sunday voting encourages Black voters ahead of the midterm
Hero Image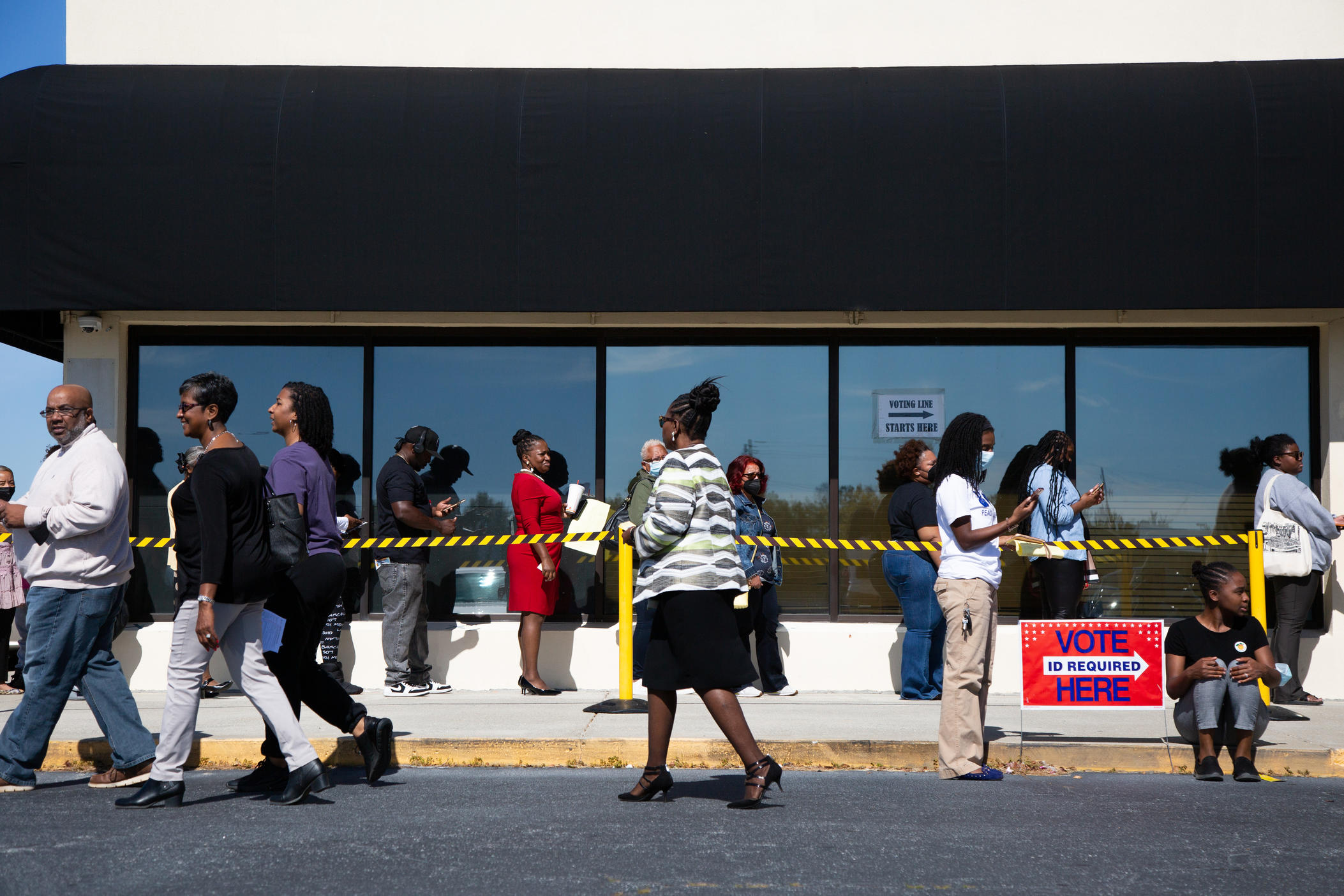 Primary Content
LISTEN: During "souls to the polls" events, faith leaders offer transport to local voting precincts. GPB's Sofi Gratas reports on Sunday voting in Macon, Ga.
——
At its busiest, about 40 people stood in line outside the Bibb County Board of Elections office on Sunday, Oct. 23. And most came straight from church. 
That's because several local faith leaders organized transportation to the precinct for a "souls to the polls" event, a tradition rooted in civil rights-era demonstrations aimed at empowering Black voters. 
One of those local leaders was Marvin Colbert, a pastor from Bethel African Methodist Episcopal church. 
"I think we had about a 30- to 35-car procession," Colbert said. "It's important for us to come out on Sunday, especially us church folk, to keep the Sunday vote."
Colbert said he coordinated with three other churches in town to motorcade to the voting precinct, the only one open for optional Sunday voting. The Black church has a decades-long relationship with voter education and mobilization, with souls to the polls events dating back to voting rights efforts during the Jim Crow era. 
Karen Evans-Daniel, the Bibb County BOE co-chair, said her staff was expecting the crowd.
"What we did was we made sure we got the word out that we were voting on Sunday … and we solicited several churches in Macon," Evans-Daniel said. 
According to data from the Georgia Secretary of State's office, 431 people voted in Macon on Sunday. Early-voting numbers have so far broken records compared to turnout for the 2018 midterm election, with voter turnout expected to reach 1 million statewide by midweek. 
And despite legislation that allegedly targets minority voters by limiting absentee voting, imposing stricter ID requirements and banning the distribution of food and drink to voters in line, Black voters in Georgia have made headlines with record turnout so far in tight races. 
"You see these record lines in defiance of the law, not because of the law," Colbert said, referring to Georgia's most recent election law, Senate Bill 202. "You know, if you're gonna make it harder for us, we're just going to come out, and really that's what it gets down to." 
Leroy Bundrage, George Bundrige and Earline Bundrige — congregants from Bethel AME and Greater Bellevue Baptist Church — participated in the motorcade on Sunday. 
"My dad used to get people and go pick them up; I lived in the country so we had to have transportation to get to the polls," Bundrage said. "You're in a different environment here. Everybody's closer together, but they still need transportation."
Bundrage said he's less concerned about issues like inflation — which just "has to run its course" — than he is about the effects of SB 202. 
"Folks out here in the heat and you can't even give them a drink of water," Bundrage said. "Water ain't never done anything to anybody."
In a statewide poll from several newsrooms including Georgia Public Broadcasting, 50% of Black voters opposed the legislative changes made to state elections. Nearly 70% of Black voters in the same poll opposed limits made to ballot drop boxes.
Secondary Content
Bottom Content