Section Branding
Header Content
Coastal Georgia's U.S. House candidates square off in Atlanta Press Club debate, a first in 14 years
Primary Content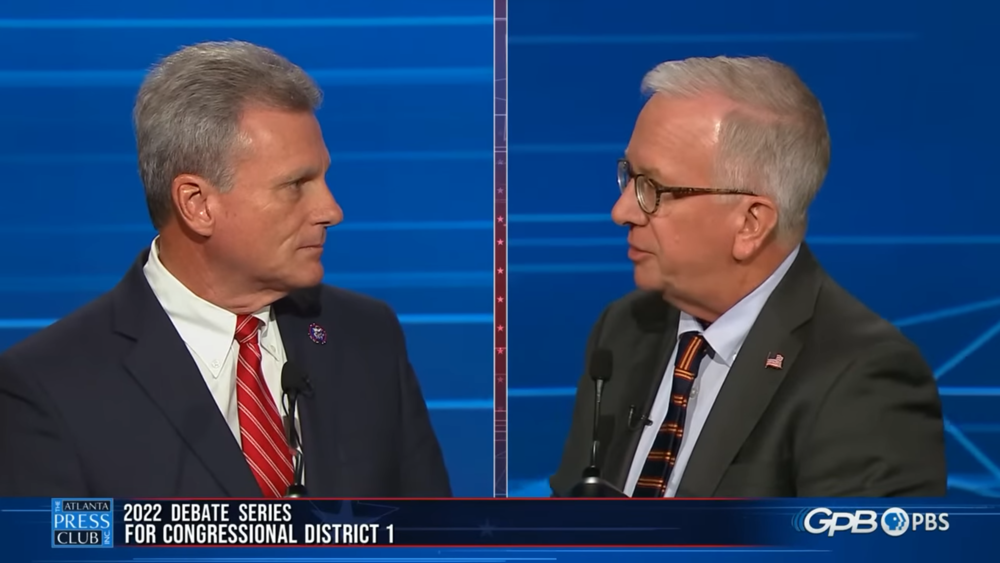 For the first time since 2008, the Atlanta Press Club held a debate for coastal Georgia's 1st Congressional District — a reliably Republican district for the past three decades, but one that has shown recent signs of Democratic enthusiasm in the form of fundraising.
Incumbent Republican Buddy Carter of Pooler, seeking his fifth term in office, faced Democratic challenger Wade Herring, a Savannah-based business attorney, at the studios of Georgia Public Broadcasting on Tuesday evening.
Much of Carter's remarks during the debate featured a common refrain: "rubber stamp" — a term he used six times throughout the half-hour matchup, to try to portray Herring as a would-be pawn for President Joe Biden.
"When this administration … came into power, inflation was at 1.4%," Carter said. "Now, it's at 8.2%. That's a result of poor policies. And now, my opponent wants to go to Washington, D.C., so that he can reinforce those policies, so that he can be a rubber stamp for those failed policies."
Herring — a first-time candidate for elected office — pushed back, saying, "I am going to be a representative for the people of this district. I'm not a career politician like Mr. Carter. I'm going to be an independent thinker."
Herring said that he would not be beholden to corporate interests, to which he tried to tie his opponent.
"Mr. Carter … does take money from big pharmaceutical companies, does take money from big oil companies," Herring said. "Most of my donors are individuals, not corporate PACs like Mr. Carter."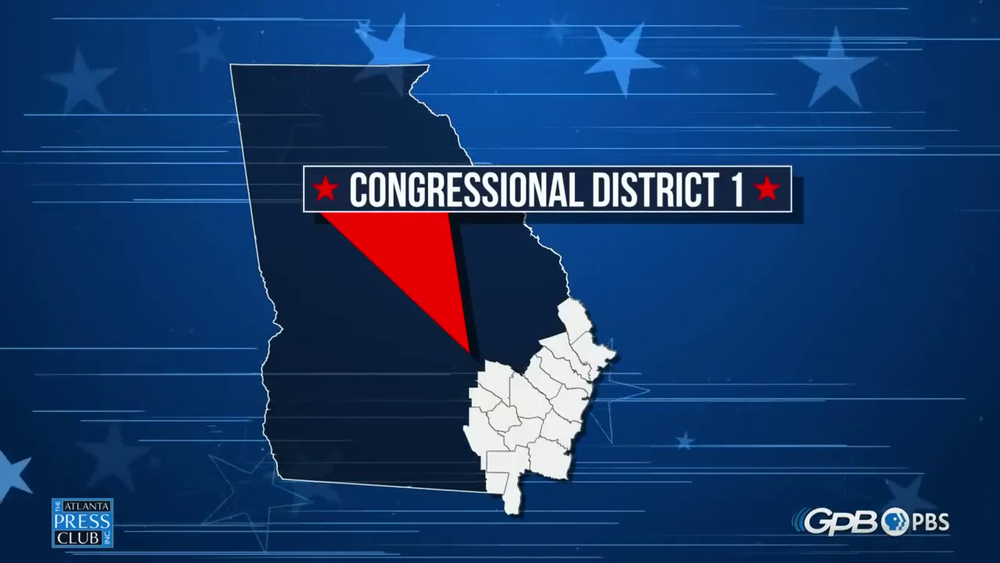 Health care emerged as a persistent topic, with Carter touting his experience in the industry: "As a pharmacist, no one — no one in Congress — has worked harder to bring prescription drug prices down than I have. I think you could ask any side of the aisle that, and they would agree with that."
Herring went on the offensive, criticizing Carter for having voted against capping the out-of-pocket cost of insulin for senior citizens.
"Mr. Carter: I met a lady named Maddie from Savannah — one of our neighbors — last week," Herring said. "She's worked hard all her life, but she's too old and frail to work now. She's dependent upon Social Security and Medicare. She's been insulin-dependent for the last 20 years. You voted against capping insulin prices for seniors. Mr. Carter, please explain to Miss Maddie and the people of the 1st District why you want her to pay more for a life-saving drug."
"The $35 co-pay on insulin — it only caps the co-pay," Carter said in his response. "It does not cap the costs. … This cap on insulin was not the way to do it. That's not going to lead to more innovation. All it's going to do is to cap the price. In fact, it's going to lead to less innovation. That's not the way we do it. The way we do it is to have transparency the drug pricing chain and to have the PBMs (pharmacy benefit managers) — the middlemen — held accountable."
Herring, for his part, touted his legal experience in the field: "I've represented medical practices and hospitals. I actually know a fair amount about health care. My daughter is a doctor. I know that her doctor friends — her young doctor friends — are freaked out about what's going on with Roe v. Wade, and they're looking at what states they go to, to start up their practices."
Abortion access drew a stark contrast between the two candidates: Herring, an avowed abortion rights supporter, compared to Carter, a staunch abortion rights opponent.
"I want to codify a woman's right to reproductive choices," Herring said. "Politicians should not be in the exam room with the woman and her doctor. We are in a time where the Supreme Court has restricted freedom, unprecedented in our country."
Carter — who has described abortion as "murder" — supports the Supreme Court's ruling earlier this year that struck down Roe, effectively ending or severely limiting abortion access for millions of women — including in Georgia, where the state's six-week abortion ban took effect shortly after Roe's reversal.
"As my good friend Herschel Walker pointed out the other night in his debate with Raphael Warnock, there is someone else in that [exam] room," Carter said. "There's a baby in that room, and that baby needs to be represented, as well…I do not think abortion is health care. Health care saves lives. Abortion ends life."
Absent from the debate was any discussion about the state of democracy. Herring has said that the Jan. 6 attack on the U.S. Capitol, together with Carter's ensuing vote to overturn the results of the 2020 presidential election, are what compelled him to run.
"What happened that day seemed so dangerous to the future of this country that I decided I had to get off the sidelines and do something about it," Herring told GPB News last June. "And that is why I am running."
Herring faces an uphill battle in his campaign to unseat Carter, as the 1st District has not been won by a Democrat since 1990.
Nevertheless, Herring has managed to defy Democrats' meager fundraising history in the district, with his campaign's $1.2 million in receipts standing nine times higher than 2020 Democratic candidate Joyce Griggs's total.
However, Carter has an even larger war chest, as years of fundraising have enabled his campaign to outspend Herring this election cycle ($1.6 million to Herring's $1.1 million) without exhausting Carter's cash on hand ($1.9 million to Herring's $100,000).
Secondary Content
Bottom Content