Section Branding
Header Content
Project could add an hour or more to Atlanta commutes
Primary Content
LISTEN: Reducing five lanes to three on Atlanta's perimeter highway has the potential for "extreme delays" for local commuters and motorists going around Atlanta. GPB's Orlando Montoya spoke with Sandy Springs Mayor Rusty Paul about possible effects.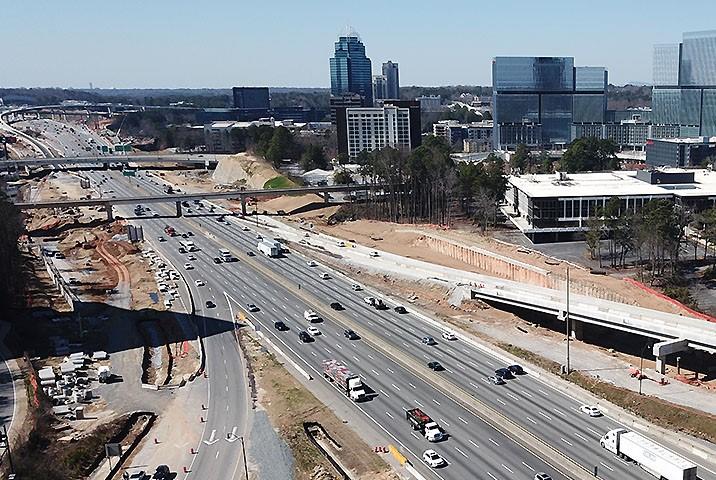 Motorists are preparing for what promises to be no ordinary Atlanta traffic jam starting on Saturday.
That's when Georgia Department of Transportation contractors will start closing lanes in both directions of Atlanta's perimeter highway, I-285, for bridge demolition and reconstruction.
"The traveling public should expect major disruptions to their daily commutes and driving routines during this time and should be prepared for profound delays," GDOT Alternative Delivery Program Manager Marlo Clowers said in a news release.
The delays, she said, could add an hour or more to daily commutes.
And the work is expected to take eight months to complete.
But Rusty Paul, the mayor of Sandy Springs, one of the cities nearest the planned disruption, is betting on a year of headaches.
He's concerned not only about commuters, but also local businesses that rely on timely shipments and employees.
"It's the main truck route connecting Savannah and Brunswick to the Northeast and the Midwest," Paul said. "We've asked GDOT to consider temporarily opening the downtown connector to truck traffic to help ease the burden, but they say it would take a legislative initiative to make it happen."
The reason this particular construction project will have such an outsized impact deals with its location and simple math, according to WSB 95.5 FM Traffic's Mark McKay.
The veteran traffic reporter said the work will disrupt what used to be five lanes in each direction.
"They've already reduced that area to four," he said. "And beginning this weekend, if everything goes right, commuters on the eastbound lanes of 285 will go from four to three [lanes] anywhere around the Georgia 400 interchange, which has the potential to make for a real mess."
The bridge demolition and reconstruction will take place in two phases:
Phase 1: Inside lanes will close on I-285 in each direction between Roswell Road to Ashford Dunwoody Road, so crews can reconstruct the interior portions of the I-285 bridges over Glenridge Drive, SR 400, and Peachtree Dunwoody Road. This phase will take approximately four months.
Phase 2: Traffic will shift to the inside lanes and the existing outside lanes will close to traffic so crews can demolish and reconstruct the exterior portions of the bridges. This phase will take approximately four months.
The GDOT news release is aimed at providing some traffic relief by offering additional roadway capacity outside of the existing interstate lanes.
You can learn more about the project at this website and find ways around it by using your favorite navigation app.
Secondary Content
Bottom Content