Section Branding
Header Content
How Anderson Smith's art inspires you to 'see something different' every time
Primary Content
GPB's Peter Biello reports on Anderson Smith's art.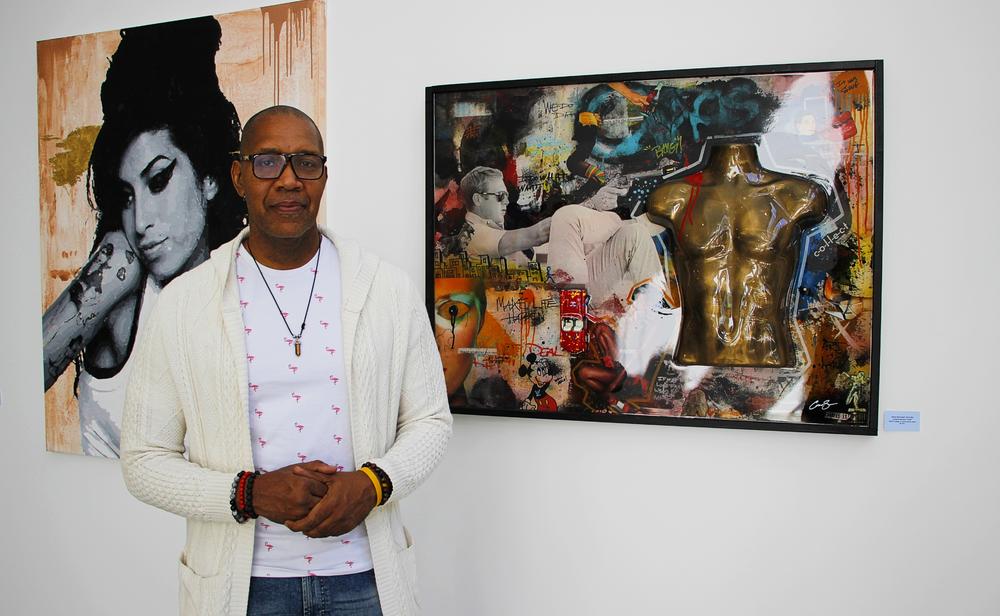 Atlanta's first Art Week is now underway. It's a celebration of the visual arts happening across the city through Sunday. Art lovers strolling through Buckhead Village may notice a new gallery featuring work dripping with paint and pop culture. 
Atlanta-based artist Anderson Smith's gallery, which opened in September, displays original, eye-catching work.
"[The art] just kind of pops off the screen at me or the wall or wherever I see it," he says. "I just kind of get a feeling when I see certain pieces I'm kind of drawn to."
What he's drawn to is anything but subtle. Among the first pieces you'll see as you enter Gallery Anderson Smith are enormous portraits of Michael Jordan and Amy Winehouse — both done by artists he admires — and a collage of his own featuring Steve McQueen firing bullets at a mannequin. 
"I've been a fan of Steve McQueen for a long time and had this mannequin form sitting around and played around with it a little bit and came up with this piece here," he says.
This is how Smith's collages come together: He combines elements of pop culture he loves and materials close at hand. The famous, fabulous and fictional are fixtures inside his handmade frames. David Bowie, Marilyn Monroe, Inspector Gadget, and Fred Flintstone often appear. 
Smith says his love of drawing cartoon characters started with his aunt, who also liked to draw. 
"When I was younger, she used to come over to our house all the time and sit at our dining room table. And she used to draw, and she was always drawing cartoons. And I kind of took interest to that."  
Smith says he drifted away from art in high school, but after his fiancee died in 2015, he found comfort in drawing the cartoon characters of his childhood. It's a method that works for him.
"Any time I get into any kind of mental block, I draw on cartoon characters to kind of get me out of that," he says.
His collages leave plenty of room for interpretation. Is he critiquing American culture by using Mickey Mouse or celebrating it? Smith says he's not trying to force things.
"But what I would want them to take from it is just something that they can just kind of go in and see something different every time they may look at it."
What's clear is that most of his work is playful — but he can get serious. Take the piece "Freedom's Chaos."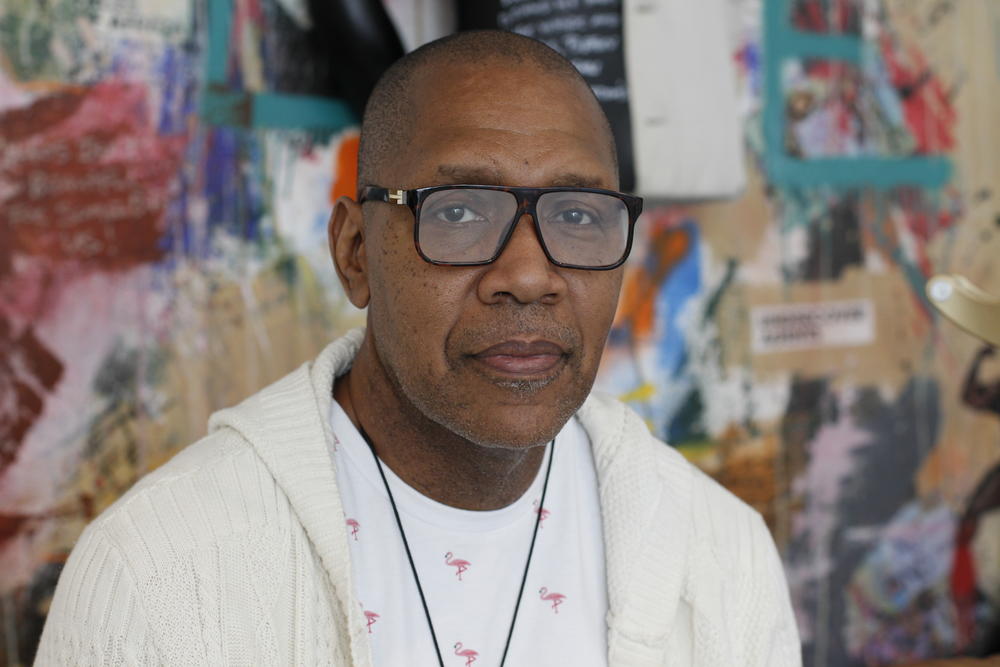 In this collage, Abraham Lincoln, Frederick Douglass and Botham Jean appear. Jean was killed in 2018 by a police officer who entered his apartment thinking it was her own. On the mannequin at the center of the piece is a poem written by an anonymous enslaved person. Smith says for him it's about what it's like to be Black in America.
"And I just I'm just trying to convey that on canvas, too, so that people really understand, you know, the journey and how things have shaped a lot of us, you know, in our professional lives as well as our everyday lives."
Smith says for his gallery opening party, he put the bar near "Freedom's Chaos." He thought that would encourage people to linger by this piece and talk about it. He says "Freedom's Chaos" was particularly emotional for him.
"Actually, a friend of mine who was here not too long ago, she looked at it and it brought her to tears. And that's just one of those emotions I guess art can invoke in people."
Whether it evokes tears or surprise or nostalgia for Saturday morning cartoons, Smith's art will be on display and for sale at this location in Buckhead Village for the next year.
Secondary Content
Bottom Content