Section Branding
Header Content
Columbus resident believes faith and God helped her land role in Tyler Perry's new movie
Primary Content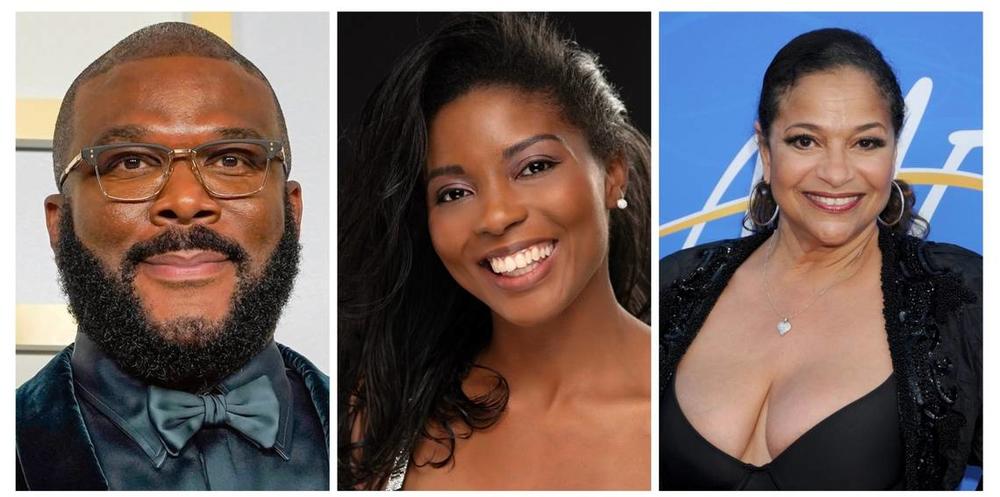 When the Tyler Perry movie A Jazzman's Blues started streaming Sept. 23 on Netflix, Columbus resident Morgan Harrell planned to pop some popcorn, watch with her parents, Barbie and Dr. Kenneth Harrell, and celebrate what she considers "a sacred moment."
That's because Harrell not only appears as a juke-joint dancer in this movie written and directed by Perry and choreographed by Debbie Allen, but she believes faith and divine intervention helped her land this role three years after being so severely injured, it was unclear whether she would dance again.
In addition to support from her parents, "I want to thank God first and Tyler and Debbie and all my educators for putting confidence in me," Harrell told the Ledger-Enquirer.
'I was devastated'
Harrell, 26, was born and raised in Columbus. 
She attended preschool at Pinehurst Christian, elementary school at Britt David and Clubview, middle school at Richards and graduated from Northside High School in 2014. She earned a bachelor's degree in dance from Kennesaw State University in 2019.
That's the same year she was in a car accident, hit from behind by another vehicle. The collision tore her left bicep and threatened her dancing career. On top of performing, she teaches dance classes and founded Faithesthetics, a faith-based choreography company.
"I was devastated," she said. "… I was very close to quitting."
Dr. John Waldrop repaired her arm, then months of rehab at the Hughston Clinic helped her recover from surgery. She credits them for "giving me a second chance."
'God preparing me'
Then, on Dec. 4, 2020, Harrell said, "God told me to print a picture of Tyler Perry."
It seemed mighty random, but Harrell put the image on her vision board and gazed at it for inspiration as she did rehab exercises at home. She also printed the logo of Perry's studios in Atlanta and put that image in her Bible. And she listened to motivational speeches from Perry, including one about burying Bibles in the foundations of the sound stages built on his 330-acre property, the former Fort McPherson.
"I feel like that was God preparing me for this role," Harrell said.
The chance came in April 2021, when her agent told her about an audition for a dancing role in a movie — lo and behold, written and directed by Perry.
"Oh, my God," she thought. "… God told me about this."
Netflix says the movie's "tale of forbidden love and family drama unravels 40 years of secrets and lies against a soundtrack of juke-joint blues in the Deep South."
According to IMDB the plot involves an investigation into an unsolved murder that unveils deceit and a secret.
The cast includes Joshua Boone (Downtown Girls, MacGyver" and Law & Order: SVU) and Solea Pfeiffer (Curb Your Enthusiasm, Scandal and The Good Fight) as leads, along with Amirah Vann, Ryan Eggold and Austin Scott.
'Wow. She got it'
Harrell had only two days to prepare for the audition. She doubted whether she had recovered enough from her injury and surgery.
But when she learned Allen would be the choreographer for the movie, Harrell recalled meeting her at a dance intensive training session in Atlanta while she was a student at Kennesaw. Although they didn't talk to each other then, Harrell still received memorable communication from Allen.
"She kind of gave me that look like, 'Wow. She got it,'" Harrell said.
Connecting the dots — from believing God told her to print a photo of Perry, to feeling affirmation by Allen's glance — Harrell let her faith rise above her doubt and tried out.
'I was shocked'
Allen greeted Harrell at the audition and said, "It's good to see you again," Harrell recalled.
Harrell thought, "That meant God is actually real, and I was actually meant to do this."
After a callback for another audition and two weeks of not hearing the result, Harrell was eating at a Chipotle in Columbus when an email from the casting associate offered her a role to be among approximately 30 dancers out of the 200+ who tried out.
Harrell cried tears of joy and gratitude.
"I was shocked," she said. "I was numb. I couldn't believe it."
She had persevered through her accident, her surgery, her rehab, her doubt — and through not being chosen for any role in approximately 20 tryouts with other productions.
"When you've been through so much, a lot of rejection in your life, you get discouraged," she said. "… I learned to go with your instincts. Go with your gut. When your gut moves, that's God talking to you."
'Like Annie staying with the Warbucks'
Filming went on for two weeks in May 2021. The cast and crew quarantined on Perry's property amid the COVID pandemic. Despite the frequent coronavirus testing and constant mask-wearing in between takes, Harrell savored the experience.
"It was like Annie staying with the Warbucks," she said. 
"… It felt like a dream. It felt so surreal because it's history-making, a Columbus woman staying on Tyler Perry's land. … Some days, I was crying and saying, 'God, are you sure I deserve this?' … It was so hot, but we were so grateful and so blessed. The crew treated us really nice."
Perry is respectful and kind, Harrell said.
"Tyler deserves all his blessings," she said. "He's inspirational. When I was healing from my surgery, hearing his story about how he was hopeless — for years, people doubted him and people laughed at him, but he still kept going — God blessed him with an opportunity. It's like I passed God's test too."
Allen is "just a legend," Harrell said. 
"She was directing me about how my character should be, how to walk, how to have that presence in the room. … To be in the same room with Debbie Allen and taking the notes and learning and becoming a better dancer, it changed my life."
Other than working with Perry and Allen, Harrell was attracted to this role because of the movie's story and its era.
"I wanted to really envision what it would be like to live in the 1930s," she said. "What did my ancestors go through during this period? … What was it about jazz and blues that really contributed to the history?"
Harrell noted the similarity of the movie's theme and her own journey. The message from both, she said, is to "go where your heart is."
'Hard work is finally paying off'
While the movie debuted Sept. 11 at the Toronto International Film Festival, Harrell won the Best Director award at the 2022 WIFTA (Women in Film and Television in Atlanta) Short Film Showcase. She described her film, S.A.B.L.E. (Stories About Blacks Leading Equality), as a "choreopoem that portrays a dialogue of apathy."
The juxtaposition of those two moments, Harrell said, prompted her to think "my hard work is finally paying off. … I feel like it was all meant to be."
This role boosted her resume and led to others. Harrell said she can't be specific, but she is in the cast of three more productions and will teach a master dance class in Atlanta about her experience in this movie.
Tickets are available on her website, Faithesthetics.com.
Harrell enjoys dance because it's spiritual to her.
"When you dance," she said, "it takes your worries away."
Her ultimate career goal?
"Make an honest living using my gifts from God to inspire the world through dance," she said. "… Dreams do come true, only if you put God first."
This story comes to GPB through a reporting partnership with the Ledger-Enquirer.
Secondary Content
Bottom Content