Section Branding
Header Content
Catoosa residents look for resolution to chicken war
Primary Content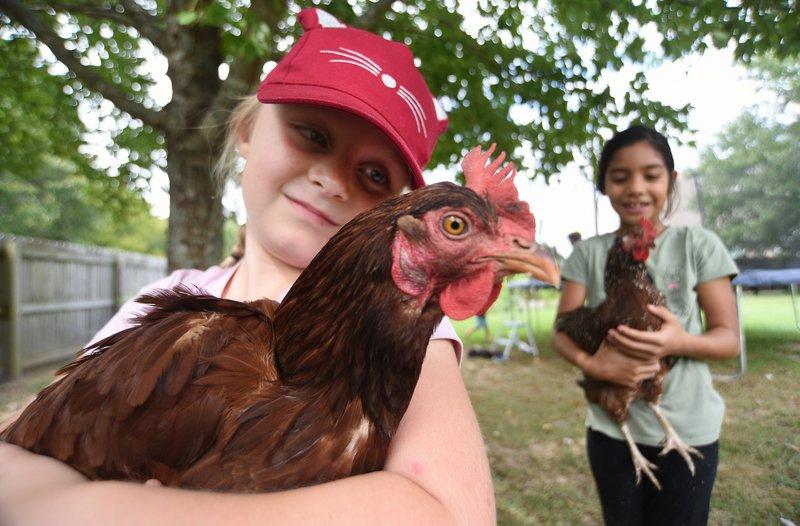 Catoosa County officials say a decision is coming about the legality of owning backyard chickens, but multiple county residents say the issue is about freedom, independence and the ability to provide for their families.
"A lot of us that are grouped up to fight for this, we're very much liberty- minded people," Nick Ware said in a phone interview. "We look at it from the standpoint of: This is a food source that you're (government) limiting, and telling them that you can't have this food source and we're going to regulate it."
Several backyard chicken advocates have been testifying at County Commission meetings lately after code enforcement officials received complaints and issued citations to chicken owners. At this point, code enforcement officials aren't addressing backyard chicken complaints. Instead, they are simply logging complaints and waiting for the commission to clarify the ordinances.
James Davis is the county's zoning administrator. He said in a phone interview the backyard chicken issue first started a few months ago. One of the key questions in the controversy: Are chickens domesticated animals? An example of a nuisance in Catoosa County's ordinance is keeping nondomesticated animals in a residential zone, but the chicken advocates say the birds have been domesticated as far back as 10,000 years ago.
"I totally agree with the fact that one way or another, something needs to change (in the ordinance)," Davis said, because it's code officials' job to enforce ordinances — not take sides. "There's no argument, the ordinance needs to be revised."
While researching the issue, Davis said some places allow hens but not roosters, while other places require the chicken coop to be a certain distance from a neighbor's house. Ringgold allows hens. Fort Oglethorpe does not. Davis said in Georgia, "it's all over the place" about what animals are allowed where.
Davis said the county attorney will give several options to the Planning Commission, and the Planning Commission members will give a recommendation to the Board of Commissioners on how they think the county should move forward. The Board of Commissioners will make the final decision.
The county is trying to strike a balance, Davis said, "but then also we don't wanna open it up to allowing swine, or goats. We don't want it to turn into something where it's back to the Wild West, I guess you could say, where people are trying to put cows and stuff in residential areas. It's real important to make sure we get it right."
At a commission meeting in August, multiple residents spoke about their desire for local government to allow backyard chickens. Tonya Rodgers, a resident of the Spring Meadows subdivision, said this issue is about property rights — and American principles.
"No American that owns their land and pays their property taxes should be told by city, county, state or federal what they can or cannot do on their property, or what they can or cannot have on their property," Rodgers said. "We live in a country where we have freedom, and it seems like all government wants to do is shred the Constitution and citizens have no freedom."
Rodgers said in her testimony to the commission her comments weren't necessarily directed towards the County Commission, but government in general. Having chickens is not against the law, she said she believes, but said if property taxes can be raised in a few meetings, then this "chicken war" can be settled just as easily.
Ware said the government shouldn't be allowed to dictate what people can do with their property. He said while some neighborhoods are governed by homeowners associations, it's not the responsibility of local government to enforce the rules of those organizations.
"That's a binding contract between individuals, and that has to be taken care of by the courts," he said.
Ware said County Commission members don't understand their own ordinances or the principles behind the Georgia Constitution. For example, he said the Catoosa County code is based on common definitions, and a chicken is, by definition, domestic.
"Life, liberty and property, that's one of the first (principles)," Ware said. "That's the first commitment in the state of Georgia. It's also a part of the 14th Amendment of the United States of America."
Keeping chickens is part of his community service of teaching people independence, Ware said, which also includes gardening, helping his neighbors, volunteering for a local home-school cooperative and owning a business. He's also an advocate for responsible government, runs a Facebook page called Citizens Sharing Information to inform his neighbors about important government-related issues, and ran for commission chairman this year.
Ware said he wants to educate the naysayers, but some people are set in their ways. People think chicken coops stink and will lower property values, but he said backyard-sized flocks don't smell, and some people are looking for sustainability that chickens can help provide.
Ware said he knows people who have moved here from places such as Hawaii and California who are surprised having chickens in Georgia could be illegal. He points to Bobbi Wilkey, who he said built an "oasis" in her suburban backyard with a garden, nice chicken coop, as well as fun things for her children.
Ware said he lives in a more rural area, and has more space for his chickens, gardens and berry bushes.
Wilkey said she moved to Georgia 2 1/2 years ago from California for "freedom."
Speaking in her expansive backyard in Tunnel Hill, Wilkey's is the house where neighborhood children congregate to play tag and jump on her trampoline. The children were quick to help Wilkey show off the coop she bought for $600 used and play with the chickens.
Wilkey, her husband, Matt, and children left California because the politics there are "really bad," she said. And even though they lived in nice neighborhoods in Los Angeles, there was rampant crime, and interactions with mentally unstable, aggressive homeless people were frequent, Wilkey said. Traffic was horrible, and the family is paying less than half for their home's mortgage than they were for a rental house in California, she said.
She said she bought her young hens for $3 apiece at Tractor Supply Co., while an adult hen cost $10 or $12. Her 11 hens give her about nine eggs a day, she said, and will lay eggs for about four years. The chickens keep her yard free of bugs, and Wilkey said their presence teaches her children how to take care of other creatures.
Both Ware, Wilkey and other chicken advocates describe a community that's united around the issue, a community more connected to agriculture and their neighbors — while disconnecting from technology and intrusive top-down government.
Ware said chickens are part of his family's plan for sustainability, independence and mitigating risk if there is a disaster. Society is "fragile," he said, because so many people are dependent on electricity, technology and the belief there will always be food at the grocery store. Sustainability makes for a more "confident and stable society," he said, and disaster planning removes fear and adds security.
"The more you take away the sustainability, the more dependency someone has that whenever there is a crash, a fall, a huge pandemic, now somebody is at a disadvantage because they can't do for themselves. And now they have to rely on a dependency that may or may not come," he said.
If there was a crisis, Ware said the neighbor who was against chickens would be "begging" their neighbor with chickens for eggs. "And thank the Lord that they have those chickens so they would be able to share those eggs," he said.
Secondary Content
Bottom Content