Section Branding
Header Content
After JSTARS, what will sustain Robins Air Force Base in the future?
Primary Content
With nearly 24,000 workers, Robins Air Force Base is a big part of the engine that drives the Middle Georgia economy.
But, the Department of Defense is phasing out JSTARS, the Joint Surveillance and Target Attack Radar System, which means changes in mission are coming and local leaders recognize the workforce must adapt.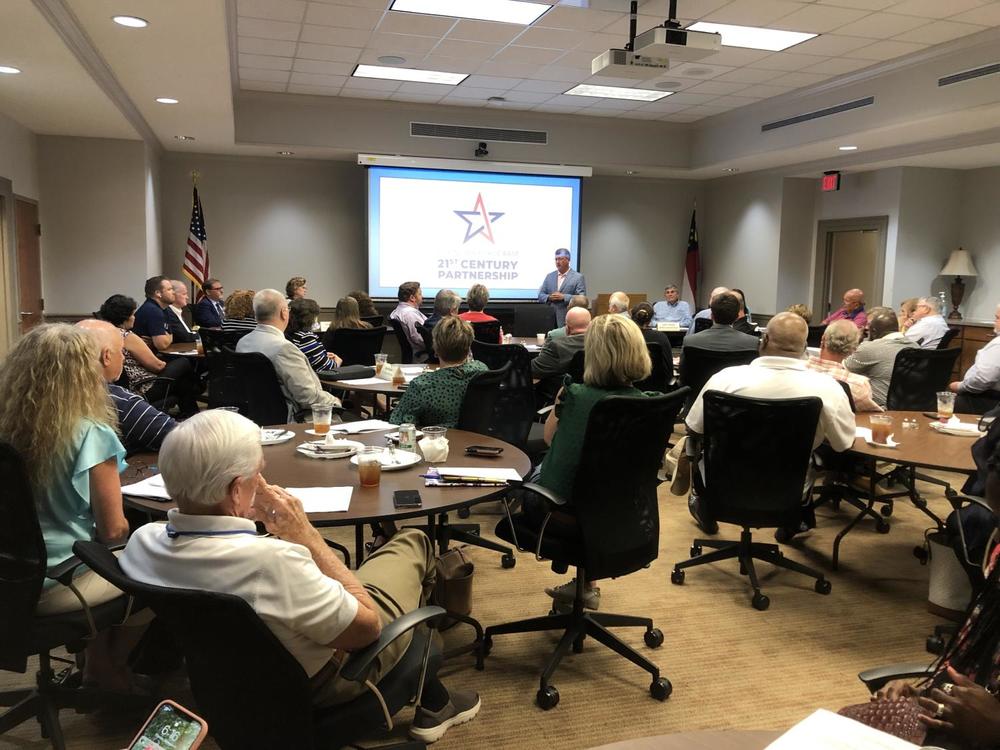 Keeping Middle Georgia's largest employer in business and poised for growth is the role of the 21st Century Partnership.
The organization's CEO, retired Brig. Gen. John Kubinec, who served a commander of the Warner Robins Air Logistics Complex, told the Middle Georgia Regional Commission at its Thursday evening meeting that JSTARS' retirement is a good thing.
The fleet of previously owned 707 aircraft has been "used hard" by the Air Force, Kubinec said, including one plane that hauled camels in the Middle East before the military purchased it and outfitted it for the surveillance program.
"The way to deliver that mission is dated and certainly not relevant," Kubinec told the commission.
Now, the community needs to be prepared for what is coming next as Kubinec said JSTARS personnel will begin transitioning to four new assignments.
Air Control Squadron: Robins is expected to provide air control over the Middle East and expand to surveillance in space.
E-11 Squadron: Battlefield Airborne Control Node, or BACN, will adapt Bombadier business aircraft to provide flying Wi-Fi and communications. Kubinec said the technology will be used extensively over the Middle East but its relevance 10 years from now is unknown.
Spectrum Warfare Group: Squadrons made up of active-duty airmen and civilians will use software and hardware experts in the electromagnetic spectrum to expand and protect modern warfare techniques.
Joint All Domain Command and Control/Advanced Battle Management System Support: Existing manpower will be transitioned to this classified mission. Based on public information and comments from a former Secretary of the Air Force, Kubinec believes it will involve some type of unmanned aircraft.
Although Kubinec did not share any specifics about the secret mission, he believes it will help cement the base's future.
"I'm very excited about that operation," Kubinec said. "It's a new way to link different aspects of warfare together and have that future command and control here. … That's what we want for Robins to be relevant for the long term."
Kubinec added that elected officials are holding the Air Force accountable for its promise of no loss of jobs in this realignment.
"I think there will be a little bit of a dip in two or three years, but after these missions come in, we'll be back up," he said.
Kubinec expects the workforce to lose a couple hundred people in the short term, but could rebound with an even larger workforce in coming years.
The partnership also is lobbying hard for a new software mission headquarters to supplement the more than 1500 software engineers already working on base.
"Think about your phone and how often you have to upgrade it," he told the local leaders. "Aircraft and every system have the same type of upgrades. Every time the enemy figures out what we're using, we have to change," Kubinec said.
A sustainable region
The regional commission was challenged to take its sustainability plan under development and put it into action, including developing and training students for the next generation of innovation.
"We need to grow folks from around here that are going to stay here and help our industry and help our base," Kubinec said.
The 21st Century Partnership plans to use $4 million dollars recently awarded through a joint venture with Georgia Tech that secured a $65 million Department of Commerce grant. The local portion of the grant will target youth with after school programs and scholarships to foster STEM careers in the fields of science, technology, engineering and mathematics.
Kubinec also pointed to a project with Fort Valley State University to develop a mobile STEM lab to serve rural communities with fewer resources.
Jaime Cook is the STEM outreach and workforce coordinator for the 21st Century Partnership that is leading the effort.
"Today's jobs require skills that weren't here in the workforce," Cook said. "They will need skills not just to step into a job at Robins, but in other places."
Cook believes in fostering high school robotics teams to lure students into a STEM career path.
"How many of these boys and girls that play sports will turn pro?" Cook asked. "Team robotics is the only team where all can turn pro."
Middle Georgia Regional Commission Executive Director Laura Mathis said the current sustainability plan committee has come up with 74 recommendations on a variety of subjects to protect the base.
"Things that have been identified as ways we can preserve, protect and grow the mission of Robins Air Force Base also makes this a great place to live. So, it's a win-win all around. Don't be overwhelmed," Mathis cautioned.
Dan Rhoades, chief operations officer for the partnership, says health care and housing studies are also important factors for the people who live and work in the region.
Rhoades shared the story of a young airman who recently got two weeks' notice his rent was doubling from $700 a month to $1,400.
"Where are they going to go? Where are pockets of housing? Where can we build that capability?" Rhoades asked the leaders to consider.
He encouraged them by pointing to the success in solving the encroachment issues with houses in the crash zone that are a liability in base closure negotiations. The Joint Development Authority bought up those parcels for the massive $249 million solar field project just south of the base and eliminated that threat as a potential basis for shutting down Robins.
Kubinec was optimistic the community will rise to meet the next challenges Robins Air Force Base and the region face.
"There's change that's happening at Robins, but it's good change and it's change that will set us up for the future," he said.
Civic Journalism Senior Fellow Liz Fabian covers Macon-Bibb County government entities and can be reached at fabian_lj@mercer.edu or 478-301-2976.
This story comes to GPB through a reporting partnership with Macon Newsroom.
Secondary Content
Bottom Content