Section Branding
Header Content
Savannah State finds far-flung partner in Michigan to expand access, affordability for HBCU students
Primary Content
LISTEN: Some Savannah State students now have a more affordable path to pursue three master's programs not offered at Georgia's oldest public HBCU. GPB's Benjamin Payne reports.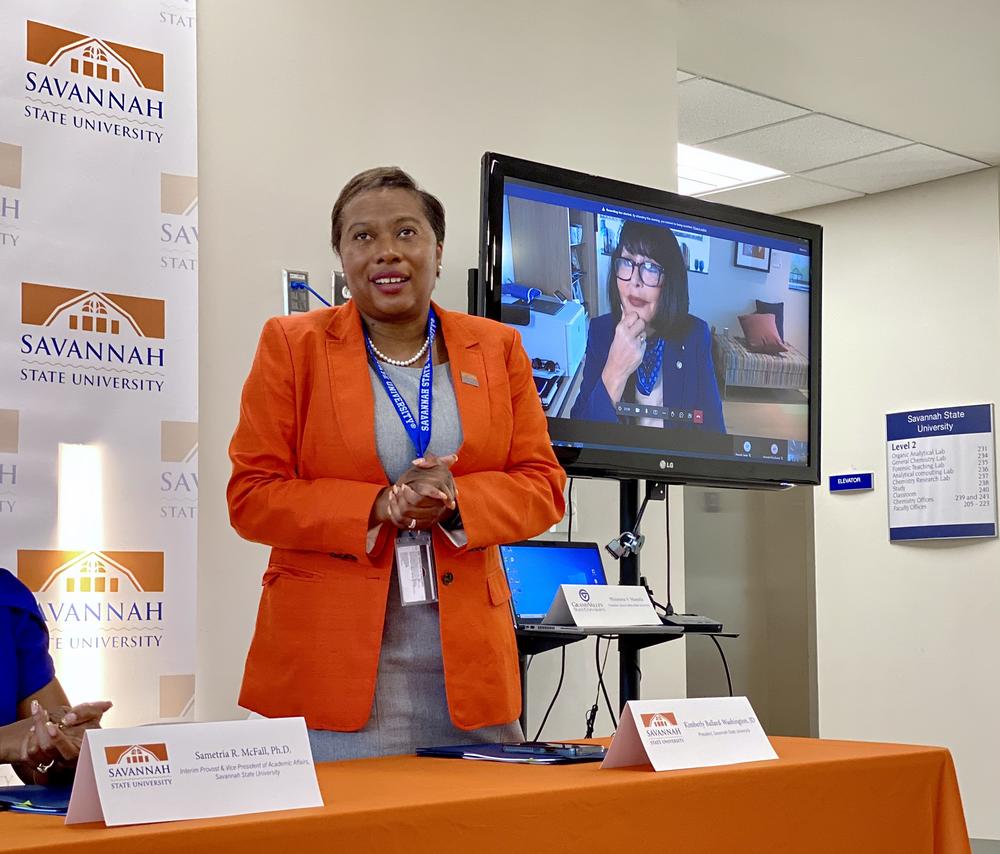 They may be 800 miles apart, but Savannah State University and Michigan's Grand Valley State University have teamed up to create what school officials are calling an enrollment "pipeline" between the two institutions.
The universities on Tuesday signed an agreement that allows some undergraduates at Georgia's oldest public HBCU to eventually qualify for in-state tuition at Grand Valley in one of three master's degree programs: cybersecurity, criminal justice, and communications, none of which are currently offered at Savannah State.
"They are very interested in diversifying their programs," said Savannah State vice president and interim provost Sametria McFall, referring to Grand Valley State, which is located near Grand Rapids, Mich. "And we're interested in making sure that our students have opportunities for programs that take them to and fro as they get to experience the world and share their talents around the world."
In addition to in-state tuition, the agreement includes funding for campus visits to Grand Valley, scholarship opportunities, internships prior to transfer, graduate assistantships, and industry-sponsored fellowships.
"They will also get experiential and work opportunities while they are there, so that by the time they graduate from Savannah State with their undergraduate degree and then Grand Valley State with their master's degree, they are ready for the workforce and they're ready for more than entry-level positions," McFall said.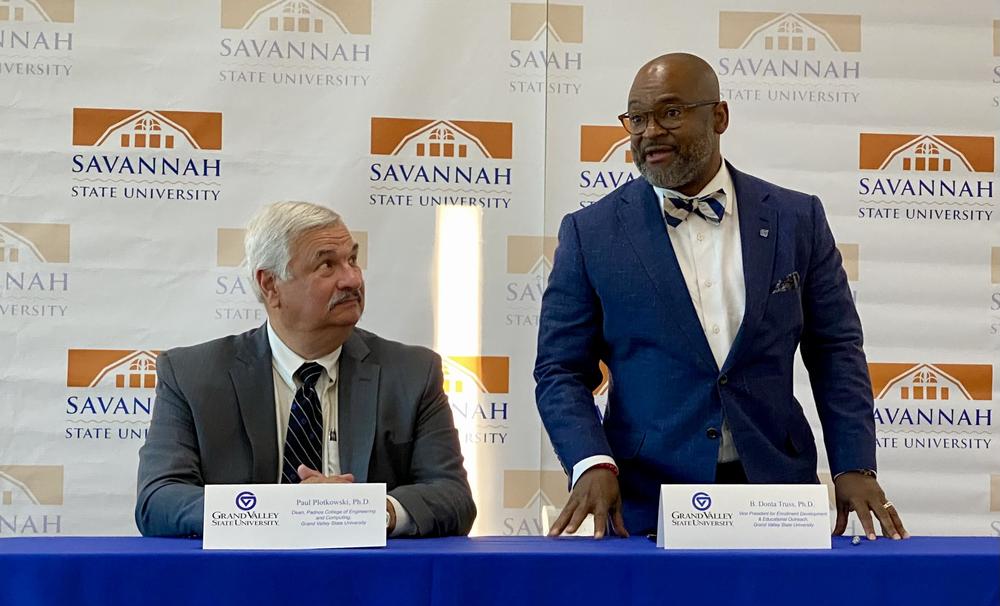 The two universities are also planning to add engineering and biomedical science to the agreement, sometime by the end of the current academic year.
"Agreements such as this are near and dear to my heart," said Grand Valley State Dean of Engineering Paul Plotkowski at a signing ceremony held at Savannah State. "I'm a first-generation college student myself, and I went to school at the school I went at in large [part] due to finances."
According to McFall, the partnership came together in part because some leaders at Grand Valley have prior experience working for the University System of Georgia. Among them is Grand Valley State Vice President B. Donta Truss, an Atlanta native and former administrator at two other public HBCUs in Georgia: Fort Valley State University and Albany State University.
"I am happy to be home, I am happy to be amongst family, but more importantly I am happy to be able to help students become more successful," Truss said at the ceremony.
The agreement — which will include full-ride scholarships for at least two Savannah State students — is part of a larger initiative at Grand Valley that has seen the school partner with three other HBCUs: Fort Valley State in Middle Georgia, Alabama State in Montgomery, and Saint Augustine's University in Raleigh, N.C.
"No institution offers everything, but together we can open up a great deal of more avenues for success [and] opportunity for the students," Plotkowski said.
"In this day and age," McFall said, "it's just so important for our students to have the opportunity for additional professional development, additional academic development with little or no expense so that they can start their careers fresh and not under the weight of debt."
Secondary Content
Bottom Content