Section Branding
Header Content
Atlanta NAACP requests federal investigation of city's police department
Primary Content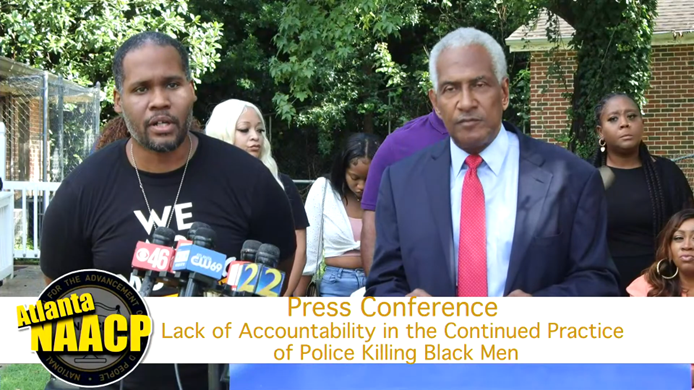 The Georgia chapter of the NAACP held a press conference recently with members of the Atlanta chapter requesting the Department of Justice investigate the Atlanta Police Department. 
Their announcement followed the decision from special prosecutor Pete Skandalakis that the officers involved in the case of Rayshard Brooks death would not face charges. Brooks was shot in 2020 after police confronted him at a Wendy's restaurant in Atlanta.
Gerald Griggs, president of the Georgia NAACP chapter, said he's sick and tired and wants families to have answers.
"We convened this press conference to request that the Department of Justice open a patterns and practice investigation into the Atlanta Police Department," he said. "After hearing the attempts to justify the shooting of Rayshard Brooks, we need federal intervention because it continues to happen. Nygil Cullins is an example of that."
The family of Nygil Cullins said he was having a mental health crisis in the hours before he was shot and killed by police earlier this year.
His mother, Mya Cullins, initially called police on May 18 to have him taken to a mental health facility, but police were slow to respond. Hours later, police answered a call at Fogo de Chão Brazilian steakhouse, where Cullins was reported for unruly behavior. After a confrontation with security escalated, Cullins was fatally shot.
Mya Cullins, spoke at the NAACP press conference and asked the Georgia Bureau of Investigation for transparency.
"We are almost four months out and I have not heard or spoken to the GBI," she said. "I want answers. I want justice. I won't rest. And you won't have peace until I seek justice for my baby. He didn't deserve this."
Atlanta NAACP Chapter President Richard Rose noted that many calls to police are for mental health emergencies and they should be better trained for those situations.
"Use the data to change the police force," Rose said. "We must restructure policing in America and it can start in Atlanta. I call politicians and police to stop living in the state of denial."
He called out prosecutors for inferring that there is no bias in cases where white police officers shoot Black men and again emphasized the importance of transparency.
Atlanta Mayor Andre Dickens could not be reached for comment.
Secondary Content
Bottom Content