Section Branding
Header Content
New U.S. citizens could play big role in Georgia's elections
Primary Content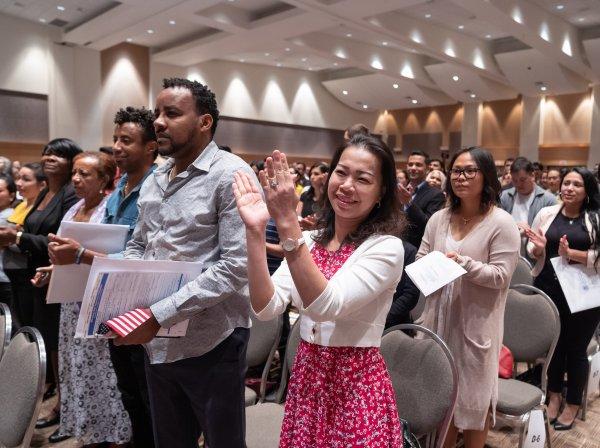 Recently naturalized U.S. citizens could play an outsized role in Georgia's upcoming midterm elections.
A report released Tuesday ranks the state first in the nation as far as the potential electoral impact of newly naturalized citizens.
There are more than 96,000 of them, a number greater than the margins in some of Georgia's most hotly contested recent races.
Gwinnett County resident Laura Campos, formerly of Nicaragua, will cast her vote for the first time in November and had this to say to those seeking it.
"I hope they can open their eyes and turn to the big number that's changing, that's rising, and count us in because we are part of this economy, part of this country," she said.
Georgia's newest voters come overwhelmingly from Asia and Latin America and live overwhelmingly in Metro Atlanta.
The report was released by a coalition of immigrant groups led by the National Partnership for New Americans.
That organization's executive director, Nicole Melaku, said that new immigrant voters are multi-ethnic, multi-racial and highly engaged in their new status, which includes voting.
"If candidates work hard to make sure that they are engaging the naturalized immigrant voting communities then, of course, we know that those votes will play a significant role not only for the outcome of Georgia's midterms but, truly, for the rest of the country," Melaku said.
Other key battleground states, including Florida, Pennsylvania and Arizona, also rank highly in the report.
The report's findings are based on U.S. Citizenship and Immigration Services data on naturalization from 2016 to 2020, as well as naturalization applications that the agency approved in 2021.
Secondary Content
Bottom Content