Section Branding
Header Content
'Georgians need relief now': Warnock announces housing legislation near hometown of Savannah
Primary Content
LISTEN: Sen. Raphael Warnock says his newly introduced bills are meant to make rent more affordable, homeownership more attainable, and housing data more transparent. GPB's Benjamin Payne reports.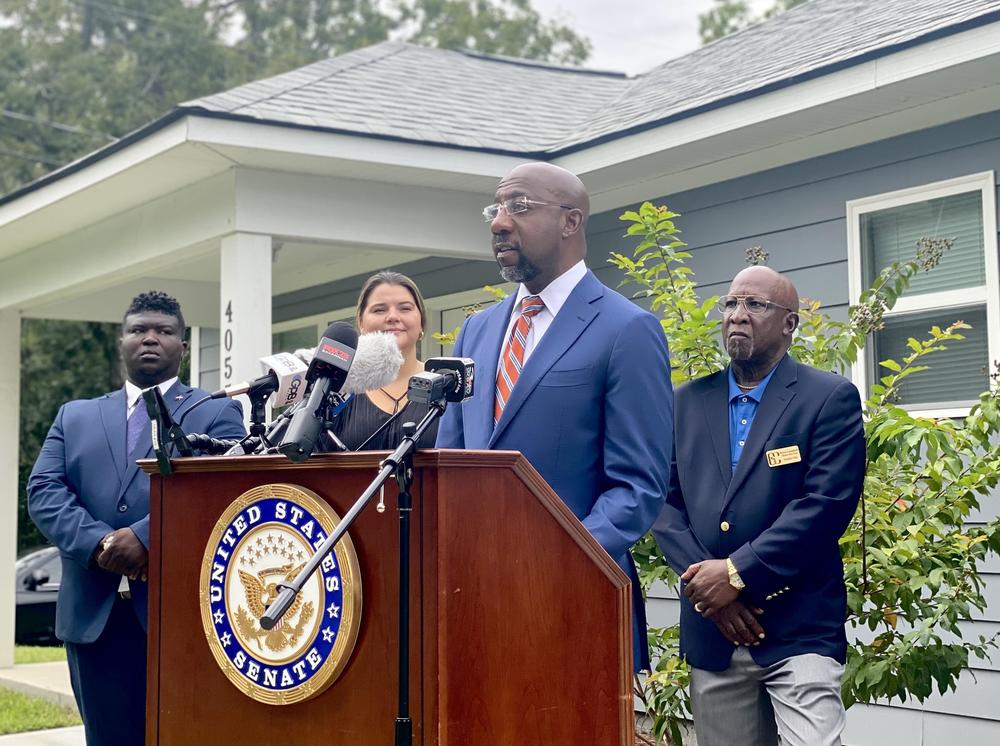 Georgia U.S. Sen. Raphael Warnock announced Wednesday a package of new legislation aimed at addressing the nation's housing crisis.
Speaking in front of a new house built by Habitat for Humanity in Garden City, just outside his hometown of Savannah, Warnock laid out three bills that he introduced in the Senate earlier this month.
"I'm here today because the federal government has a role to play in addressing this issue," Warnock said. "It won't come as a surprise to anybody here today that it is harder than ever for Georgians to cover their housing costs."
Warnock's first bill would give a tax cut to renters who spend more than 30% of their income on rent. For people looking to buy a home, the second bill would allow them to open a special tax-free savings account meant for a down payment. A third bill would increase data transparency within the affordable housing market.
Warnock called housing "a human right," and said that the issue is personal to him, having grown up in public housing in nearby Savannah.
"I work on this now as a legislator, but I've seen this on the front lines, first as a pastor and as someone who grew up in public housing in the Kayton Homes housing projects not far from here," Warnock said. "I think about the elderly citizens in this community. I also think about our children. And they need the security of a safe place to lay their heads so that they can dream, as I did growing up as a young kid in this community."
When asked about the prospects of the bills' passage in the Senate, Warnock said that he doesn't think housing is a partisan issue.
Two similar bills that were introduced in recent years by other congressional lawmakers did not advance past committee.
Secondary Content
Bottom Content