Section Branding
Header Content
GPB's 'Football Fridays in Georgia' streams high school football games to your TV and mobile devices
Primary Content
Wednesday marked the beginning of high school football season, a cultural touchstone here in Georgia. For a look at what to expect this season, GPB's Peter Biello spoke with Jon Nelson. He's the author of several books on high school and college football in the South and reports on football for GPB.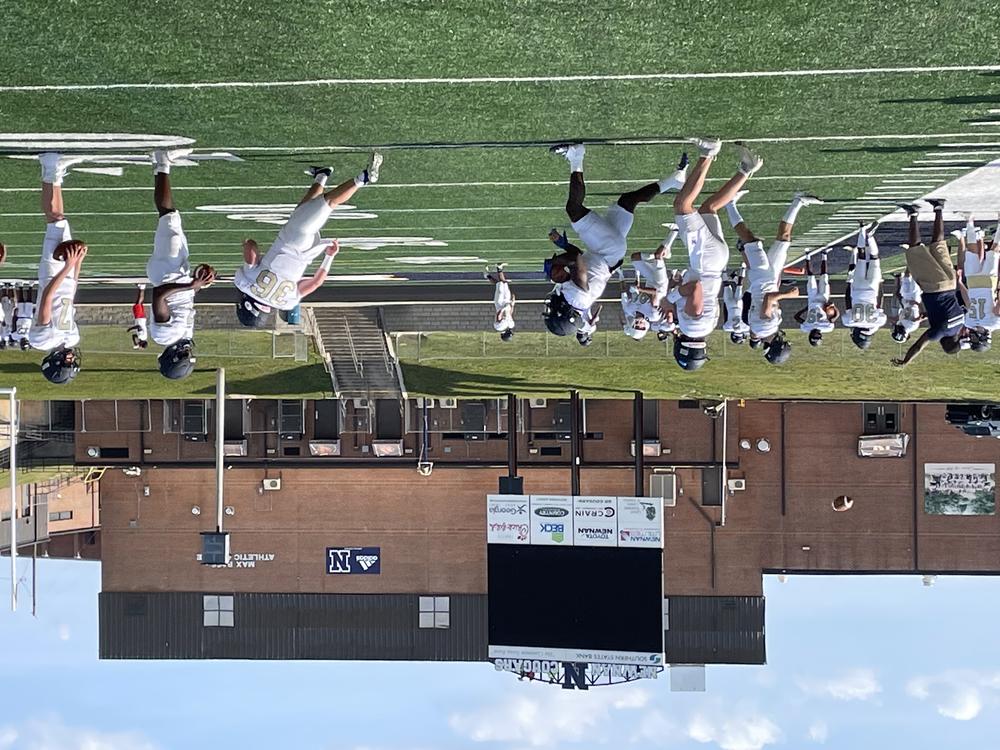 Wednesday marked the beginning of high school football season, a cultural touchstone here in Georgia.
GPB's Football Fridays in Georgia provides the best in high school sports with live broadcasts that capture all of the action on the field, across the state.
GPB's Peter Biello spoke with GPB's game commentator, Jon Nelson, about the season premiere of Football Fridays in Georgia on Friday, Aug. 19 at 7:30 p.m. on GPB-TV and streaming live on GPB Sports and in the GPB Sports mobile app. 
Biello: What should we be watching for this high school football season?
Nelson: Biggest thing that came in the off season was reclassification. And this is where all 400-plus member schools are thrown into a pile and the Georgia High School Association and all their committees sit there and say, "Okay, you guys go up in class, you guys go down in class. The private schools, you go up a couple because of multipliers." And there's math involved. And so now for the next two years, we have the 400-plus member schools now playing in different places, different regions, different opponents. But yeah, it's a whole different set of opponents, for the most part, where you're chasing the playoffs.
Biello: Well, that sounds like something completely free of politics.
Nelson: Absolutely. Hashtag "not" the correct font with that. But now it's — it was a lot of discussions. Folks had schedules. And then when you had appeals and things like that, schedules went away and then it was possible second rounds of schedules and everything. And now that the dust is settled, we know what the next 10 games are for all these 400 schools. And it's a sprint. Trust me.
Biello: So were there winners and losers when everything was reshuffled?
Nelson Absolutely. And if I could plug the Football Fridays In Georgia podcast —available on your favorite podcast — your Hannah Goodin and I tackle that with a bunch of different coaches. So if you're looking for your reclassification primer, you can go there because there was math, there was in zone, out of zone, city school, county school, all of these different things. And that's probably the best way to get caught up with all of your info as you get into the season.
Biello: Are there particular schools that you are interested in?
Nelson: I love all of my children equally, sir. That's how I always go.
Biello: But come on.
Nelson: I mean, you look at a team like Buford, who is going into the highest classification, 7A. They've won a title in each of the classifications they've been in since they've started. They've won in every letter that they've been in. Will they be able to do it again this year? You've got a team like Warner Robins who's been in the last game of the year for five years straight. You've got teams in Region One 7A down in South Georgia who are playing for the first time in this region. You've got city rival, county school, Valdosta-Lowndes; the Winnersville Classic is going to be a region game, which is absolutely crazy. They're paired together for the first time in seven years, so that's just barely scratching the surface.
Biello: Wow. Okay. So for those who aren't totally aware of what high school football means to people in Georgia, can you explain the cultural importance?
Nelson: It's the fabric of these communities. And you're talking subdivisions and you're talking small towns all across the state from Dade County and Trenton to Tiger in Rabun County, all the way down to Seminole County down in the southwest corner to the swamp, where you've got Swamp War with Homerville and Folkston and Kingsland and all points in between. The sidewalks roll up at three, four or five o'clock and it's about community. You can sit there and play up a region rival (meaning geographically) and it's bragging rights. It's a civic pride and all of these things that are wrapped up in it on Saturday morning when you're having breakfast with your buddies and they're the next county over and you've had that game with them the night before, you get to sit there and say, "Well, we did this to you and you have to hear about it for the next 364 days."
What I like to tell folks is if you're just driving around on a football Friday night and you see a light in the distance on a Friday and you're lost, odds are that's a high school football game and somebody can give you directions —after the game that you will have stayed to watch. But after the game, they'll set you on your way. And it's a lot of different things that makes these communities in these counties prideful of where they are on Friday nights.
Biello: On this program, when we hear about football, we often hear about the NFL and head injuries, traumatic head injuries to football players and the consequences they face shortly after, maybe decades after they end their careers. For — for high school students, what do Georgia schools do to make sure that their players are safe?
Nelson: Give you an example: We just got back from our barnstorming tour down in South Georgia — 970 miles in a van in three days. And if these practices that we would attend, you have those — for lack of a better phrase, it's a padded cap that they have in practices. And that way it minimizes impacts, whether you fall and you hit your head or whatever. If it's contact between two helmets, you have these padded caps that are used in practice. It's a bit cumbersome and it takes a little bit to get used to, but it's that kind of care that you're seeing invested these days.
Tune in to the first Football Fridays in Georgia game of the week featuring Denmark versus Roswell High School this Friday at 7:30 p.m. on GPB-TV and streaming live on GPB Sports and in the GPB Sports mobile app.
Secondary Content
Bottom Content