Section Branding
Header Content
Macon is looking for loved ones to claim boxes of human ashes
Primary Content
Macon-Bibb County is hoping to find people to accept 166 sets of human ashes that remain unclaimed in county archives ahead of a ceremony to disperse them later this year.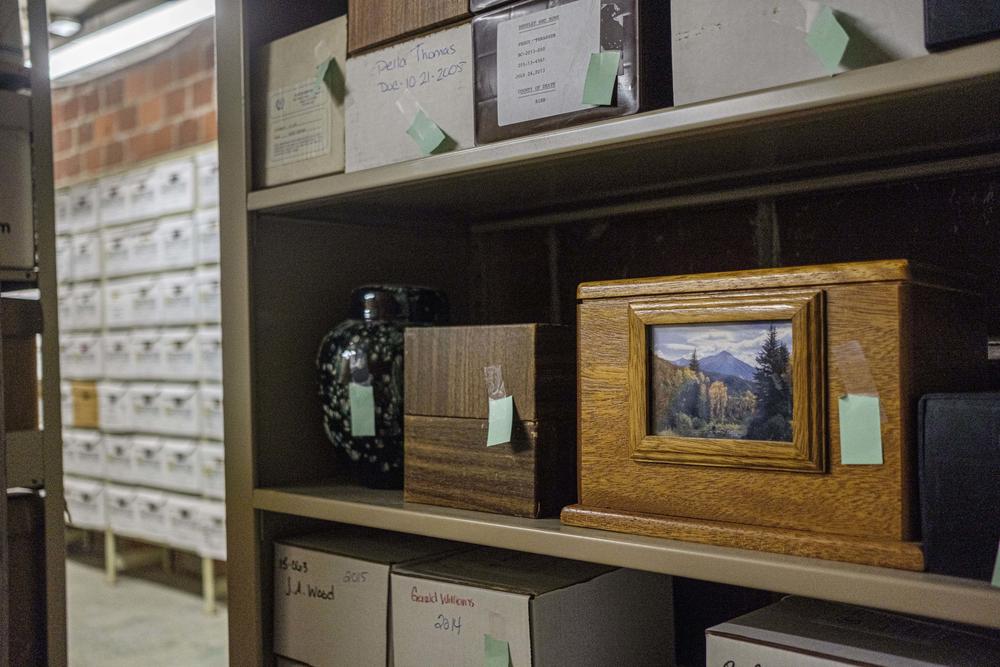 Big rooms are lined with shelves of cardboard boxes with notes in black sharpie about what they contain. There are Macon-Bibb county records dating back to the 1800s and there are also two skinny shelves in the back that hold the remains of 166 people. The county is asking for their loved ones to claim them. 
Some of the boxes of cremains have been in the Archives and Records Center for 18 years. Kittie Cosper, the archives and records specialist, diligently cataloged the boxes of ashes. The oldest cremains are from 1985. Entry No. 113 reads, "Quinn, Mildred, 2018 (foot only)."
Anyone who wants to file a claim for a specific box of ashes will be able to do so until Sept. 19. After that date, the ashes will be scattered during a memorial ceremony at the new scatter garden at the historic Rose Hill Cemetery. 
Parks and Beautification Director Michael Glisson created the scatter garden as a direct response to the coroner's need to find a place for the unclaimed cremains, but in the future, anyone will be able to use the space. 
"The whole spiritual idea is that you will live on through the trees and flowers," Glisson said. 
Glisson used ground penetrating radar to find a location at Rose Hill Cemetery that didn't have unmarked burials and found an open spot at the front of the cemetery.
"It's kind of fitting that it's right up here by the main gate; they'll get a lot of exposure," he said. 
Clerk of County Commission Janice Ross said she felt that it was time to give these ashes of cremated people an appropriate place to rest. 
"We have babies," she said. "We have adults. We have a whole range of people from all sorts of cities and towns who just happened to end up here, and this was their final place."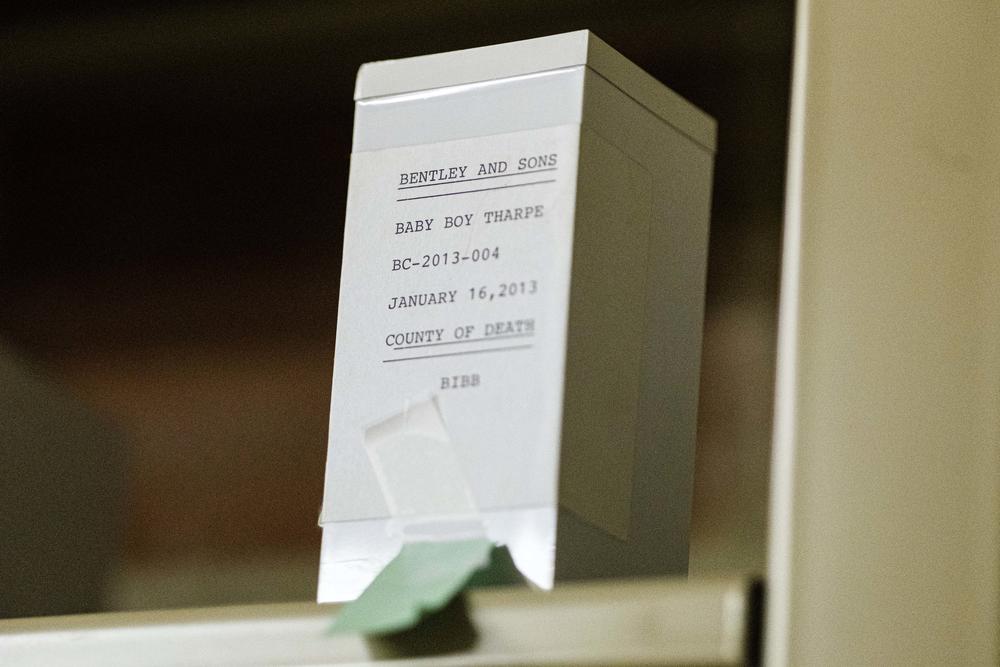 She said to do so, the county has to follow the proper protocols in order to release the ashes at Rose Hill. The county also has to advertise the names in the paper for four consecutive Fridays. After just two weeks, a few people have already reached out to claim their loved ones. 
It is free to file a claim for a specific box of ashes and Senior Assistant County Attorney Michael McNeill can answer any questions. The state of Georgia does not require a specific relationship to claim the ashes, but if two people claim the ashes, Ross said the court will decide. 
 All claims are due Sept. 19. This article outlines how to file a claim and to who to direct questions. 
The identities of the cremains are listed below.
Adams, Samuel, 10/12/2004
Allen, Willie, 2014
Allison, William, 2018
Aultman, Donnie, 12/6/2016
Banks, Jimmy, 2015
Barker, Alonzo, 9/18/2016
Barrett, Marcia, 2018
Barrow, Fleda Patricia, 2016
Bell, Henry, 1/4/2017
Bell, Marva Jean, 2014
Bennett, Henry Tyrone, 2016
Briscoe, Rodney, 10/21/2016
Brown, Andrew, 4/25/2015
Brown, Marslyah, Infant, 11/9/2016
Brown, Richard, 2017
Bruno, Baby Boy, 3/13/2012
Bryant, Teresa Lynn
Bullington, Imogene, 2009
Burgess, Thomas, 2017
Bush, Johanna, 2018
Bush, Thomas, 7/13/2013
Butler, Wilbur, 10/13/2016
Caldwell, Curtis, 5/23/2017
Campos, Kimida, 4/30/2013
Carter, Charles, 5/15/2017
Chatfield, Rose Marie, 10/17/2015
Cheely, Robert, 8/19/2016
Clark, Odelia, 6/16/2012
Colbert, Eschol, 1/17/2017
Coleman, Russell, 2/4/2015
Coley, Joyce, 2005
Colton, James, 6/4/2015
Copeland, Calvin, 9/25/2014
Craig, Maxie, 7/25/2014
Cross, Willie, 9/28/2015
Curry, Carl, 7/22/2014
Dale, James, 2017
Danials, David, 2018
Daniels, Ronnie, 2013
Davis, Betty, 11/19/2005
Davis, Harold, 4/23/2015
Dixon, Tommy, 2017
Dominick, Jimmy, 2015
Dowd, Ronald, 2017
Dunlap, Lorraine, 8/9/2005
Earley, Harry, 12/22/2006
Eason, Albert, 2016
Eaton, Charles, 2/2/2015
Edwards, Thomas, 7/27/2015
Elliott, Jessie, 4/22/2015
Elrod, Vernon, 2/18/2016
Etheridge, Baby Boy, 1/9/2017
Evans, William, 2018
Farrar, Bobbie, 7/24/2014
Faust, James, 2016
Fisher, Baby Boy, 3/3/2012
Fleming, A.D., 12/26/2017
Fortner, Miles, 2017
Foster, Roy
Gainey, Susan Smith
Galipean, Myrna, 2008
Galipean, Roger, 2012
Garcia, Luis, 2017
Gartrell, Johnny, 9/29/2013
Gates, Alton, 2016
Gibbs, Anthony, 1/12/2017
Giles, Charles, 2016
Giles, L Mordy, 2014
Gleen, Jimmy Lee
Glover, James
Godfrey, Harold, 9/24/2014
Golden, Fenton, 2016
Goss, Judith Ann, 2015
Green, Elizabeth, 2015
Gulley, George, 2/20/2004
Hancock, James, 2015
Hargrove, Baby Girl, 2017
Harris, William Keith, 5/25/2005
Hartkoph, Johanna, 2018
Henderson, James Leroy, 7/24/2015
Henry, Donald, 1992
Hicks, Mary, 2010
Holbrook, Garland, 11/27/2017
Holt, Larry Stafford, 2006
Hons, Eleanor, 11/16/2015
Horne, Thomas, 2017
Howell, James, 2016
Huhgley, Elijah, 2014
Jackson, Baby Boy, 4/11/2016
Jenkins, Kenny, 2017
Johnson, Russell, 2014
Jones, Virginia,2007
Jones, Waymon III, 5/16/2013
Kelley, John Jefferson, 2007
Kent, Ruth, 2014
Law, Thurza, 2005
Leslie, Cora Ann, 2014
Lewis, Patricia, 2017
Lundberg, Peter, 2016
Mays, Annie Mae, 2015
McFarland, Maxie, 2013
McKnight, Ross, 11/26/2005
Michaels, James, 2017
Mitchell, James, 2015
Moody, Mark, 2015
Morgan, Kathleen, 12/18/2016
Morrell, Dorothy
Oliver, Alphronia, 1/14/2014
Pauldo, Eli
Pentecost, Johnny
Pomianowshi, Donna, 2015
Proffitt, Larry, 2001
Quinn, Mildred, 2018 (foot only)
Richards, Hattie
Ross, Bobby, 2014
Ross, Gussie, 2013
Rozier, Leo, 2/14/2014
Rushin, Bertha, 7/9/2005
Scheick, Thomas, 2017
Scholz, Paul, 2014
Simpson, James, 2010
Sims, Mary, 2015
Sims, Vernon, 2016
Singleton, James, 2015
Smith, Bessie, 2018
Smith, Jimmy
Smith, Willie, 2017
Stafford, Baby Girl, 4/22/2015
Stanley, James, 11/30/2017
Stephens, Baby Boy, 12/1/2010
Stevens, Jaylen Baby Boy, 9/24/2012
Stubbs, Sharon
Swint, James, 2017
Taylor, James, cremated 1/16/2017
Taylor, James, cremated 10/23/2017
Taylor, Melton
Tharpe, Baby Boy, 1/16/2013
Tharpe, Hamcel, 2014
Tharpe, John William
Thibault, William
Thomas, Della, 10/21/2005
Thomas, Joseph, 2013
Thrasher, Peggy, 7/17/2013
Tolbert, Annie, 12/24/1985
Trotman, Maude, 10/8/1991
Tucker, Norman, 2013
Unknown
Unknown
Unknown
Unknown
Walker, Herbert, 1/18/2017 (2 boxes)
Walters, Julianne, 2016
Ward, Eva Mae
Warner, Barbara Jean
Watts, Curtis
Whimberly, Elisha, baby boy, 2018 (2 envelopes)
White, Leon, 2018
Whitfield, Carlton
Whittlesey, Mark, 2018
Wiggins, Virginia, 5/22/2014
Williams, Authur Lee, 2018 (2 boxes)
Williams, Charles, 2017
Williams, Gerald
Williams, Robert, 2015
Williams, Timothy. 8/9/2014
Wise, George
Secondary Content
Bottom Content