Section Branding
Header Content
West Nile virus detected in Coastal Georgia's Chatham County for first time this year
Primary Content
The potentially fatal West Nile virus was detected in several mosquitos in and around Savannah for the first time this year in Chatham County. GPB's Benjamin Payne reports.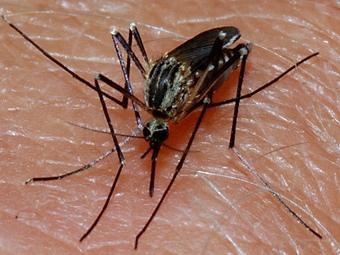 Public health officials in Coastal Georgia's Chatham County announced Tuesday that they have identified the West Nile virus in several mosquitos — the first detection of the potentially fatal virus this year in the county.
The infected mosquitos were collected from traps on Savannah's south side, as well as in the island areas along the Atlantic coast. The county's mosquito control unit is in the process of treating the infected areas with insecticide. No human infections were reported.
"We've had a lot of rain in recent weeks, creating an ideal environment for mosquitos to breed," said Dr. Chris Rustin, Administrator of the Chatham County Health Department. "Make sure to routinely drain any flowerpots, bird baths, or other outdoor containers that have been collecting water, and ensure gutters and eaves are clear of leaves and debris trapping water. This will help discourage mosquito activity around your home."
Earlier in July, the Fulton County Board of Health detected a mosquito with West Nile virus in Atlanta.
According to the Chatham County Health Department, about 20% of people who are infected with West Nile virus will develop mild symptoms, which can include a fever, headache, body aches, joint pain, vomiting, diarrhea and a rash. About 1 out of 150 infected people will develop a severe and potentially fatal illness.
There is no vaccine for West Nile virus, so public health officials stress that prevention is key. The Chatham County Health Department is advising residents to avoid outdoor activities during dawn and dusk, when mosquitos are most active, as well as to wear insect repellant containing DEET. Another preventative measure is to check that doors, windows, and screens fit tightly and are in good repair.
Secondary Content
Bottom Content