Section Branding
Header Content
Supply chain snags hampering expansion of solar in Georgia, but slowdown expected to be temporary
Primary Content
A new report points to supply chain disruptions and a lack of south-to-north transmission as impeding the expansion of solar power in Georgia. GPB's Benjamin Payne reports.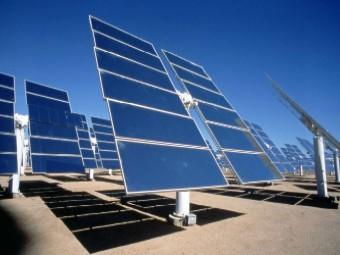 A new report by an environmental nonprofit has found that the expansion of solar power in Georgia and the Southeast is being especially hard hit by supply chain disruptions both related and unrelated to the COVID-19 pandemic.
The Southern Alliance for Clean Energy (SACE) revised downward its earlier forecasts for solar generation in the Southeast by about 10% lower than originally predicted for 2022 and 8% lower for 2023.
In addition to the more conventional COVID-19 supply chain disruptions affecting many sectors, the solar industry has seen a slowdown caused by a Commerce Department investigation into alleged circumvention of U.S. tariffs on Chinese-manufactured solar cells.
That investigation — which is examining whether Vietnam, Malaysia, Thailand and Cambodia acted as backdoor conduits for Chinese solar cells in order to skirt tariffs — has had a "chilling impact" on overseas solar manufacturers, according to the American Clean Power Association. In an effort to counteract the slowdown, the Biden administration announced in June a two-year pause on solar tariffs; however, the Commerce Department could retroactively impose tariffs after the pause, depending on the outcome of its investigation.
Georgia Power has delayed by one year the completion of solar projects totaling 970 megawatts of power that had been scheduled to come online in 2023. That represents about one-third of Georgia's solar generation in 2021.
The SACE report says that the supply chain disruptions are only temporary, and that it stands by its earlier forecast for 2024 solar generation in the Southeast of 27 gigawatts across Georgia, Alabama, Florida, Mississippi, North Carolina, South Carolina, and Tennessee.
The group predicts that Georgia will overtake North Carolina in 2025 as the second-largest solar producer in the Southeast. By then, SACE forecasts about 6 gigawatts of annual solar production in Georgia, well behind Florida's projected 13 gigawatts.
According to the report, a critical factor in the state's solar expansion is investment in transmission from southern Georgia — which has more open space for solar farms — to northern Georgia, where the majority of the state's population lives.
"Developers looked at the the lay of the land north of I-20, and we can't get the same economies of scale that we can in South Georgia," said SACE Solar Program Director Bryan Jacob, who lives in the Atlanta area. "You can't get a 200-acre parcel of flat land up here. You start getting in the mountains, and it's more developed in the north. So, the way to reconcile that is to build a lot more south-to-north transmission. But you can't just snap your fingers and do that overnight."
Jacob said that Georgia Power estimates that it will take seven years to complete such transmission.
"Some of the the parties that were intervening think it can be done faster, and hopefully they're right," Jacob said. "We can't afford to jeopardize the solar industry for that many years and hold the solar sector hostage to this transmission that should have been built already."
Secondary Content
Bottom Content