Section Branding
Header Content
Georgia teacher raises, anti-CRT law, needs-based college aid take effect in July
Primary Content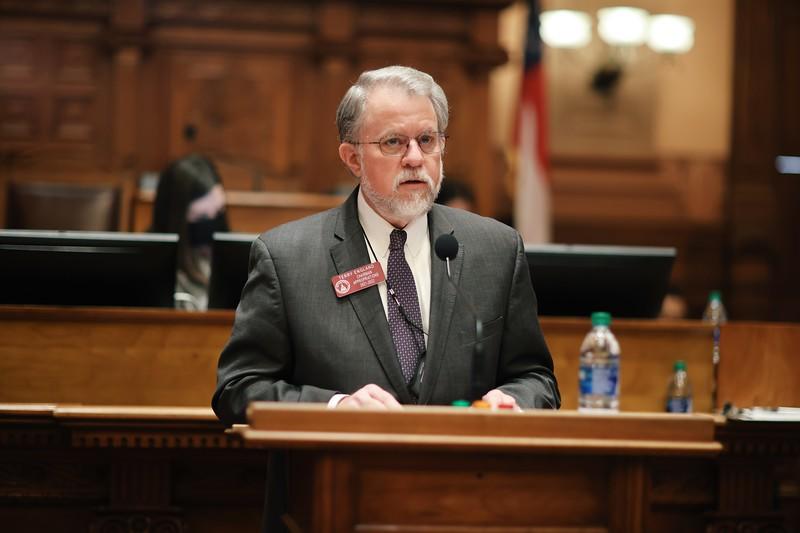 The calendar for 2022 is officially halfway complete, but for state officials, a new year is just beginning.
July 1 starts a new fiscal year for the state of Georgia, bringing in a new budget and the effective date of laws passed earlier in the year, including many that will affect how Georgia public school students learn.
Budget
Gov. Brian Kemp signed a $30.2 billion state budget in May, representing a $2.9 billion increase from the prior year. Those extra dollars mean extra cash for many in Georgia' government, including a $5,000 raise for all state employees. The budget also includes a $2,000 raise for public school teachers, the completion of Kemp's promised $5,000 raise issued during his 2018 campaign.
The new spending plan pays for low-income new mothers to receive a year of Medicaid coverage and directs $33.5 million to improve state services for behavioral health and developmental disabilities.
The state's expansive mental health overhaul will also go into effect Friday, requiring insurers to treat behavioral health benefits the same as physical coverage, offering student loan forgiveness for some behavioral health workers and setting up mental health training for police officers.
Kemp has credited the state's decision to quickly reopen after the 2020 COVID-19 shutdowns with a state treasury now flush with cash.
"Georgia continues to lead in the great recovery because we chose to protect both lives and livelihoods during the pandemic, because we withstood the criticisms and opened our economy and because we made the tough decisions when it mattered most," he said at a budget signing ceremony in Blue Ridge.
Democrats argue that the state's surplus is thanks in large part to federal COVID-19 aid money, which was opposed by Republicans.
Democrat Stacey Abrams has called Kemp's education spending insufficient, pledging to increase teacher salaries from a base of about $39,000 to $50,000.
"Even with the four years that it took to give them a $5,000 pay raise, teachers are still making less money in real dollars today than they were 20 years ago," Abrams said in a Friday call with reporters. "We cannot conserve our way to success by not solving this problem. This is a problem with very real issues and having a very real effect. We have children who need to catch up in education. We have kids who have spent most of their formative years in an underfunded system. If we cannot get them the educators they need, we cannot deliver on our fundamental constitutional obligation of education in the state of Georgia."
New education laws
K-12 Education is the largest expense of the state budget making up about a third of spending allocated by lawmakers. In addition to the teacher raises, this year's budget contains items long wished for by public education champions, including $382 million to reverse cuts to the state's school funding formula and $188 million to replace aging school buses.
July 1 is also the launch date for several high-profile new laws passed during this year's legislative session, including the controversial ban on so-called divisive topics expected to make teaching America's racial history trickier to navigate.
Kemp and fellow Republicans say the measure is needed to rein in teachers who use the classroom as a political soapbox, but Democrats call it a cynical election year ploy for votes at students' expense.
In a surprising 11th hour move, Republican lawmakers modified the bill banning divisive concepts to also include a ban on transgender athletes playing on girls' school sports teams. The Georgia High School Association changed its rules to disallow transgender girls from playing girls sports in May, ahead of the law's effective date.
Elementary school students will likely enjoy more time on the swingset and monkey bars thanks to another bill that goes into effect Friday. House Bill 1283 requires schools to provide 30 minutes of recess per day for children in kindergarten through 5th grade.
Once those students get a little older, they may get a more direct financial boost from another bill set to kick in July 1 which creates a needs-based grant for college students. Under House Bill 1435, students who have completed at least 80% of their credit requirements and have exhausted other funding sources can qualify for $2,500 to help them earn their diploma.
July also marks the official end to Georgia colleges' free speech zones, areas reserved for protests and proselytizing.
Under House Bill 1, colleges will need to allow students, faculty and invited guests to exercise their First Amendment rights anywhere on campus, with content-neutral restrictions on time and place.
Supporters said doing away with the zones ensures the right to free speech and protects the state against lawsuits from banned speakers. Opponents worry the change will lead to harassment of minority students from hateful invited speakers.
The Georgia Board of Regents voted in May to update its policies to be in line with the new law.
This story comes to GPB through a reporting partnership with Georgia Recorder.
Secondary Content
Bottom Content