Section Branding
Header Content
State lawmakers: Georgia's abortion law's journey filled with tension and 'political theater'
Hero Image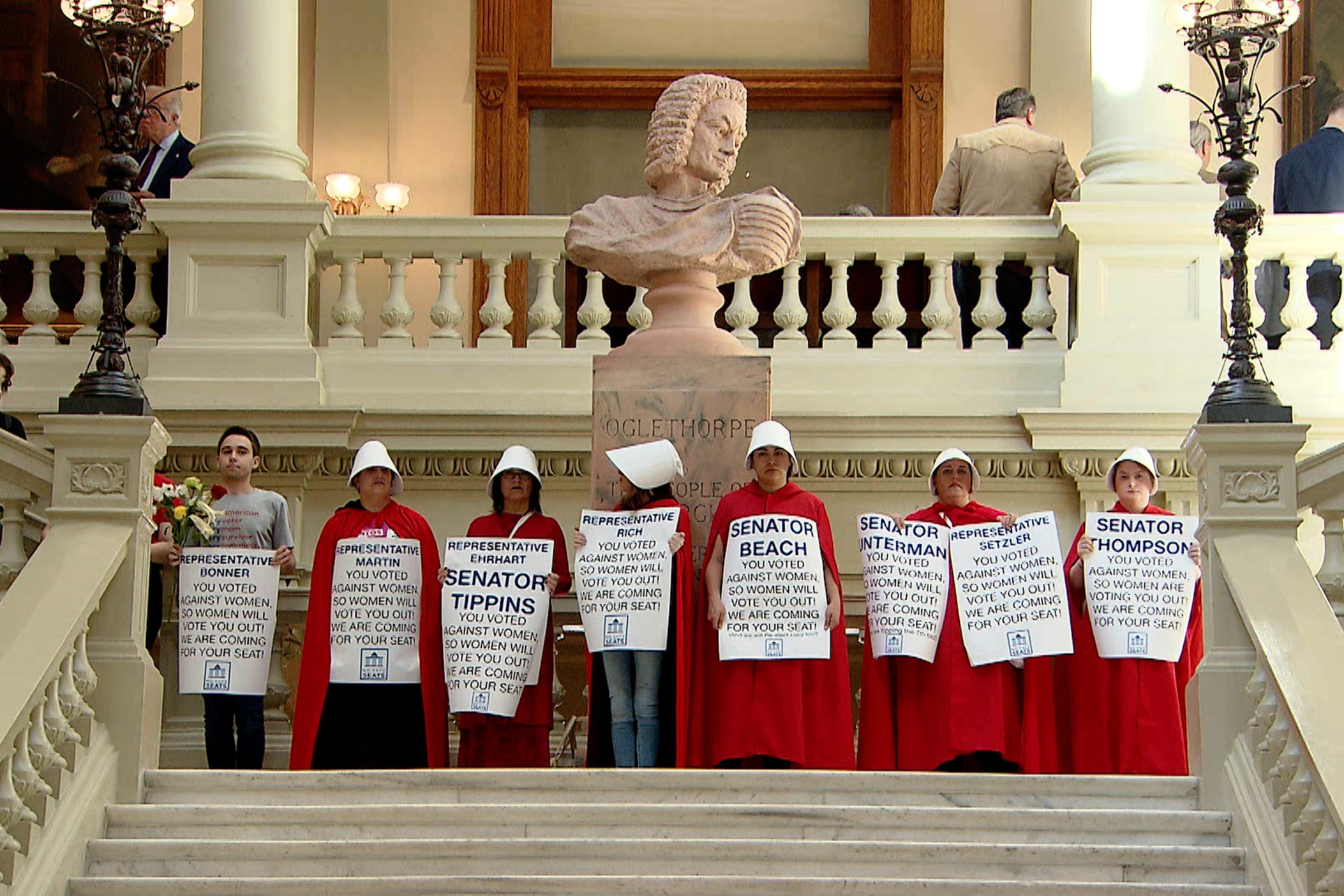 Primary Content
On Friday, the U.S. Supreme Court overturned Roe v. Wade, the 1973 decision that guaranteed a women's right to obtain an abortion.
Dozens of states across the country have or are poised to ban or severely restrict abortion in the wake of the court's 6-3 vote in favor of a strict Mississippi abortion law.
In Georgia, a law that passed in 2019 — House Bill 481 — is tied up in a federal district court of appeals. The LIFE (Living Infants Fairness and Equality) Act, also called the  "heartbeat bill," would ban most abortions once a doctor could detect fetal cardiac activity with an ultrasound, usually around six weeks into pregnancy. 
Georgia lawmakers' responses to Friday's Supreme Court ruling remain consistent with how they voted for the law.
State Rep. Ed Setzler (R-Acworth), who helped push through Georgia's abortion legislation, looks forward to it becoming law in the next few weeks.
"I think there will be recognition that Georgia was wise and unique in recognizing the personhood of the unborn child throughout Georgia law," Setzler said.  
Fetal personhood — which extends legal rights to the unborn — is part of the LIFE Act.
"Georgia will be seen as a model nationally by recognizing the unborn child in the context of receiving child support and seen as any other dependent minor on family income taxes and in any other way that an infant child would be recognized," Setzler said.
The distinctive aspects of the bill added to the heavy atmosphere surrounding the first vote under the Georgia Dome on the legislation three years ago. 
On the night of March 7, 2019, Setzler and other sponsors faced a deadline — Crossover Day, the day legislation must pass out of one chamber to have the chance of becoming law. 
As the Georgia House prepared to vote, several Democratic female lawmakers stood and turned their backs on Setzler as he outlined the bill's provisions.
House Speaker David Ralston called for "dignity," but took no action.
In recalling that night, Setzler said, the opponents "tried to create political theater, but the issue was too important. I was content to be boring but effective."
State Rep. Patty Bentley (D-Butler) remembers the "very tense" climate and the concerns she questioned from her desk in the House.
"It was not a good day," Bentley said. "It was a tough week."
Rep. Shelly Hutchinson (D-Snellville) describes that night in much more blunt terms.
"When it first happened in 2019, I felt I had been raped by a law," Hutchinson said. "I know that sounds extreme, but rape has everything to do with power, control, and dominance. Usually by men. Isn't that what's happening right now? So yes, I feel raped by a law."
HB 481 eventually passed 93-73 that night. It later passed in the Senate, and on March 29, the House narrowly approved the final version bill by 92-78 — passing by one vote.
WATCH: Lawmakers show from March 29, 2019 recaps the bill's passage.
It was signed by Gov. Brian Kemp on May 7, 2019.
Opponents immediately filed lawsuits challenging the law. In September 2021, a three-judge panel of the federal appeals court in Atlanta put the case on hold while awaiting the U.S. Supreme Court's ruling in Dobbs v. Jackson.
Within hours of the U.S. Supreme Court effectively overturning Roe v. Wade in the Mississippi case on June 24, 2022, and leaving abortion decisions to states, Georgia Attorney General Chris Carr filed a notice requesting the "11th Circuit reverse the District Court's decision and allow Georgia's Heartbeat Law to take effect."
"This action by the Supreme Court does not outlaw abortion but it does rightfully cite legislative authority to address these pro-life issues," said Rep. Katie Dempsey (R-Rome), who voted for the bill. "As a member of the Georgia House, I have supported two bills of importance regarding this issue: the Fetal Pain Bill in 2012 and the LIFE Act in 2019. The LIFE Act is currently stalled in federal court but that will likely change with this ruling. I am committed to continuing our work to support women and children in the State of Georgia. I remain focused on making adoption easier, providing paid parental leave for state employees, extending postpartum Medicaid coverage, and improving our foster care system."
Bentley continues to disagree.
"In my district, a woman could be farther along with a pregnancy before she realizes she's pregnant," she said. "After six weeks, she has no control over her own body. She can't make decisions about her health. Her life. Her rights. Just like most men, most people don't want a mandate to wear a mask, they want the right to make choices for their lives, then the same consideration is equally applicable in my opinion. Now, if we, state lawmakers, really want to help, let's work on making it easier for gynecologists to open practices in rural Georgia."
While Republican Rep. Charlice Byrd (R-Woodstock) didn't serve in the House at the time of the 2019 vote on the bill, she praised the Supreme Court ruling.
In a statement to GPB, she said, "Glory be to God! The fight has been so worth it! Human life, from conception to natural death, is a blessing given to us by God. I do not believe the life of an unborn child is any less important than your life or mine. We are all equal, and I will fight to protect our most vulnerable."
Opponents of the law, like Bentley, remain committed to "staying on the battlefield."
Secondary Content
Bottom Content