Section Branding
Header Content
Shootings hot topic in Columbus during state's school safety conference
Primary Content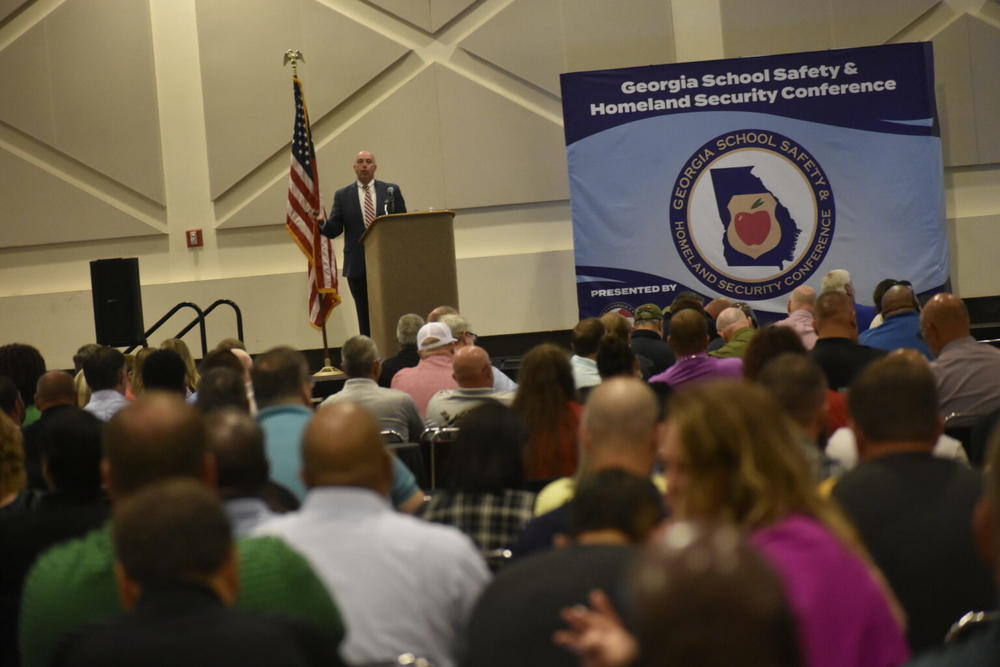 The 2022 Georgia School Safety and Homeland Security Conference started like a normal work conference with handshakes and backslaps as more than 700 law enforcement officers and others who work in school safety gathered in a Columbus ballroom.
But the mood quickly turned somber when two large screens at the front of the room began playing news footage of school disasters, ending with photos of the victims of last month's shooting in Uvalde, Texas.
While mass school shootings are statistically rare, they're never far from the mind of school resource officers like Sgt. Dannie Lockett of Clayton County.
"Every day," she said. "It's very stressful every day, because we want to make sure your babies go home — we call them our babies — your babies go home like they came in. You don't want to see a parent go through what we've been seeing lately. You just don't want to see that. So, we try to be proactive instead of reactive."
The conference hosted by the Georgia Emergency Management and Homeland Security Agency has been held every year since 2009, offering a chance to share knowledge on matters ranging from bullying prevention and emergency weather preparation to gang activity, student drug use and mass shootings.
Most of the seminars were not open to the press so as not to reveal specific security procedures.
School security and student resource officers have been in the national spotlight this spring since the May 24 attack on Robb Elementary in Uvalde, Texas, the deadliest attack on a school since the 2012 Sandy Hook Elementary shooting.
On Tuesday, the chief of Uvalde's school police force was placed on administrative leave after facing withering backlash for the department's delayed response to the shooting.
Michael Berkow criticized the department's lack of transparency during a seminar on crisis management.
Berkow, whose job titles have included chief of the Savannah-Chatham Metropolitan Police Department, deputy chief of the Los Angeles Police Department and director of the Coast Guard Investigative Service, said his first rule of crisis management is never to lie, and the second is to get the truth out quickly.
"You've got about one day to get your version of the event, of the crisis, out into the public eye. One day," he said. "And I think one of the things that you see very quickly, looking at Uvalde, there were little, tiny details that changed in the first day. The door was propped open and the gunman came in. No, the door was closed, but it was unlocked. No, the door was locked, but somebody had opened it. What happened very quickly, within 24 hours, it went from the police describing an event and the public and the media accepting that to they questioned everything that was said about that, and there is nothing accepted about that event now on the official version. They're really in a hole on that event. And so it's really important, don't lie, get the truth out quickly.
Public perceptions of police have declined in recent years, and student resource officers have faced their share of criticism.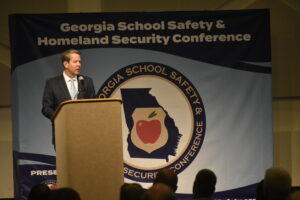 A 2019 ACLU study found that schools with police reported 3.5 times more arrests than schools without police. Black students were three times more likely to be arrested than white students, and students with disabilities were 2.9 times more likely to be arrested than students without disabilities.
"Unfortunately, the federal government does not require schools to report the reasons students are arrested," the report reads. "However, previous research and state-reported data indicate that many arise from criminalizing common adolescent behaviors. For example, students have been charged for 'disorderly conduct' for cursing, for 'drug possession' for carrying a maple leaf, and for 'disrupting school' by fake burping."
Steven Driscoll, assistant chief from the U.S. Secret Service National Threat Assessment Center, said school resource officers can be vital in preventing school shootings.
A 2019 Secret Service study of 41 incidents of targeted school violence found that law enforcement officers ended six of the incidents, or about 15%.
"In no case did the cavalry arrive, come on campus, where local law enforcement responded to an active incident and brought the active incident to an end," he said. "In all six instances where law enforcement brought the event to an end, they were already on campus when the attack began. Five of those six were resource officers."
Prevention
Frank Straub, director of the National Police Foundation's Center for Mass Violence, which keeps a database of attempted and completed school attacks, shared a case study in which a school shooting was averted by the student's mother who contacted the police. Unfortunately, after he was released from juvenile detention, the young man went on to randomly shoot two people, killing one, and then turning the gun on himself. A subsequent investigation revealed multiple signs that the shooter was experiencing trauma from his family and personal life and displayed an abnormal fascination with weapons and violence.
One of the most important things a school resource officer can do is to find students who may be struggling and help them find their way, Straub said.
"You have to look for those individuals who are walking the halls with their head down, that are disconnected, that are angry, maybe challenged by mental health, maybe challenged by developmental and intellectual disabilities," he said. "And we have to reach out our hands. We have to try to engage them."
Sgt. Jerry Walters of Worth County said when he's not helping the kids get on and off the buses or teaching classes on basic safety, he tries to build that rapport with his students.
Worth is one of Georgia's smaller counties with a population of about 20,000, but some students there have as much trauma to deal with as children in the big city.
One young boy Walters looks out for is in a wheelchair after he was in a fatal wreck caused by his mother, Walters said.
"It killed the person that was in that other vehicle, now he's in a wheelchair and she's in prison," he said. "So I see him every day and talk to him every day up and down the hall."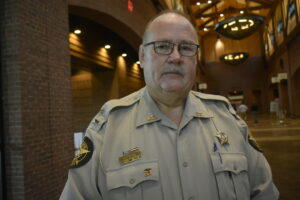 But the job can be rewarding. In Worth County, when students graduate, they can show appreciation to their favorite teacher by giving them a pin with a little graduation cap on it. This year, he got one from a graduating senior who told him he helped her come out of her shell when she was in fifth grade.
"I put it on my uniform that day, and it's been on it ever since. I had some of my fellow officers say that's not part of the uniform. I told them I earned it," he said.
Guns
Driscoll told the officers at the conference that 61% of the attackers in the Secret Service study used firearms, the majority of which came from the student's home and were not secured correctly. When there are concerns about a student, officers should try to do what they can to limit their access to firearms, he said.
"Some states have the emergency risk protection orders or red flag laws now," he said. "That's a tool in the toolbox for some people. We often find that rapport building and consent can go a long way to restricting weapons access. If you've got a student, you've got firearms in the home, and you're concerned that this student might pose a risk of becoming violent, there should be a conversation with mom and dad about like, 'look, here's what our concern is, here's what our expectation is as far as safe weapons storage, having them locked up, making sure the kid doesn't know about how to access them.'"
Gov. Brian Kemp made an appearance at the conference Wednesday to announce new grants from the state's Criminal Justice Coordinating Council, including $2.6 million for school resource officer training, and $4.5 million for state and local law enforcement, to be spent on school safety use-of-force and de-escalation training, and mental health resource needs.
"While these are the latest measures we're taking to ensure our children's safety, I can assure you they will not be the last," Kemp said. "I will work with anyone, even in the midst of a heated election cycle, to protect our students, because as we all can agree, protecting our children is more important than politics. It rises above partisanship. It is too important to make a political football, and it is an issue that can and should unite every single one of us."
At a Thursday event promoted by the Democratic Party of Georgia, parents gathered to condemn Kemp's gun policies and call on him to return $50,000 in campaign funds from Daniel Defense, the Savannah-area company that manufactured the rifle used in Uvalde, and Democrats like gubernatorial candidate Stacey Abrams have accused Kemp of using issues like mental health and school safety as a smokescreen to avoid talking about gun safety regulations.
This April, Kemp signed a bill designed to loosen restrictions on concealed weapons.
"The current governor has consistently deflected responsibility for the rise of violent crime that started on his watch, and he has failed to respond to the major increase in gun violence that began in 2020," Abrams said. "Instead, he has advocated for and signed into law a new criminal carry bill that makes it easier for virtually anyone to carry concealed weapons in public."
If elected, Abrams pledged to repeal the new law and implement a host of policies she says will reduce gun violence, including adopting a red flag law, which would allow courts to temporarily confiscate firearms from people who are deemed dangerous to themselves or others.
A plan that passed the U.S. Senate Tuesday would provide states with $750 million to enact the laws, among other provisions.
Speaking to reporters after his Columbus remarks, Kemp said he is not thinking about red flag laws right now.
"We're nowhere close to session, that's something that the General Assembly would have to weigh in on, and, quite honestly, we've got school starting long before that happens," he said.
"We're going to continue to look at things that are the real problems, we're not responding to what events that are happening in Washington, DC and other things," he said. "I'm worried about controlling what I can control at the school level in the great state of Georgia. We've been doing this for three years. This is something I campaigned on. We've done school safety grants, we've done mental health counselors in our schools, we need to continue to look and see what other things we can do, more training and making sure that we have more of the individuals trained, which is why we're announcing the grants today. So, we've got, you know, really a smorgasbord of things that we're doing on the policy side of things."
This story comes to GPB through a reporting partnership with Georgia Recorder.
Secondary Content
Bottom Content