Section Branding
Header Content
Democrats in runoff for Georgia Labor Commissioner ding GOP incumbent
Primary Content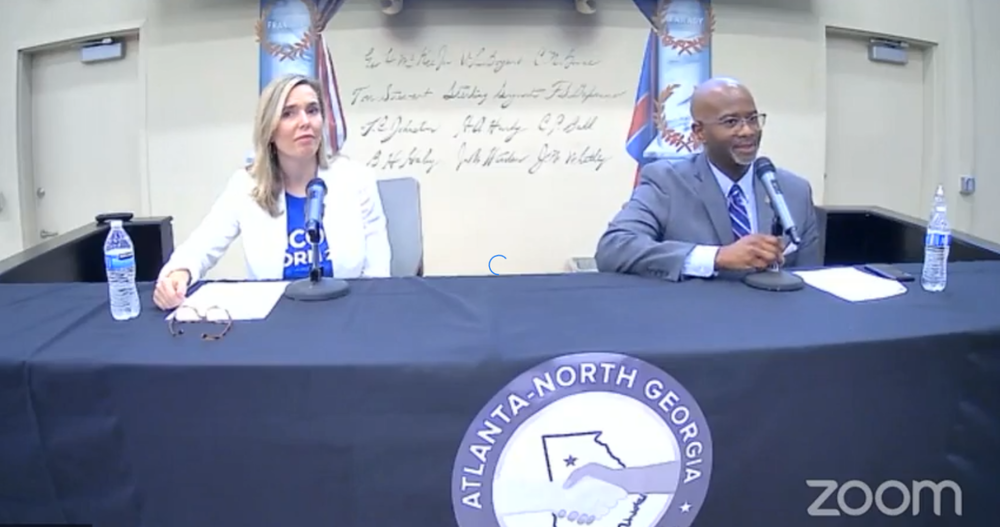 When everything is going well, few Georgians keep track of goings on at the state labor department. Things haven't been going well the past few years.
The initial pandemic shutdowns of 2020 caused Georgia businesses to lay off workers in record-breaking numbers, leading to record-breaking problems for people trying to receive unemployment insurance benefits. Jobless Georgians reported unanswered calls for help and monthslong wait times for approval.
Commissioner Mark Butler, a Republican who has led the department since 2011, did not run for re-election, and two Democrats hoping to be elected in his place made their cases Wednesday at a debate hosted by the Atlanta-North Georgia Labor Council.
State Rep. William Boddie of East Point and Nicole Horn, an Atlanta businesswoman and consultant, are set to face off June 21 for the Democratic nomination after no candidate earned more than 50% of the vote in the May 24 primary. In a five-person race, Boddie took 27.7% of the vote to Horn's 25.1%.
According to a state audit, labor department staff dropped 41% from 2013 to 2019, and funding fell from $180.7 million to $113.8 million during the same period, setting the department up for failure during the spike in demand.
Both Boddie and Horn blamed Butler for not staffing up before the crisis or seeking more state funds once things were at their lowest.
"This department of labor was not set up to deal with a global pandemic," Boddie said. "To be honest with you, it was not set out to deal with normal operations. The pandemic actually exposed the department of labor for not having the adequate resources that it should have had and not having the proper funding that Department of Labor Commissioner Mark Butler should have been advocating the Georgia General Assembly to have."
Boddie said his experience in the Legislature will allow him to more effectively bargain for the resources necessary to run the department efficiently.
"The reason why the department of labor did not get money in the budget that it should have gotten is because the labor commissioner did not come down to the Georgia General Assembly and advocate for the money," he said. "It was so bad that even Republicans were like, 'Where is the labor commissioner? Why isn't the labor commissioner asking me for more money in the budget?'"
Horn said the problems plaguing the process show the limits of small government philosophy.
"Republicans love to talk about having as small of a government as possible, as if things will still continue to function without staff," she said. "I'm ready to push back against that additional lie that's being told. The purpose of government is to strengthen our communities, is to be there when people need it most. The purpose is to lift people up."
Horn attacked Butler for pulling the state out of federal programs increasing unemployment benefits during the pandemic. Butler and Gov. Brian Kemp argued that doing so would encourage people to find work, but Horn said being stingy with benefits pushes Georgians into low-paying jobs.
"At 26 weeks, we have one of the shortest time periods in the country, and $365 a week right now won't pay for rent throughout most of Georgia," she said. "So, let's have an honest conversation about this. Unemployment insurance is, first, something you have earned. This is not a handout. It is something you have earned. Second, it is a safety net. It's there for the moment that you need it most, while you're transitioning to your next job. You want to make sure that safety network. You want to make sure that your rent is paid, that there is food on the table, that you can have internet to apply for jobs."
Whoever wins in June will go up against Republican state Sen. Bruce Thompson of White in November. Thompson, whose campaign materials consistently refer to the labor department as a "broken agency," easily won the GOP nomination with 62.6% of the vote. His closest opponent, Labor Department Deputy Commissioner Mike Coan, received 30.7% of the vote.
This story comes to GPB through a reporting partnership with Georgia Recorder.
Secondary Content
Bottom Content