Section Branding
Header Content
New historical marker in coastal Georgia commemorates Igbo Landing rebellion of enslaved Africans
Primary Content
The Coastal Georgia Historical Society has dedicated a historical marker to Igbo Landing, an uprising of captive Africans on St. Simons Island in 1803. GPB's Benjamin Payne reports.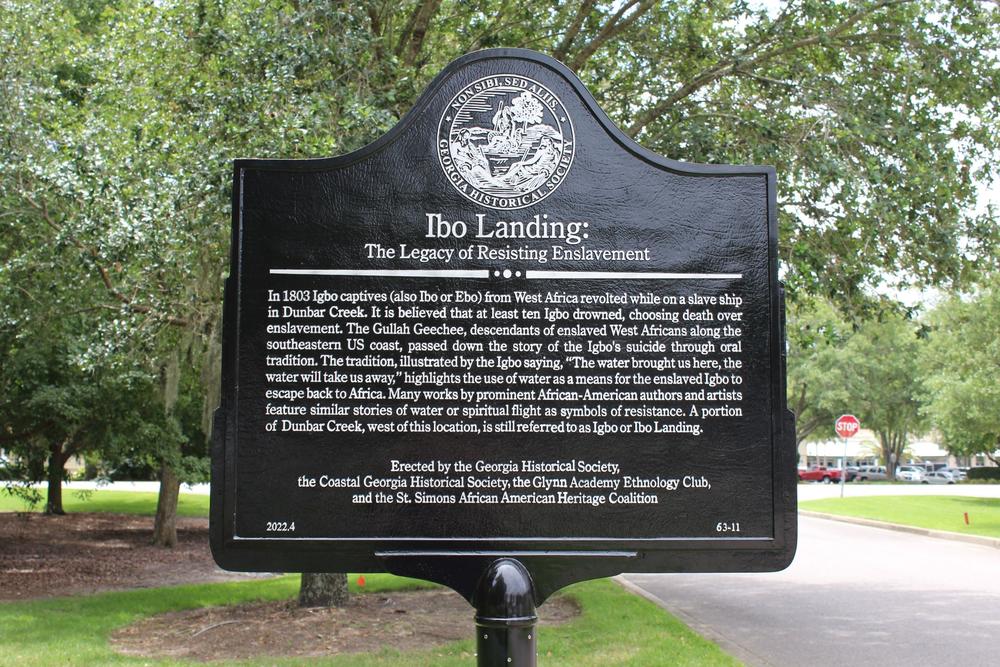 More than 200 years after a group of captive Africans willfully drowned in coastal Georgia, the uprising known as Igbo Landing finally has a historical marker to commemorate the harrowing act of resistance to slavery.
The Coastal Georgia Historical Society formally dedicated the marker Tuesday on St. Simons Island near the approximate site where, in 1803, as many as 75 newly captured west Africans overtook the ship carrying them, before choosing to drown in Dunbar Creek.
"This event seems like it would be an obvious choice for a marker, and yet it took until 2022 to get one," said Sandy White, education director for the Coastal Georgia Historical Society. The group is an affiliate chapter of the Georgia Historical Society, which administers the Georgia Historical Marker Program.
"So many of the monuments and markers in this area were done in what we kind of think of as the heyday for memorials and markers," said White, referring to the 1950s and 1960s. "That [era] often wasn't very kind to the African American experience here, or largely ignored it."
The marker application process was initiated by students at Glynn Academy — a public high school in nearby Brunswick — who raised roughly $2,500 for the marker. Another $2,500 came from the Coastal Georgia Historical Society.
"I hope that this is just the first in a series of markers that really recognize all of Georgia's diverse history, and [that] there are so many other things that are significant to the story of the state of Georgia," White said.
The marker commemorating Igbo Landing — pronounced as "E-bo" and alternatively written as Ebo and Ibo — is located at the northwest corner of Sea Island Road and Frederica Road, on a publicly accessible property known as Old Stables Corner.
In addition to recounting the historical event, the marker includes a saying attributed to the ethnic Igbo people of Nigeria: "The water brought us here, the water will take us away."
To learn more about Igbo Landing, read and listen to GPB's feature story on the rebellion.
Secondary Content
Bottom Content