Section Branding
Header Content
Gov. Brian Kemp signs 'historic' $30.2B budget
Primary Content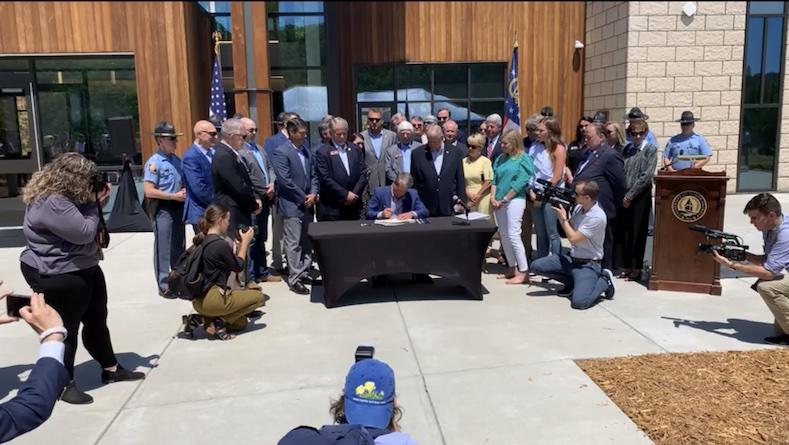 With the University of North Georgia in Blue Ridge as a backdrop, Gov. Brian Kemp signed the state's $30.2 billion fiscal year 2023 budget, which includes $5,000 pay raises for all state employees, including those who work at the state's colleges.  
The budget, which goes into effect July 1, 2022, marks an increase of $2.9 billion over the previous year, largely thanks to the federal COVID-19 aid the state received. 
Georgia public school teachers will get a $2,000 raise, the final amount of a $5,000 increase he promised during his 2018 campaign for governor. Teachers received a $3,000 salary bump in 2019. It also restores roughly $382 million in austerity cuts.
At the ceremony, Kemp called the budget "historic" in "enabling us to further invest in our classrooms, workforce, public safety, and health of all Georgians."
The budget repeals the Special Institutional Fees the University System of Georgia began charging students in 2009 during the Great Recession. The fee amounted to $112 at the University of North Georgia during this spring semester, but at other colleges can range as high as the $540 per semester for students at Georgia Tech. 
"History is going to be very kind to this budget," said Lt. Gov. Geoff Duncan, who is not running for reelection to focus on the organization he created called GOP 2.0. "I think it's going to certainly be a model for fiscal discipline hoping forward."
The spending plan seeks to reduce Georgia's high maternal mortality rate by increasing Medicaid coverage for low-income mothers in Georgia to a full year following the birth of their children, up from the current six months.
"This is truly a special day for Fannin County," said House Speaker David Ralston, a Republican from Blue Ridge, who welcomed everyone to the event in his hometown. "The most important bill of the legislative session is being signed right here today."
Ralston pushed through a massive overhaul of Georgia's mental health delivery system. According to Mental Health America, Georgia is near the bottom of states when it comes to mental health care. The organization ranks only New Jersey, Mississippi and Texas lower in access to and delivery of mental health needs.
"The mental health budget in Georgia this fiscal year will be $180 million," Ralston told the audience. "That is more than 10 times what has been appropriated over the last 10 years."
The chairman of the House Appropriations Committee for 12 years, Rep. Terry England (R Auburn), also attended the signing ceremony. The spending plan is his last as a state lawmaker because he is not seeking another term.
"I'm proudest of our pay raises to our state employees," England said. "At the end of each of those dollars is a human being, a citizen of this state… and it's our responsibility to make sure that it's being spent wisely."
Secondary Content
Bottom Content